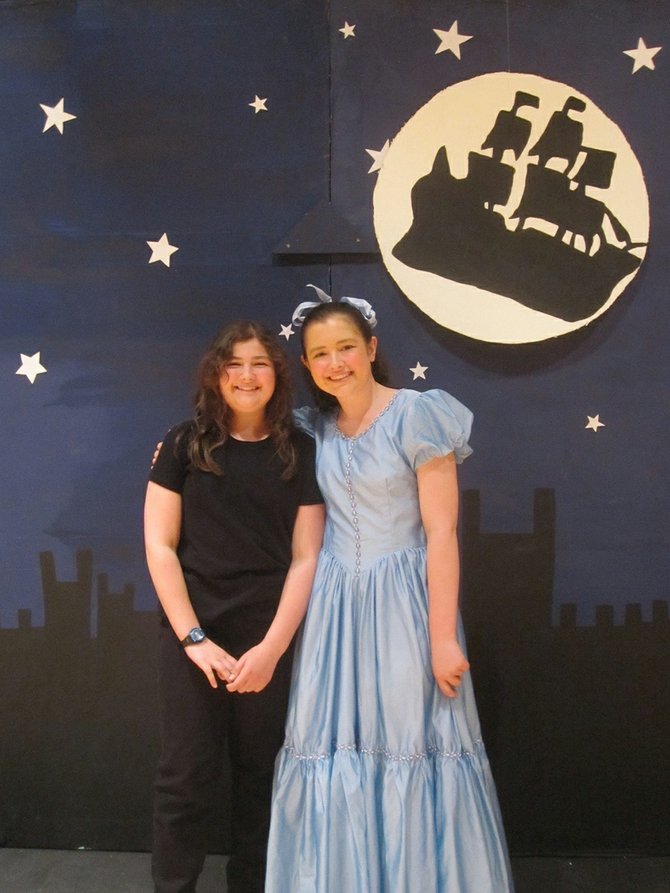 Peter Pan kept popping up over Christmas break. And not from the peanut butter jar. It was the topic of conversation whenever I visited with Kendra, my seventh-grade granddaughter, who couldn't wait for the production of the play to move past set decoration.
As I thought about sharing her journey through a full-fledged musical production I realized that her perspective would be much different from mine.
Not only were we generations apart but she could share what it felt like from the stage, and I could share my perspective from the spectator seats. I knew the gap was large when she told me she had never heard of Peter Pan peanut butter.
So I asked her to share this column and write every other paragraph, providing the reader with the spotlight version, while I provided the footlight perspective of Wy'east Middle School's Peter Pan production, directed by Jennifer Graves.
Kendra: "Does the peanut butter fly? All I've thought about for the past six months is how we were going to get the Darling family to fly! And if all it took was some Peter Pan peanut butter, we wasted a whole lot of time building boxes and shining black lights all over the stage to create that illusion."
Kendra was initially enthralled with designing and painting of sets for the spring production of Peter Pan, one of the first major musical productions to be performed at the Wy'east theater. She looked at everything in the house differently. Would that work as part of a set? Can I have that bed? What about that light?
"When we started thinking about the play, I had no idea how much stuff we would need. We had dads building boxes and re-doing sets, while moms were bringing trunks full of costumes and black lights. Once we collected everything, we began the magical costuming transformation. Who knew a wig and a costume could turn a quirky eighth-grader into the villainous Captain Hook, or an assortment of girls into pixies?"
From the theater seats, my eyes naturally focused on my granddaughter as she becomes Wendy. When did she become such a beautiful young woman? Ironically, I am rapidly lost in the play rather than just watching her perform. The acting is top-notch. When did she learn how to sing? Especially since her mother was once told by a music teacher to simply mouth the words to Silent Night or she would spoil the Christmas program.
"To credit my mom, she taught me absolutely nothing about singing, which is probably why I can be in Honor Choir now. I've performed in a few school plays, the fifth-grade performance of Little Red being my former favorite, and dozens of ballet pieces, but this was different. Now I really was Wendy instead of just being myself trying to be someone else."
Peter Pan was worth the $5 admission, several times over. The backdrops transformed the stage into lush settings, the music filled the theater with emotion and energy, and the performers had to learn a dozen songs and dances. I was stupefied by the number of things that went into the production; lights, sound, curtain, stage set up and removal.
"While it was a huge amount of fun being Wendy, it was by far the easiest part of the production for me. As assistant director, I would work with my theater teacher, Mrs. Graves, to design the program, posters, and sets. Many of my classmates had never had dance instruction, so I had to pay extremely close attention to our choreographer, Morgan Graves, because the next day in class I would have to teach the dance moves again. Two casts gave twice the opportunity for starring roles, but also added to the chaos!"
My aging eyes filled with tears as the performers took the final curtain call. I didn't think I would be so touched by Kendra's transformation from little girl to beautiful young lady, accomplished singer, dancer, actor and director. I didn't want this fairy tale to end. Rationally I knew it wouldn't. The cast had come together as friends, crossing the adolescent grade boundaries of middle school. Knowing Kendra, I predict she will keep dancing, singing, performing, writing and directing as long as the spirit moves her. Who knows where her future lies. But for the time being, I am thrilled to be a part of the audience watching her life unfold.
"Even through the bright spotlights I could see my family filling a whole row of seats on the final performance. My cousins, aunts and uncles were all there, as well as my great-aunt and uncle, parents and grandparents. It was weird. I thought I would be even more nervous having them watch me, but I didn't feel self-conscious at all. I was confidant I would do it right, or at least mostly right. There would always be minor mishaps but they will make fond memories as I grow older. To paraphrase Peter Pan, theater is just another way to keep from growing up. And, as Wendy would add, 'that and a good story!"