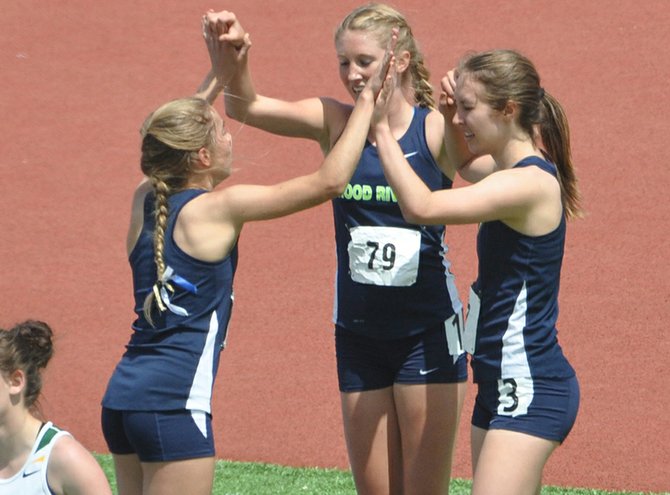 Hood River Valley High track and field claimed 10 district titles and qualified athletes in 18 events at last week's Columbia River Conference championships to compete in the upcoming OSAA 5A State meet in Eugene. Preliminary rounds start Friday inside the University of Oregon's historic Hayward Field, where 38 of the state's 5A programs will be represented; action peaks with final rounds Saturday afternoon.
Top 3 district finishers (top 2 go to state)
Girls:
100 meters: Jestena Mattson, 1st, 12.09; Anna Schlosser, 3rd, 12.73; 200 meters: Jestena Mattson, 1st, 26.07; Anna Schlosser, 2nd, 26.39
400 meters: Emily Viuhkola, 2nd, 1:01; 800 meters: Grace Grim, 1st, 2:26.30; 1,500 meters: Grace Grim, 1st, 4:53.28; Sascha Bockius, 2nd, 5:00.07; Lauren Robinson, 3rd, 5:06.46; 3,000 meters: Sascha Bockius, 1st, 10:57.47; 4x100 relay: 1st, Emily Viuhkola, Kassidy Davidson, Anna Schlosser, Jestena Mattson, 49.26; 4x400 relay: 1st, Emily Viuhkola, Anna Schlosser, Kassidy Davidson, Jestena Mattson, 4:15.78; Pole Vault: Kimberlee Boquist, 2nd, 8-06
Boys:
100 meters: Wyatt Webber, 1st, 11.18; 200 meters: Wyatt Webber, 2nd, 22.74; 400 meters: Parker Irusta, 3rd, 52.96; 800 meters: Chris Cardenas, 3rd, 2:05.91; 1,500 meters: Ricardo Castillo, 3rd, 4:19.96; 3,000 meters: Ricardo Castillo, 3rd, 9:33.41; 100m hurdles: Parker Kennedy, 2nd, 15.54; 4x100 relay: 2nd, Wyatt Webber, Will Robinson, Parker Irusta, Parker Kennedy, 44.24; Shot Put: Sebastian Barajas, 2nd, 47-11; Discus: Sebastian Barajas, 1st, 155-06; Long jump: Parker Irusta, 2nd, 21-05.5; Javelin: Bryson Gudiel, 2nd, 147-07; Pole Vault: Patrick Crompton, 1st, 13-06; Parker Kennedy, 2nd, 13-0.
Both HRV boys and girls teams finished a solid second in the conference behind Hermiston and ahead of Pendleton in third and The Dalles in fourth. The top two finishers in each event qualify for state, and for the Eagles that means 20 athletes (alternates included) will be on their way to Eugene.

On the boys side, Wyatt Webber was a speed-demon in both the 100 and 200 meter events, winning the former and finishing a close second in the latter. The senior sprinter was just a few tenths off of his fastest 100 time of the season, which set a new school record and currently stands as the state's third fastest time of the year for the event.
Webber, along with Will Robinson, Parker Irusta and Parker Kennedy sprinted to a second-place finish in the hotly-contested 4x100 meter relay, which was a photo finish that had Hermiston, HRV and Pendleton all finish within two-tenths of a second of one another.
In other track events, Kennedy managed a second -lace finish in the 100-meter hurdles, while Chris Cardenas and Ricardo Castillo narrowly missed qualifying for state with third-place finishes in the 800, 1,500 and 3,000.
In field events, Sebastian Barajas's winning discus result came as no surprise; the sophomore thrower is a returning state champion in the event. He finished second in shot-put behind Lio Tunai of The Dalles, which also came as no surprise. The pole vaulting title came down to a showdown between Kennedy and Patrick Crompton, who posted a 13-6 result to claim his third straight CRC title. Irusta posted an all-time best in the long jump, a distance of 21-5, to qualify second in the event, while sophomore Bryson Guidel earned his first trip to state with a second place javelin result.
On the girls side, Jestena Mattson blazed her way to 100- and 20- meter titles, setting a new school record in the process. Her 100-meter time of 12.09 beat the 20-year record of 12.22, set in 1994 by Ocean Kuykendall. In both events senior Anna Schlosser was in hot pursuit; she finished third in the 100-meter and will join Mattson at the state starting blocks in the 200 as the CRC runner-up.
Mattson, Schlosser, Kassidy Davidson and Emily Viuhkola proved to be a potent combo in the relay events, which the four won handily – the 4x100 by nearly a second and the 4x400 by nearly four seconds. Their 4x100 time is currently the second-fastest in the state. In addition to the relays, Viuhkola will be competing in the 400, in which she finished a close second.
In distance events, senior Grace Grim, a 2012 state cross country champion, blasted back on the scene after recovering for much of the season to win the 800 and 1,500 meter events. She will be joined at state by sophomore Sascha Bockius and Lauren Robinson, who finished second and third in the 1,500. Bockius, who won the 3,000, will focus on that event at state, leaving the 1,500 to Grim and Robinson.
Kimberlee Boquist represents the only HRV girls field athlete to qualify. The sophomore cleared a height of 8-6 in the pole vault for a second-place finish behind Yasmin Hill of The Dalles.
After regrouping from the long weekend, head coach Donnie Herneisen provided the following breakdown of the results:
"The girls finished pretty much where projected. They won seven of 10 events on the track, but Hermiston was able to place more people in the top eight scoring positions. Maybe more importantly, we really struggled in all of the field events, only qualifying in the pole vault, and only placing a few girls in the top 8 in all other field events. That's has to be a major focus point for us moving forward in the next few years. We did have some injuries this year which took a couple major players out of the game, including Zoe Peterson, who should have won the pole vault and placed highly in the high jump.
"The boy completely exceeded our expectations. Coming in to the meet, we were projected to be in a battle with The Dalles for third and fourth place in the league, but we had many outstanding performances push us past both The Dalles and Pendleton to secure yet another second place finish. Our stars performed as they have most of the season – defending 5A state champion Sebatstian Barajas dominated the discus, Patrick Crompton and Parker Kennedy battled each other, and 20 mph crosswinds, to go 1-2 in the pole vault, and Wyatt Webber won the 100 championship and finished second in the 200, while also breaking the school record.
"We also had many surprise performances, including Parker Irusta, who popped a big PR in the long jump in the finals to secure second place and a trip to state and Bryson Gudiel, who did the same on his last throw in the javelin. Those kinds of performances cannot be understated in why we finished where we did.
"We were really excited about how many HRV athletes ended their season with personal bests and bringing their best effort to the championship meet. Our expectations as a team have really increased over the last four years, and this team was no exception. In all, HRV will be sending 20 kids (16 qualifiers, 4 alternates) down to Eugene this weekend for the state championships. The girls have an outside shot at bringing home a team trophy, and should be bringing home plenty of individual medals and state championships.
"We're looking forward to toeing the line against the best of the best in Eugene and seeing how we measure up."