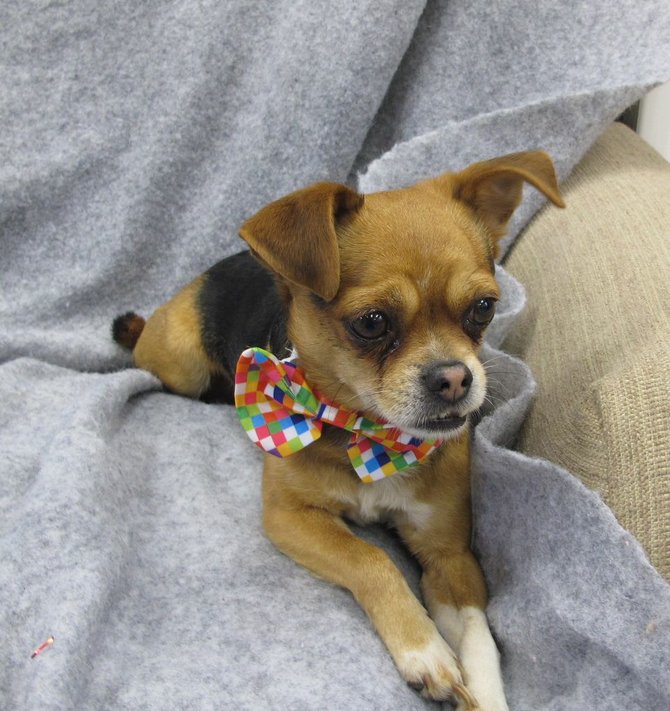 This week volunteers at Adopt A Dog have selected Marvin as the program's adoptable pet of the week. They describe him as follows:
"Marvin is about 8 pounds, 8 years old, and a Chugle — that's a Chihuahua-pug-beagle mix. He showed up at the shelter wearing a harness that was so tight, it actually tore up his little skin under his arm and the harness had to be cut off; but he's being treated and is feeling better every day.
"Marvin is a fun little guy who seems grateful to be safe and off the roads. He is great with other dogs and loves walks, but most important to him is being held and cuddled. He is beginning to show a playful side, too, with is quite heartwarming to watch as he blossoms!"
Marvin is current on shots, microchipped and neutered. His adoption fee is $115. The fee to adopt is charged to recoup standard veterinary expenses.
Since many of AAD's dogs are in foster care, please call ahead to meet Marvin at the Hukari Animal Shelter, 3910 Heron Drive, Odell; 541-354-1083. Adoption hours are Wednesdays from 5-7 p.m. and Saturdays from 9-11 a.m. Applications may be downloaded at hoodriveradoptadog.org and faxed to 877-833-7166.