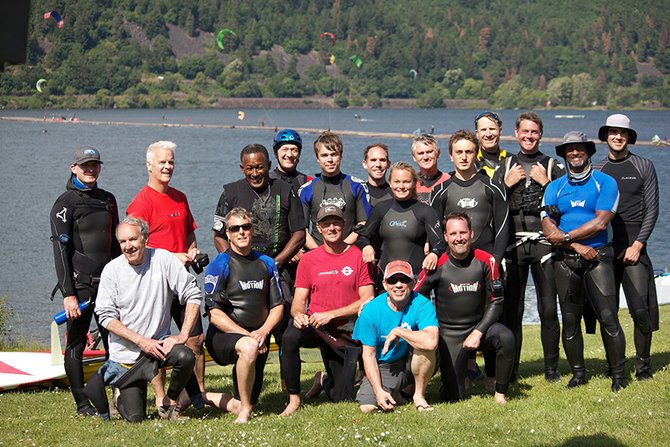 Sunny skies and a light but steady breeze greeted competitors in the first of eight summer races that make up the Gorge Cup windsurfing series. This is the 21st year of the series, which runs from May through August at the Hood River Event Site and brings together a wide range of sailors, from seasoned veterans to first-time racers, to competitors in a friendly atmosphere.
With early-season conditions to contend with, racers completed seven heats of slalom action during the day. Bruce Peterson beat out MacRae Wylde for top honors of the day, while third place came down to a tight race between Fiona Wylde (daughter of MacRae) and local racer Sam Bauer.

At the end of the day Bauer narrowly beat out Wylde for third place overall. Bauer noted that wins against Fiona are few and far between these days.
"She is an amazing athlete with an amazing can-do attitude that rises to the challenge at every race," he said of the globetrotting water-woman phenom. "Fiona has put a spotlight on competitive youth water sports in the last few years."
The next series race is May 31 at the Hood River Event site. For more info, visit gorgecup.com.
The Gorge Cup has been a hallmark event in the Gorge windsurfing community for decades and has benefitted from the support of volunteers, athletes and businesses such as U.S. Bank, the Columbia Gorge Windsurfing Association, Sailworks, Dakine, Full Sail, Gorge Networks, Chinook, Big Winds, Promotion, Vector Fins and Safeway. This year is special in terms of sponsorship in that all the retail windsurfing shop in Hood River are sponsoring of the races, including Big Winds, Windance, and the Gorge Surf Shop.
The remaining Gorge Cup races are scheduled for (wind-dependent) May 31, June 7, June 21, July 19-20, Aug. 2 and Aug. 9.