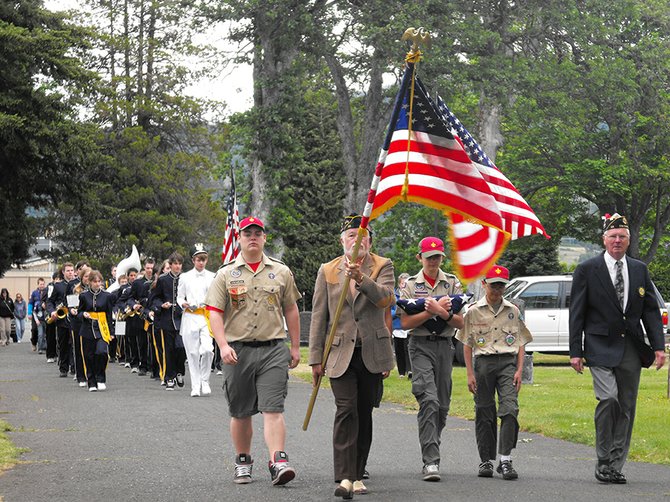 Memorial Day observances on Monday, May 26, include new names added to the Veterans Walk of Honor.
The public is welcome to attend the 11 a.m. ceremony at Idlewilde Cemetery.
Things start with the Hood River Valley High School band and a flyover by planes from Western Antique Aeroplane & Automobile Museum.
Here is the rest of the schedule:
Posting of Colors and placement of the flag
Pledge of Allegiance
Star-Spangled Banner
Invocation by Rev. Carl Casey
Welcome by Bob Huskey
Musical Tribute by Hood River Valley High School band
"Flanders Field" recitation by Rita Byrd and Betty Luther
Musical tribute by Andy Streich
Presentation of the Flowers
Walk of Honor names
Flag-folding ceremony by Nick Kirby
Musical tribute by Andy Streich
Benediction by Rev. Carl Casey
Walk of Honor 2014
Clarence Olmstead, WWII, U.S. Army, Purple Heart
Lawrence S. Henningsgard, WWII, U.S. Navy
Alvin D. Reynolds, WWII, U.S. Army Air Forces
Vernon H. McClure, WWI, U.S. Army
Larry R. Smith, WWII, Korea, Vietnam, U.S. Air Force
Myron S. Fullington, WWII, U.S. Army
David H. Messenger Sr., WWII, U.S. Army
Clifford E. Blackwell, WWII, U.S. Navy
Louis Anthony Goyack, WWII, U.S. Army
Arthur W. Fletcher, WWII, U.S. Army Air Force
Carroll Jean Tveidt, WWII, U.S. Marine Corps
Max Eldon Chapman, WWII, U.S. Navy
Marvin Lee Harder, Korea, U.S. Navy
Lester Earl Shields, WWII, U.S. Naval Reserve
Clyde Lee Williams, Korea, U.S. Army
Johnny Olen Van Ras, WWII, U.S. Navy
Lester E. Coons, U.S. Army
Alan Lee Elliott, Vietnam, U.S. Army
Thomas Allen Purdie, Korea, U.S. Navy