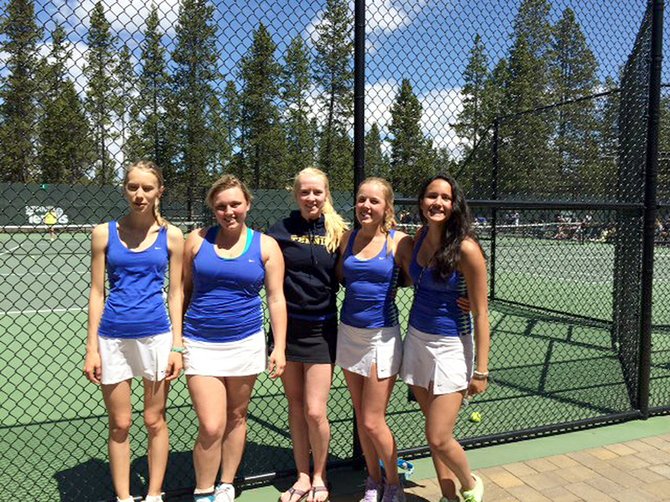 While the Hood River girls tennis team didn't get the "luck of the draw" at last week's 5A Special District 1 Championships in Sunriver, where six out of the seven HRV players were bracketed against seeded players in the first round, they rose to the challenge and their play reached a pinnacle for the season as they went on to dominate the consolation rounds.
The Eagles' two top doubles teams of Olivia Newcomb/Elle Webb and Naomi Greenwald/Miranda Starr battled it out in the first round with the No. 3 and No. 4 seeded pairs respectively and came away with closely lost matches. Newcomb and Webb went on to place sixth overall after winning their final match against teammates Greenwald and Starr.
"Naomi took her net game to a whole new level and more than once I saw her opponent turn and run as she set up for a smash," coach Gretchen Newcomb commented. "Miranda was that consistent rock, keeping the ball in play and setting up her partner. Both girls repeatedly captured the net and forced their opponents to battle for every point."
After losing their first-round match, the duo of Tia Semmes and Vanessa Olivas battled back through the consolation rounds before losing a hard-fought battle against Mountain View.
In singles action, the HRV girls persevered against some tough competition. Ann Evans battled it out against the eighth-seeded player, Annelise Acosta against the sixth and Maddie Graham against the fourth in the first round.
Graham lost a couple tough rounds, but dug deep and found the will to fight through the consolation rounds to finish eighth.
After winning a closely fought match in the first round, Evans was stopped at the quarter finals in another tight round.
"She was all smiles coming off the court, knowing that she had played some of her best tennis ever," Newcomb said.
While she may have felt like a moving target on the court as she faced some of the fastest serves of the tournament, Acosta gave her opponents a run for their wins. Meanwhile, Martha Kohler stepped up from JV to varsity for the tournament.
"It's been my privilege to coach the team this year and to have the opportunity to get to know all of the girls individually. I wish the best of luck to our seniors (Starr, Greenwald and Webb). I hope you pack a racket next year as you head off to college."