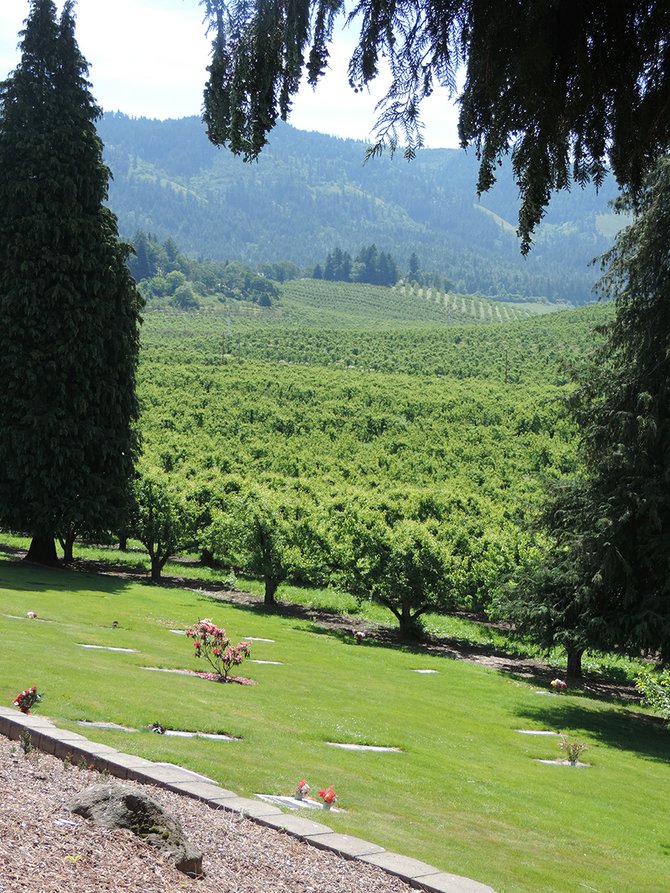 There's a lot of history in Pine Grove Butte Cemetery, and that's something Sexton Randy Holmstrom likes best about the job.
"There's a lot of history of the valley in the headstones," he said, "the names of the people that are there … that's the fun part of mowing — I get to read the names."
Holmstrom can be found somewhere on the cemetery's 5 acres one full day and two half-days each week during the spring and summer months. He's held the part-time position since late 2012, calling it "my perfect part-time job."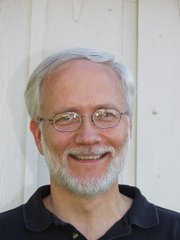 "This time of year, it's mostly turf management: mowing, watering, maintaining the irrigation system, making sure everything works, doing cleanup around the area, making sure it's presentable," he said. "I used to drive by it as a kid, and thought it was gorgeous."
Other job favorites include when the mowing is done — "It never ends, but when it's all been freshly mowed, that's the moment," he said — and helping with funeral services, especially when "it goes off without a hitch."
Besides groundskeeping, Holmstrom also assists with funerals, making sure gravesites are properly prepared. He also restores the site when services are over.
Holmstrom has had a rather varied career track. He grew up in Hood River, graduating from Hood River Valley High in 1974, and later from the University of Oregon with a degree in park management in 1979. He worked as the director of a parks district in Burns, right out of college, then transferred to the Port of Cascade Locks "before the Sternwheeler was even built," he said.
That's an important distinction, considering Holmstrom was the captain of the Sternwheeler for 25 years. Next, he took a job with the State of Oregon, working as a weighmaster at Wyeth and Cascade Locks for six years before retiring mid-2012.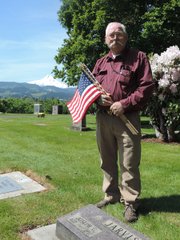 Six months later, he applied and was hired for the sexton position. He trained under outgoing sexton Tom Bostwick by "pretty much hanging out with him, just assisting him for six weeks or so," he said. "I had a handle on what the job was; there were no surprises."
Board of directors member Pat Moore said Holmstrom's degree in park management is a boon for the cemetery. And Moore would know: He's been on the board for the past 21 years, a position his grandfather, Earl Moore, also held.
"Randy takes good care of it," said Moore. "He knows how to prune trees and how to dig up a broken sprinkler and things like that. Sextons in the past haven't paid too much attention to that. Randy has done us a real good job."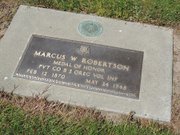 The board, of course, also has a role in taking care of the cemetery. The three-member board, currently made up of Moore, Gary Wells and Bernie Wells, is responsible for "hiring employees, setting the revenue stream up, making sure there's enough money in the bank," said Moore.
Cemeteries are endowments, Moore said, with 25 percent of the funds generated from each plot sale going into the endowment fund. The board manages not only the endowment fund, but also the cemetery's other investments.
"What we try to do is have enough interest income to pay for labor, between the endowment fund and our own investments," Moore said. "Sometimes it doesn't work out quite that way."
The board meets once a quarter, with a members meeting held once a year — if you've purchased a plot, you're a member.
"Everybody's invited to come and put their two cents' worth in at the annual meeting, but we never see anybody, so I guess we must be doing something right," Moore said.
In preparation for Memorial Day, Moore and Bernie Wells were out Friday morning decorating the graves of military personnel with flags. It's an important holiday for the cemetery, and many visitors are expected to come over the course of the weekend.
"Memorial Day honors our veterans and is the focal point on having most of the cemetery preparation and projects completed for the season," Holmstrom said. "Our attention now turns to watering, mowing and welcoming visitors to the grounds."
All things considered, Moore said taking care of a cemetery isn't much different than taking care of a farm (Moore is secretary and treasurer of Moore Orchards, and is a longtime Pine Grove resident).
"There's trees to water and flowers to take care of," he reasoned. "It's all digging in the dirt."
Holmstrom lives in Cascade Locks, where he has resided since taking his position with the Port of Cascade Locks. He and his wife, Anne, another Hood River native (her father was Lee Foster, who served as the County Extension agent for many years) have three children: daughter Gretta, who is a land use planner for Cowlitz County, and sons Greg, a painter at Bonneville Dam, and Peter, a freelance writer who also works at Maryhill Winery.
Despite his commute to work, Holmstrom is very content with his position as sexton.
"I really enjoy the job," he said. "People used to think I had the best job in the world, being captain on the Sternwheeler, but I think I have the best job now," he said.
And he encourages people to "not be afraid of stopping by and just walking through the rows of headstones," he said. "It's the most beautiful spot in the valley."