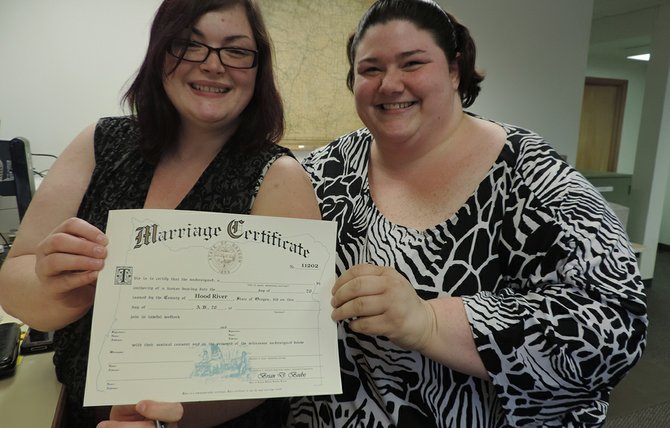 Samantha Meyers and Amanda Durnez made Hood River County history Tuesday: They purchased an Oregon marriage certificate, entitling them to marry, following a federal judge's ruling Monday that the ban on same-sex marriage in Oregon is unconstitutional.
"We feel wonderful, and it's an honor to realize we are the first," in the county, Meyers said.
Durnez and Meyers, 2002 graduates of Hood River Valley High School, were married in a private ceremony at Laurance Lake on May 21, two years to the day since they became domestic partners under Oregon law.
"We always knew that when it was legal we were going to get married. We didn't think it would be this fast," Meyers said. Rev. Maggie Sebastian presided.
"People always asked us why we didn't go and get married in Washington," Durnez, when same-sex marriage became legal in 2013. "Our state where we live didn't allow it and it didn't make sense. Now it makes sense."
"People have been super-supportive," Durnez said.
In their domestic partnership ceremony, traditional vows "just didn't feel like an option, and it does now," Meyers said. "It's kind of amazing. We can have traditional vows now."
County Clerk Brian Beebe helped the couple with the paperwork; he said state forms have been changed by Tuesday from "bride" and "groom" to Party A and Party B. "It's now done the exact same way for everyone," said Beebe.
"It's an exciting day, a good day for Oregon," said Beebe, whose served as officiant earlier this year for the marriage in Seattle of his brother, who is gay.
"We're actually pretty excited. It's kind of amazing," Durnez said.
"It's a crazy feeling. It's a great thing to be able to tell our son." They are parents to Jack, 5, Durnez's biological son, whose father lives in the community and also actively parents Jack.
Meyers works in admitting at Providence Hood River Memorial Hospital, and Durnez is a tax preparer for Mt. Hood Tax Service.
"Having already had the big ceremony with the domestic partnership, we wanted it to be small and just about us, and none of the stuff that usually goes along with it — the planning," Meyers said. "We called Maggie and she was able to make the arrangements."
Durnez and Meyers have been friends for 15 years, and a couple for four years. They came out about four years ago after a trip to one of their favorite places, Laurance Lake.
"It's the place where we both really knew," Meyers said.
"We never talked about it (their sexual identity)," she said, "and it was not something that was super acceptable in my family, but then we were allowed time to give it thought, and we did so, and it was pretty instantaneous, it was like, 'Why didn't we do this before?'"
The coming out experience was different for the two women.
"For me it was more nerve-wracking than difficult," said Meyers, "as far as my parents were concerned if I was happy that was fine, but I was still nervous. I told my sister first, and asked her what Mom would think, and she said, 'Just tell her, she won't care.'"
Durnez has since been estranged from her father, who has strong religious beliefs on homosexuality. Her mother, Billie Shank, and other relatives support her. "Even if they don't agree, they have been supportive, and of Sam. She's just part of the family as far as my mother's side is concerned.
"It's not an issue, because this is my happiness. So I'm going to have it whether I have my family's blessing or not."
When the judge's decision was announced Monday, both women were at work and could only communicate via Internet about it, but it was a truly happy moment, and both hope other states will follow suit.
"We know exactly how it feels and it's wrong (to prohibit gay marriage)," Durnez said. "Absolutely. It's an absolute civil rights issue and it is just devastating to me. We don't vote on heterosexual marriages; why is there then a decision to be made as far as people's decisions for their own happiness in this country?"
Monday's ruling was praised by clergy from two churches that expressly welcome gay, lesbian, bisexual and transgender people. "It is a truly a blessed day when justice and love prevail," said Rev. Vicky Stifter of Riverside Community Church, United Church of Christ.

Mid-Columbia Unitarian Universalist Fellowship spokesman and worship coordinator Paul Blackburn said, "We are so pleased for our GLBT members and neighbors. We'd been enjoying the local outpouring of support on the issue and were hoping the judge would see things the same way."
Rev. Anna Carmichael of St. Mark's Episcopal Church agreed: "It is with great joy that our LGBT brothers and sisters can celebrate in this sacrament. What a blessing for us all!"