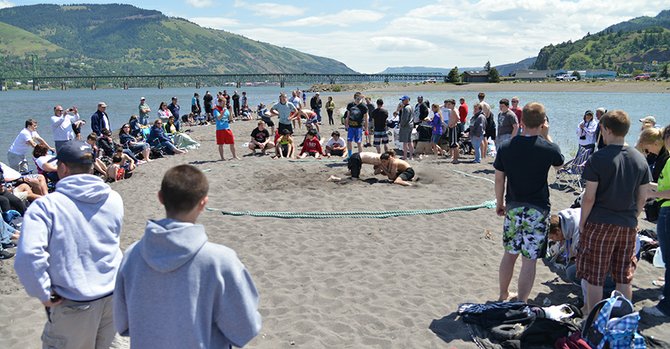 In a unique mix of fun in the sun and hard-headed competition, the Hood River Marina was host to the 2014 Oregon Beach Wrestling State Championships last weekend. On a smooth strip of beach jutting into the Columbia River, wrestlers were paired into general age and weight categories and competed in the unique format of wrestling with rules similar to those of the Japanese Sumo style.
Among the several dozen participants who came out for the seventh-annual event, HRV senior Andrew DeHart and 2014-15 freshman Jason Shaner Jr. went undefeated to claim state champion titles. Also placing in the top three were Hood River Valley Eagles wrestlers Dylan Peterson (2nd) and Jenna Powell (3rd).
In other HRV wrestling news, 2011 HRVHS graduate and state folkstyle wrestling champion Robert Frazier recently signed to wrestle on scholarship next season at Warner Pacific College in Portland, under the tutelage of coach Frank Johnson.