Despite being underdogs in Friday's 5A baseball play-in matchup on the road against the 14th-ranked Summit Storm (15-10), the 19th-ranked Hood River Valley Eagles (11-15) claimed a huge 10-0 win to earn themselves a spot in the 16-team state championship bracket.
HRV junior ace pitcher Ryan Ward threw a three-hitter with a career-high 12 strikeouts and senior Alex Jimenez (4-for-5) led a dominant Eagle offense (16 hits) in the impressive victory at Summit High School in Bend.
HRV Softball playoff game
The No. 2-ranked Eagles host No. 15 Sherwood Wednesday, 4:30 p.m. at Westside School in the opening round of the OSAA 5A State Championships.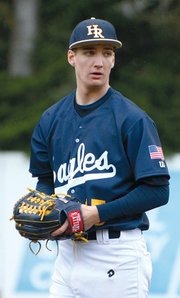 The Eagles, guided by fifth-year coach Eric Harjo, will now move onto the OSAA/U.S. Bank/Les Schwab Tires state tournament for the third time in four years; they'll meet the No. 3-ranked Springfield Millers (19-6) May 28 at 5 p.m. at Springfield High School. The game will be broadcast by Mark Bailey on KIHR radio beginning with a 4:30 p.m. pregame show.
"We're just playing good baseball right now and the guys are competing hard with a high confidence level and they're focused on what they want to accomplish," said Harjo. "Everyone is swinging their bats well and we're getting good pitching from Ryan. I felt all along we were capable of reaching the state tournament. We haven't made it to the quarterfinals yet, so that's definitely a goal of ours that we'll be shooting for in the next game as we'll just try to continue our season one step at a time."
The Eagles jumped in front at the outset of Friday's shutout with a two-out, first inning rally. Sophomore Kellan Duffy (2-for-3, two singles, RBI) reached base on a fielder's choice and then scored on a triple by Ward (3-for-4, single, double, 2 RBI, three runs).
Ward scored on a single by sophomore Patrick Harvey (2-for-4, 4 RBI) as the Eagles took a 2-0 advantage.
Ward tossed just eight pitches in a scoreless second frame with a strikeout, while the Eagles sparkling error-free defense was in the spotlight in getting two quick infield groundouts. HRV's strong offensive attack continued in the third. Sophomore shortstop Skyler Hunter (1-for-4, walk) led off with a single in drilling a fly ball to left field. A Jimenez bunt single was followed by a Duffy (season total 30 RBI) RBI single driving in Hunter. Harvey's two-RBI single drove home Jimenez and Duffy as the Eagles went up 5-0.
"Alex led the charge offensively and catcher Austin Martin did a fantastic job in communicating very well with Ryan while calling the pitches," said Harjo. "Ryan was really on target with his fastball, curveball and off-speed pitches. It was just an all-around absolutely tremendous performance by everyone and we were really clicking on all eight cylinders."
Ward continued to silence Storm batters in getting two strikeouts in both the third and fourth frames with the Eagles remaining on top 5-0 after four. HRV took control of the contest in the fifth with RBI singles by Ward, Dallas Buckley (1-for-2, walk) and Harvey's sacrifice fly RBI to extend the margin to 8-0. Summit was unable to slow HRV's potent offense while sending three pitchers to the mound in the inning. Ward continued to keep Summit batters off-balance in striking out the side in the bottom of the fifth while hurling just nine pitches.
Following a scoreless sixth, the Eagles had another offensive outburst in the final frame to move ahead by double digits. Ward ignited the rally with a leadoff double. Following consecutive walks issued to junior Kam Walker (2-for-3, two singles) and Buckley, the Eagles loaded the bases. Martin's two-run single plated Ward; Walker then scored on a Storm error as HRV went up 10-0. Hunter relieved Ward on the mound in the bottom half of the seventh and struck out two batters at the conclusion of the contest to preserve the impressive Eagle shutout.
"It relieved a lot of pressure from the kids in not hosting a play-in game," said Harjo. "I've noticed in the past there's a tendency for the guys to experience more tension and feel nervous with all of their friends and family members watching in the grandstands at home games. When you're on the road, you just show up to play your best baseball and have a good time without worrying about anything else. We definitely felt like we took advantage of that situation."
If the Eagles win in the 16-team first round playoffs versus Springfield, they'll move on to play in the May 30 quarterfinals again on the road against the winner of another Wednesday first round contest between Corvallis (16-11) and Pendleton (17-9).
Springfield, the Special District 3 champions, has won 10 straight and have one common opponent with Hood River. Springfield recorded an 11-10 win March 17 over the West Albany Bulldogs (17-9). The Eagles lost 8-3 to West Albany in a nonleague road matchup May 20 to conclude the regular season.