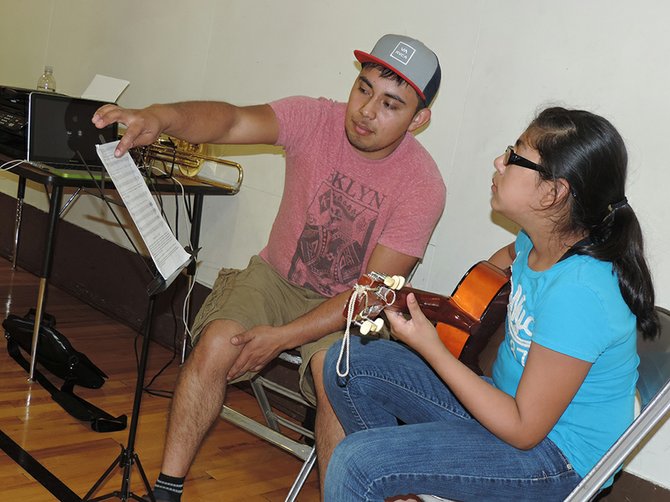 Community Education's new Hispanic music program is picking up tempo.
Instructor Bruno Vargas, 23, has been commuting from Tualatin to teach the music classes on Mondays, Wednesdays and Fridays at the Pine Grove Elementary location. The classes are unique in that instruments taught are culturally specific to the region of Michoacán, Mexico: The trumpet, tuba, trombone, clarinet, sax horn and drums.
Vargas has about 20 students, ages 10 to 35, who either come for lessons or are part of his La Banda, a 16-piece band.
In the three months he has been teaching, class sizes have grown, but there is room for expansion on an even greater scale.
"We have a large Hispanic community, but not a lot of people who know how to play or teach those instruments," said Leti Valle of Community Education. "We have lots of new students, and lots of people interested. The classes are fulfilling a great need in the community."
Brian McFadden, music director at Wy'east Middle School, said in an open letter of recommendation that "this specific group is highly unique in that it is made up of Hispanic community members who range in age from elementary students to adults. While some of the members speak both English and Spanish, many have extremely limited English speaking ability, which makes Mr. Vargas a vital part of the equation.
"Because of the language barrier," McFadden continued, "this is one of the very first opportunities many of these community members have had to experience a formal music education. The members are clearly devoted and passionate about learning to play instruments, and Mr. Vargas has helped make that a possibility."
Central Mexico is known for its big marching bands, said Valle, and La Banda is a part of that tradition. Students are planning to participate in the Fourth of July parade this year, as well as football games, and will be learning to march accordingly. But their first "real" performance will be at the Radio Tierra fundraiser on Sept. 6.
The goal of La Banda is to be a community band, said Valle, adding that the classes also provide a healthy outlet and hobby for children.
Vargas teaches from 7:30-9:30 p.m. on Mondays, and 7-8 p.m. on Fridays. On Wednesdays, he teaches individual lessons from 6-7 p.m., and from 7-9 p.m. with La Banda. All ages and abilities are welcome.
Cost is flexible, but runs $20 per hour for individual lessons. To register, contact Community Education at 541-386-2500 or community.ed@hoodriver.k12.or.us. Class listings can also be found at hrcommunityed.org.