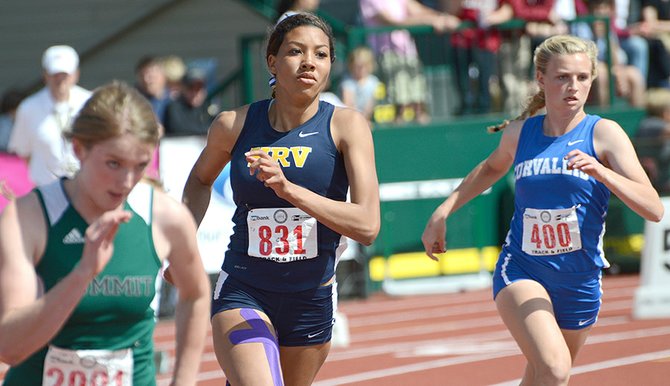 Sebastian Barajas and Jestena Mattson successfully defended state titles over the weekend at the 2014 OSAA 5A State Track and Field Championships to help propel Hood River Valley High School to ninth- and fifth-place team finishes in the season finale at Eugene's Hayward Field.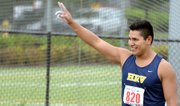 Built like a tank but light-footed, Barajas, a sophomore, beat his personal record in the discus by more than 15 feet to claim his second state title in the event. His final throw of 172-1 was a staggering 26 feet longer than the second-best finisher out of Ashland. Mattson, a junior who has established herself as the fastest female sprinter in HRV history, claimed titles in both the 100 and 200 meter events — an accomplishment that had eluded her the previous two years, when she finished first in the 100 but second in the 200 as a freshman and then first in the 200 but second in the 100 as a sophomore.
HRV girls
Jestena Mattson: 1st, 100 meters, 12.13; 1st, 200 meters, 25.25
Anna Schlosser: 6th, 200 meters
Emily Viuhkola: 5th, 400 meters, 59.91
Grace Grim: 7th, 800 meters, 2:21.59; 5th, 1,500 meters, 4:47.77
Lauren Robinson: 11th, 1,500 meters, 4:47.77
Sascha Bockius: 8th, 3,000 meters, 10:39.92
4x100 relay (Emily Viuhkola, Kassidy Davidson, Anna Schlosser, Jestena Mattson): 2nd, 48.89
4x400 relay (Kassidy Davidson, Anna Schlosser, Emily Viuhkola, Jestena Mattson): 6th, 4:05.83
HRV boys
Sebastian Barajas: 1st, discus, 172-2; 10th, shot put, 43-08
Wyatt Webber: 6th, 100 meters, 11.17
4x400 relay (Parker Kennedy, Tyrone Stinzi, Parker Irusta, Wyatt Webber): 6th, 43.92
Bryson Guidel: 10th, javelin, 151-07
Patrick Crompton: 3rd, pole vault, 14-0
Parker Kennedy: 4th, pole vault, 14-0
Parker Irusta: 11th, long jump, 20-01
The two newly crowned state champs were accompanied by 12 other HRV athletes who qualified for the state meet by finishing atop the previous week's Columbia River Conference championships.
For the boys, the ninth-place result held up to expectations for this year's team and was within 10 points of the trophy-winning pace. Barajas was favored to win the discus all season and came through with a big-time PR when the pressure was on; pole-vaulters Patrick Crompton and Parker Kennedy, who challenged one another all season, kept their friendly rivalry alive as they matched each other's heights of 14 feet to claim third and fourth place (Crompton got the higher place due to having fewer missed attempts); Wyatt Webber hung with a field of blazing-fast 100-meter sprinters to finish sixth in a photo-finish final heat; sophomore Bryson Guidel had a PR in the javelin to finish 10th with a distance of 151-07; Parker Irusta finished 11th in the long jump and the boys 4x100 relay team (Kennedy, Tyrone Stinzi, Irusta, Webber) finished sixth in a final heat in which the top eight teams were separated by about a half-second.
Meanwhile, the girls' fifth-place result was bittersweet. The team had an outstanding meet and the girls' wholehearted efforts yielded eight top-ten finishes. Ending the meet one point behind Hermiston, who had 46 to HRV's 45, however, was a hard pill to swallow, especially because the top four teams got to take home trophies.
Along with claiming 100 and 200 titles, Mattson anchored the girls' 4x100 and 4x400 relay events, which finished 2nd and 6th, respectively, the first of which came down to about a tenth of a second between HRV and No. 1 Summit. In both, the lineup was Emily Viuhkola, Kassidy Davidson, Anna Schlosser and Mattson. Schlosser, a senior, set a PR on her way to a sixth place 200 meter finish, as did junior Viuhkola in the finals of the 400, where she finished fifth.
In the distance events, cross-country crossovers Grace Grim and Sascha Bockius both had gutsy performances to earn podium finishes. Grim, a senior, stuck with the lead pack in a very competitive 1,500 meter final to finish 5th with a time of 4:47.77 – just seven seconds behind first-place Rachel Khaw of Liberty, while sophomore Bockius set a PR of 10:39.92 in the grueling 3,000 on her way to an eighth place finish.