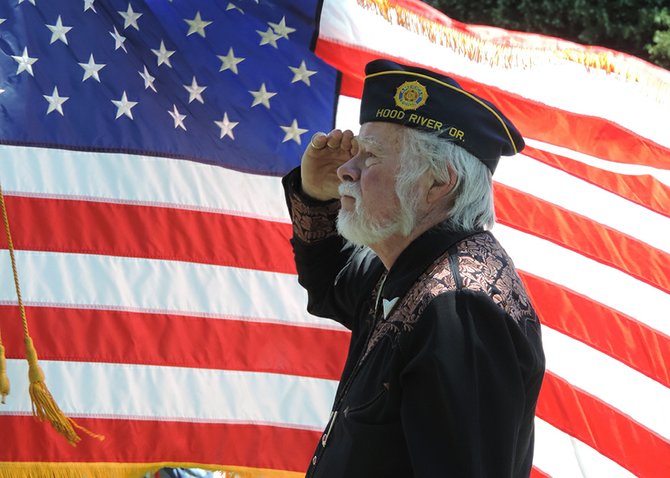 Respect and gratitude were in the wind during Monday's Memorial Day observance, held in breezy but sunny weather at Idlewilde Cemetery.
Poetry, flag traditions and music highlighted the event, attended by about 300 people.
"No matter whose name is on the gravestone, the Memorial Day flags flutter north, south, east and west. Let us take a little time in all or our busy lives and not just wait for Memorial Day to honor those individuals, but give recognition and remember those loved ones — every day," said Bob Huskey, Idlewilde sexton and master of ceremonies.
He read 21 new names added this year to the Bud Collins Walk of Honor, the oval plaza surrounding the ceremony. Individual flags adorned the nameplates, and large flags of every military arm flapped in the breeze, along with the main U.S. flag, held at half-staff throughout the event.
The ceremony featured music by the Hood River Valley High School band (including Emmy McPherson, a senior in her third year performing taps) and inspirational songs by singer Andy Streich, military planes from WAAAM doing a flyover, civic and veterans groups presenting wreaths, and a three-cannon salute at the conclusion.
"Again, our nation has assembled to honor its heroic dead," Huskey said in his remarks, drawn from words provided by the American Legion.
"A thousand battles on land and sea echo the glory of their valiant deeds. Under the quiet sod, or beneath the murmuring waves, their bodies sleep in peace. But in the destinies of men and women, their souls would go marching on. Because of them, our lives are free. Because of them our nation lives. Because of them the whole world is blest."
Rita Byrd and Betty Luther read the classic poem "Flanders Field," after Huskey presented a bouquet to Byrd, 90, who has participated every year for more than 60 years in Memorial Day events.
"I never call her up and invite her to participate. I just call her up and tell her what time to be here," Huskey said. Byrd received a standing ovation.
Boy Scouts and Cub Scouts demonstrated flag folding as prescribed by military tradition, and Scoutmaster Nick Kirby described the patriotic and religious meanings of all 12 folds of a flag,
Kirby noted that when the flag is completely folded, "the blue field of stars are uppermost, reminding us of the nation's motto, 'In God We Trust.'" He said the folded flag resembles the cocked tri-corner hat of the soldiers and sailors of America's first conflicts, "ever preserving the rights, privileges, and freedoms we still enjoy today."