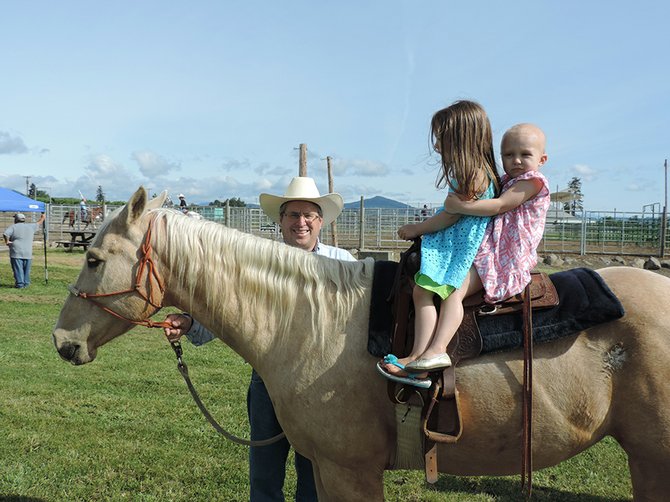 "I got it, Dad!" Lila May Schow, 3, called out when her stepfather, Blake, urged her to hold on tight during a Saturday horse ride.
Nothing like riding high in the saddle to bring out a kid's natural spunk.
The occasion was part of the third-weekend monthly ranch sorting series organized by the Hood River County Fair Board at the Frank Herman Arena at the fairgrounds in Odell.
Riders from the Gorge and beyond competed for cash in separating cows from the herd in the day-long event, but not until after Lila May and her sister, Mia, took a spin around the arena, courtesy of horseman Craig Ortega of Hood River.
It was a special experience for both girls; Lila May is undergoing chemotherapy for neuroblastoma, and will undergo antibody therapy treatments at a New York hospital later this year. The ride was also part of Mia's 4th-birthday celebration.
The fair board donated proceeds to the families of Lila May and Donovan Doroski of Odell, 20, who is being treated for cancer in Seattle.
The day yielded $1,600 to be split between the two families, according to Mark Mears of the fair board. The total included donations by Heights Glass and Columbia Bank. "Everyone's been so generous," said Mears, who introduced Lila May in the middle of the Frank Herman horse arena.
Heidi Hall, Lila May's mother, said kids in cancer treatment are limited in what they can do because their immune systems are low.
"She doesn't get to be a normal kid in a lot of ways, so this is good for her. This kind of stuff she gets really excited about. She had a great time at the Tutu Trot," she said, referring to this month's benefit at Mosier Twin Tunnels that drew about 400 participants.
Hall expressed appreciation to the fair board and Saturday's riders. "Everything helps," she said.
Asked if she enjoyed riding the horse, Lila May looked around at all the four-legged friends in her midst and said, "I don't know … do they have food for the horses?"
Mears went for some hay, and the girls took turns feeding Barbie.