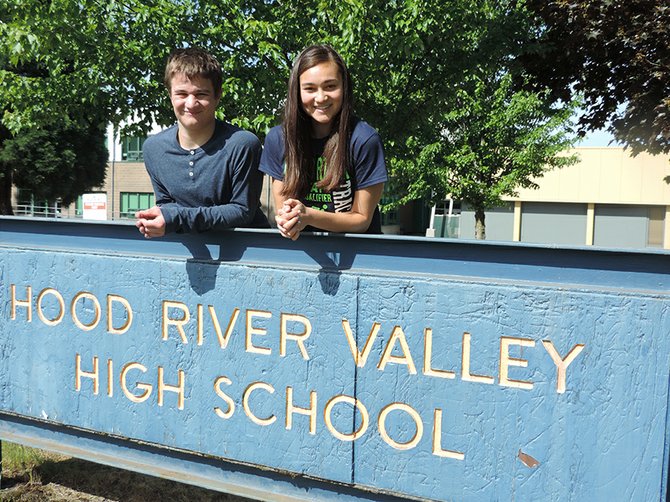 Humility may be the dominant trait of the two stand-out students honored with the 2013-14 Citizenship Award at Hood River Valley High School.
Anna Schlosser and Texx Spezia-Schwiff were surprised when their names were called by Class of 2014 advisors Ann Zuehlke and Cary Mallon at the end of the May 21 Evening of Excellence awards ceremony in Bowe Auditorium.
Graduation is June 6 and June 7 for HRVHS and Horizon Christian School, and the final day of school for seniors is June 4. June 11 is the last day for Horizon and June 13 for Hood River County School District.
Schlosser is a track standout who has competed at state and Spezia-Schwiff served as ASB president this year.
"I was so surprised and really grateful," Spezia-Schwiff said.
"It really shocked me," said Schlosser. "It's really cool. I appreciate it. It means a lot."
In his preface, Mallon said, "How we view good citizenship varies.
"Some of us value downright niceness and some of us value service. All of us remember noticing when students do something for someone other than themselves."
The announcement of the winners bore the usual moments of early suspense. Spezia-Schwiff said he found himself confused for a moment.
"When it got to the last category they hadn't called my name. I had thought they had forgotten me," he said. "I had an invitation saying I'd won something, and they came to Visual Arts, and I thought, 'yeah, I'm not winning that.'
"I can't even describe it. I was ecstatic to be honored like that," he said.
Schlosser said, "When they were describing the person I had no idea it was me and thinking of all those people it might be, and once they started saying involved in indoor and outdoor track, I thought, 'Well, I think I'm the only person who's done that. I think it's me.'
"Everything Ms. Zuehlke said was so sweet and probably the sweetest thing I ever heard."
Here is what Zuehlke and Mallon had to say:
Anna Schlosser
"The girls' top citizen chosen for this year is outstanding in so many areas. I found it extremely hard to make this short and sweet.
"I don't know her well as I just met her at the beginning of this year. I will say she comes across as: positive, friendly, helpful, compassionate, resourceful, an overall inspiration.
"Here are a few comments from her teachers:
'She is humble. She willingly helps others without being asked or thinking twice. She epitomizes the phrase "Others before self."'
'She puts her heart into her time here at HRV. She is an inspiration.'
'She is conscientious and warm-hearted. Her art work is inventive, creative and reflective. She can be serious or playful when approached with an assignment or problem, and her flexibility makes her a natural leader.'
'She is tenacious, steady, humble. Resistant to 'senioritis,' with highest scores on Med Bio test to end the year!'
'She does cheerleading, indoor and outdoor track, and dance. She takes high level classes and is an officer of the Asian Club. Despite all this she remains upbeat and positive — and no one could find one bad word to say about her. She is just a genuinely nice person.'
'Anna has touched a lot of lives at HRVHS the past four years, and we believe she will touch many more in the years to come.'
"Keep enjoying the journey Anna. We are happy to have enjoyed a part of your journey."
Austin 'Texx' Spezia-Schwiff
"Each year we recognize two outstanding student citizens from our senior class, a boy and a girl. It's always pleasant to oversee the selection process because it makes me aware of how many wonderful students we have.

"I haven't had the young man we're honoring tonight in any of my classes but he makes himself known throughout the school community. I'm told that he enjoys politics and I know he has been a student officer. He has given attention to underclassmen and students his own age equally.
"A gesture he made last fall underscores his thoughtfulness: He was able to make a significant donation to the canned food drive. But he had a unique strategy about it. He looked to see which classrooms were near their goal of a donut party, pizza party, or cookie party and used his donation to help boost them over their goals. Now that's thinking of others."