Tabitha Merten and Frida Mata, both Hood River Valley High School students, were chosen as Students of the Month for May by the Hood River Elks Club.
Both students received a check for $100 and will join the other Students of the Month that will be competing for Student of the Year awards that will be held on Sunday, June 1, at 6 p.m. at the Hood River Elks Lodge #1507. The guest speaker will be Tonia Farman, owner of Cascade Kiteboarding School and will be speaking about empowerment of youth.

n
Tabitha Merten is also a 4.00 student taking AP classes in physics, government, economics, literature, calculus and French. She is extremely active in volleyball and softball playing 16-U and 18-U, along with being a member of the varsity teams at high school. She is a member of the Robotics Club and FFA Ag Club which allowed for public speaking and Ag Sales.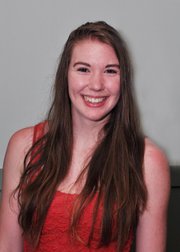 Tabitha's community service included teaching elementary students about robots and how to program; spending two summers as a cabin counselor for Wy'east Outdoor School, teaching kids to be a leader; volunteering to set up for the FTC qualifiers as part of HRV robotics; and participating as a runner for FLL Robotics tournament.
She packed gift baskets for the Hood River Christmas Project; collected canned food for FISH Food Bank; helped clean up the cafeteria and gym, did face painting and entertained kids during the Parkdale Carnival; painted the picnic tables and planted flowers for Perfect Paws Pet Grooming; and made fleece blankets for Courtney's Blanket Making for the new Emanuel Children's Hospital.
Tabitha is the daughter of Briini and Karen Merten. She plans on attending Pacific University majoring in psychology.
n
Frida Mata maintains a 3.68 GPA and has been a receptionist and yoga instructor since 2012. She is a long-distance runner on the track team; is a member of the Inspiration Circle which promotes healthy lifestyles for women; and she was a junior class officer working concession stands, handling money and organizing meetings and making weekly schedules and planning prom.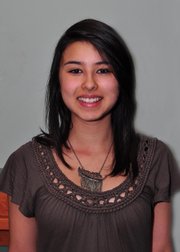 Frida's community service included being a cabin counselor for Outdoor School, making sure the kids were at their appropriate activities and helping in the kitchen; volunteering at a grade school track camp, teaching them important running principles by engaging them in interactive activities; and helping promote the all-night graduation party by soliciting donations.
She worked all four years cleaning houses, gardening and walking dogs for Community Work Day; and helped with track meets checking in participants, timing, entering data and setting up. She plays the violin, guitar and sings every Sunday for St. Mary's Church and she adjusted students in class and distributed flyers promoting Flow Yoga Spa and Wellness.
Frida is the daughter of Jose Mata and Magda Marquez. She will be attending Oregon State University majoring in biology and pre-med.
— Submitted by Linda Sanders, Elks Scholarship chairman