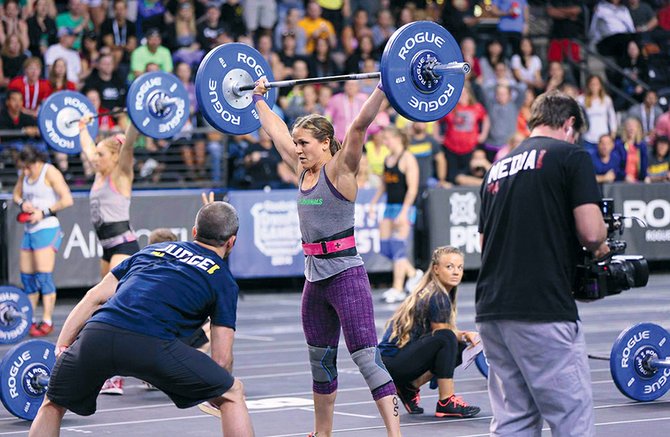 Anyone who has seen Regan Huckaby work out in the last year will tell you, she's an absolute maniac. Although as friendly as they come, the 27-year-old Hood River resident is trimmed like a Navy SEAL and can outperform most of the guys in her gym; accolades made all the more impressive by the fact that she's a mother of two young Huckaby rugrats, ages 2 and 4.
For CrossFit Hood River, Huckaby represents the pinnacle of the gym's elite fitness programming, and after just a couple years of training, she has made local history as the first athlete from Hood River to qualify for the worldwide CrossFit Games, held this July in Carson, Calif.

Help Huckaby
CFHR owner Jeri McMaster has created a page on the crowdfunding site GoFundMe to help Huckaby raise money for her trip to the CrossFit Games. To donate visit her page at:
gofundme.com/9nw68g.
Most who train CrossFit don't compete in it as a sport, but for those who do the season starts with the CrossFit Open, which encompasses gyms and athletes from around the world — this year there were 209,585 athletes who entered. Open competitors log one workout per week for five weeks, either via video submission or through a certified judge, and are then ranked based on performance standards for those workouts. The top-ranked athletes in each category, from each region, then qualify for a regional competition, which is in turn a top-three qualifier for the world championships of CrossFit, called the CrossFit Games.
CrossFit Hood River entered 99 participants in the Open — an impressive number for a relatively small-town gym. Of those, five athletes were ranked out of the many-hundred representing the Northwest Region (Oregon, Washington, Idaho, Montana, Wyoming and Alaska). Huckaby was fourth and Caren McCadam was 32nd in the individual women division, Gary Stallings Jr. was 29th and James Munk was 60th in the individual men division and Christine Wells was 20th in the worldwide women masters division (age 45-49).
Those rankings qualified McCadam, Stallings and Huckaby for the Northwest regional championship, which was held earlier this month in Kent, Wash. For Wells, the Masters Regional Qualifier was held online; she placed 21st out of the worldwide field — one place shy of a trip to the CrossFit Games.
"Regionals are three days, two workouts per day, with movements tested such as Handstand Walking (max distance), Hang Snatch (max weight), workouts with handstand-pushups, burpees, pull-ups, overhead squats, deadlifts, box jumps, front squats, pistols (one-legged squats), and more," CFHR owner Jeri McMaster explained in an email. "Some workouts are short sprints, as fast as two minutes in length, and others are longer endurance workouts as long as 22 minutes (time cap)."
Although they both climbed in the standings they entered at, McCadam and Stallings finished out of contention for the Games; Stallings in 20th and McCadam just out of reach in a tie for fourth place. Huckaby, on the other hand, quickly established herself as a top contender and held on to second place after three days of grueling workouts to secure a trip to the Games.
"Oh man, it's pretty exciting; and nerve-wracking because it means I'm going to be competing with and against some of the best athletes in the world, " Huckaby said last week. "What's really exciting for me is that I know I have a lot of room for improvement. I'm going to try my best and take as much away from it as possible."
Huckaby is a Las Cruces, N.M., native who met and married Hood River Valley High alumni Curtis Huckaby. She says she started CrossFit a few years ago after the birth of their first child, but got more serious about it after the birth of their second.
"I was working out in a gym but wanted something that was going to make a more dramatic difference, and CrossFit was it," she said. "I don't think it's something I've ever taken very seriously; obviously family comes first. But I'm also a very competitive person. Whatever gets thrown at me, I'm going to give it my all."
Huckaby says she's going to intensify her training routine to prepare as best she can for the Games, then just try her best and soak in the experience of being on the sport's largest stage. She gives credit to McCadam for being an excellent training partner and to Curtis who, she says, "has been my biggest support system; without him I definitely wouldn't have been able to do this."

McMaster says Huckaby's athletic abilities are very well-rounded, but her lack of experience in major competition could be a factor.
"She has made gains that we've never seen in the gym before," she said. "She doesn't have a lot of holes in her game; the only real hole is lack of exposure, which might come into play.
"The Games will be another three days of grueling workouts, with a much more diverse set of implements and landscape. In years past, athletes have done a variety of things such as rowing a marathon on a rowing ERG, completing a triathlon with open water in the Pacific Ocean, mountain biking and running on gravel roads at Camp Pendleton, swimming and bar muscle up workouts, wheelbarrow and sandbag sprints, and much more. The three-day test of physical strength and endurance, and mental stamina, will push the athletes far beyond what they think possible."
The Games start July 25 and can be viewed live online at games.crossfit.com.
For info on CrossFit Hood River, check out crossfithoodriver.com.