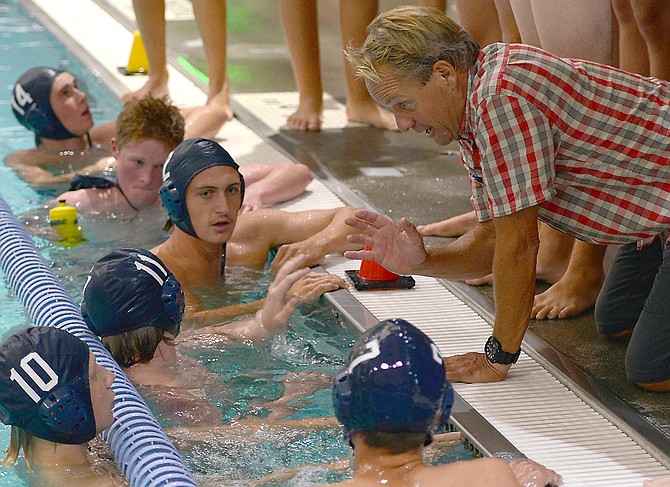 Diving into new territory, Hood River Valley High School's varsity boys water polo team will be in Corvallis Thursday night to take on Bend's Mountain View High in a do-or-die state elimination round. The playoff appearance is a first for the burgeoning HRV team, which finished its second season at the varsity level last week with a 9-3 record – good enough for second place in the seven-team Mt. Hood Conference.
Thursday's elimination round cuts the field of the state's top eight 4A/5A teams in half, with winners advancing to a four-team finals the following weekend, again in Corvallis.
"I'm very optimistic about our chances," coach David Cameron said of Thursday's game. "We know who the state's heavy hitters are, and I think we have a great shot at making it through this round and into the finals."
The team will go into Thursday's game fresh from more than a week's rest since its last game – a 17-12 home win over Gresham last Tuesday. Stan Ocheskey had an impressive seven-goal performance to lead the team in the win; Arthur Finstad was next with four goals, Cole Rothman had two and Charlie Sutherland, Russel Grim, Leif Bergstrom and Daniel Mears had one each. The week prior, the boys defeated Parkrose 14-4 and David Douglas 11-8 to secure their place atop the conference standings, second only to undefeated Reynolds, which beat HRV 12-6 in their first meeting at the beginning of the season and 12-9 in their second a couple weeks ago.
"We are in the fast lane right now and have to have our eyes wide open for our next game," Cameron said. "What a great way to start a program. We've come so far so fast; it's really been exciting to be a part of."
Also an exciting prospect for the future, Cameron says, is the group of younger players ready to step up to the varsity level. The JV boys team went undefeated all season (15-0-1), finishing with wins last week against Gresham and Sandy to close out on a positive note.
Reynolds, HRV's toughest opponent this season and the MHC's top team, advanced to the 6A state championship as the No. 1 seed. That bracket will play its first round Nov. 7 and will continue with the championship games Nov. 14 and 15.
First-year girls team ends winless season with high spirits
Despite not winning a game all season, the HRVHS varsity girls water polo team made great improvements in its first season since being formed earlier this year.
"I really have been so amazed by this group of girls this season," Coach Kellie Dunn said of the team. "The majority of the players had never played water polo until the middle of August this year, so we were really starting from scratch."
The girls finished their season with games last week against Gresham and Sandy. Tuesday's game was close (a 14-10 loss) thanks to four goals each by Lauren Orr and Rose Finstad, one each by Erin Meyer and Sam Davies and a solid job in the goal by Katherine McElderry. Finstad led again on Thursday with three goals, followed by Meyer and Ella Mudry with one each in the team's 18-5 loss against Sandy.
"When I think back to our first games that we had at the Barlow jamboree in early September and compare it to now, I'm shocked by how far we've come," Dunn said. "Things really started clicking the second half of this season and the team chemistry is there. With some more work in the off-season, we're going to be a real competitor next fall."