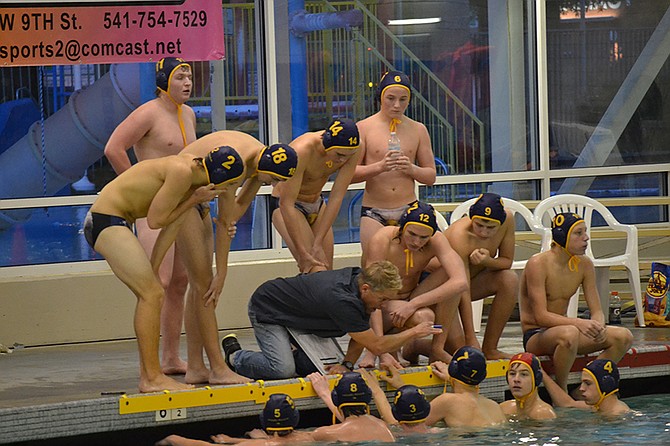 Hood River Valley High School varsity boys water polo capped its breakthrough season last weekend with a trip to the Oregon High School Water Polo Association's 5A state finals in Corvallis. After finishing with a 9-3 regular season record – good enough for second place in the 5A/6A Mt. Hood Conference – the Eagles qualified for the tournament quarterfinals against Mountain View on Nov. 6. They won that game 15-10 and then defeated Marist 12-8 to qualify for the 5A finals against Summit, which HRV lost 12-1.

"We have to give a big shout out to Summit and Ashland; they're both phenomenal teams playing at a very high level," Coach Dave Cameron said this week. On the top side of the 5A bracket, Summit defeated Ashland 9-8 in overtime to advance to the finals. "That was really the game to watch. For us, we look at the level of those two teams and have to raise the bar for ourselves. That's the level we want our program to be at in the future."
In last Thursday's semifinal game against Marist, Russel Grim and Myles Cameron had standout games, scoring four goals each to lead the team offensively. Stan Ocheskey chipped in with two and Daniel Mears and Arthur Finstad had one each. Defensively, Finstad led with seven steals and goalie Adam Cameron tallied eight saves at the net to help maintain the HRV lead.
The championship match was a one-sided victory for Summit, who took charge early and gave HRV little chance to keep up. Myles Cameron scored the only goal for HRV (assisted by Ocheskey), while Cameron had ten saves.
"Going back to the beginning of the season, in my mind I was thinking, as a coach, that if we can finish in the top five in 5A, that would be an accomplishment," Cameron said. "Finishing second is a great feeling for our guys and for myself and coach Kelly (Dunn). They had a phenomenal season and played their hearts out all year."
The team turned heads across the state this season for making such dramatic progress in only the second year since competing at the varsity level. Two years ago, in its first season since being formed, the team competed at the JV level to gain strength and learn the basics of the sport. Last season the team had enough players to field varsity and JV teams and, after a building year, ended just shy of qualifying for a state playoff game.
"We've really come a long way," Cameron said. "And the good thing is, this year we only have one senior – Stan Ocheskey. Stan has been an outstanding player and an outstanding leader for the team. He kept us grounded all season."
Ocheskey led the team in scoring all season and was recognized as a first team All-Conference and first team All-State player. Also earning conference and state accolades were teammates Myles Cameron (a junior, first team All-Conference and first team All-State), Russel Grim (junior, second team All-Conference and second team All-State), Adam Cameron (sophomore, second team All-Conference) and Arthur Finstad (honorable mention All-Conference and All-State). Coach Cameron was also recognized as co-Coach of the Year for the MHC.
"The post-season experience we had this year is going to be very valuable for the future," Cameron said. "There's another level of commitment that's required for the post-season, and I'm glad we got to experience that. They got to see what the next level of play looks like and the commitment it's going to take to get there."