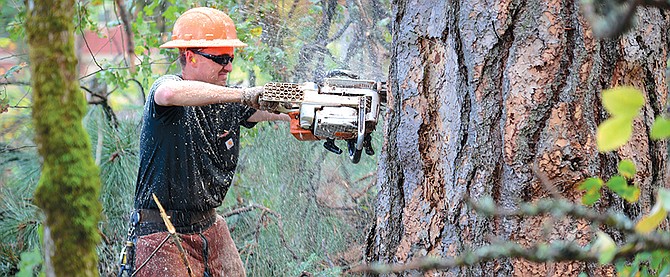 When a tree falls in an urban wood, many people hear it.
And many people have feelings about it.
That's part of the challenge when it comes to the problem of tall neighborhood conifers that have been damaged or killed by bark beetle infestation, a growing problem throughout the Gorge.
Arborist David Braun said, "The first line of defense is to avoid damage and maintain tree health; at the forest stand level, this means removing weak and damaged trees and maintaining wide enough spacing to maintain rapid growth.
"The January 2012 ice storm provided prime food for the beetle in the form of broken trees; because much of this was colonized before it could be cleaned up, the bark beetle population greatly increased," said Braun, who runs Braun Consulting of Hood River, one of a number of local businesses working with property owners dealing with the growing blight in Gorge forests private and public.
Another is WyEast Timber Services of Hood River, who recently addressed a small grove of pine trees beset by beetles in the Hope Terrace development off West May Street, where a number of trees had to be cut down and removed. Wy'east owners Paul Jones and Matt Hegeberg work with landowners who need to take the action few would ever wish for.
"It's extremely challenging, not only because we need to take care of utility lines and houses," Jones said. "One of the challenges is: a landowner surrounded by up to eight landowners, and people feel ownership of those trees even if they are not on their property. Communication with all of neighbors is paramount.
"It's extremely busy, one job leads to another, but only a few people do it," he said. "It's politically difficult, and challenging, working in tight spaces."
Jones said, "The sole reason we are doing urban logging is strictly to remove the dead and dying and diseased trees."
Ponderosa pines are currently being targeted by the California Five-Spined Ips bark beetle in and around White Salmon, Hood River, Mosier, and The Dalles. The insects leave a tell-tale powder trail extruding from bore holes about an eighth of an inch long. The insects are about one-quarter inch long.
"They fill a role in the forest as the 'undertakers,' dealing the final blow to trees weakened by storm breakage, fire, or overtopped by larger, faster growing tree," according to Braun.
However, the beetles at times infest healthy trees — the case now in the middle Gorge. While a snag may yet frame the view, and dead trees fill important ecological roles, concentrations of dead trees increase fuel load. The beetle-killed trees also begin to rapidly decay at the base, and may be within range of nearby "targets" that they may hit when they fall: homes, power lines, sidewalks, or roads. Jones said agencies recommend removing the trees through the end of January or mid-February, because this is the dormant time. With no bugs mating, there are fewer to gather and breed in slash or other dead material and then gang up on a healthy tree.
Jones said WyEast is "not a tree service, where a tree needs pruning or there are two trees in backyard to be taken care of. Our service is someone who has 12-15 trees in a backyard and we can come in and remove the trees, remove the logs, sell them in log form."
For disposing of the trees, Wy'east has a unique process. They do not charge the landowner for their service, but take ownership of the logs. As the wood is beetle-damaged, it might seem surprising that this arrangement works. Indeed, most lumber mills won't take the wood, distinguished by blue stain fungus, Grosmannia clavigera, a species of sac fungus that spreads to Lodgepole pine, Ponderosa pine, Douglas-fir, and Whitebark pine trees courtesy of the beetle.
"That wood is difficult on a commercial basis to sell, but there is a specialty market for it and with the relationship we have with SDS purchasing blue stain, we can sell it," Jones said.
"It's a large scale problem here in the Gorge and it affects multiple people, multiple ownerships here. What do people do with not only two pine trees but 60, so we've come up with this formula to help landowners mitigate these trees and repurpose the wood for another use."
Business is, well, buzzing, for these log cutters. In 2013, WyEast removed 125-150 loads from the Hood River Valley of diseased pine wood, or about 500-600. In 2102, the bark beetle harvest was "non-existent." Most of their cuts were ice-damaged trees.
Jones has spent "20 years on and off" in the tree cutting business. He worked for a company in California, then headed to Oregon for the skiing, and decided to get back into the business after the 2011 ice storm created a demand for people qualified to cut and remove fallen trees.
In 2014, WyEast was awarded the 2013 Oregon Department of Forestry Merit Logger of the Year award (details on this page). Jones said the award was based on a Dufur contract involving 60 acres of dead pines, and "a very difficult job in Dee, a five-acre job with power lines and a railroad, two stream crossings, helping the landowner through the process of getting wood harvested."
Jones said that industry members were learning in 2012 and 2013 that the bark beetle outbreak was "a one- or two-year epidemic, but now we're in year three and still seeing trees dying, it's a little more widespread, and I think what people are seeing is the Ips beetle is spreading into the commercial forest. It had been localized in urban, but now seeing county, SDS, United States Forest.
"The problem is spreading deeper into the forest."
Braun noted, "Bark beetles have been chewing on trees in Oregon for as long as there have been forests here."
A year ago, Columbia Gorge Community College paid for the removal of more than 20 tall Ponderosas on its property off Nix Drive. The trees had for years formed the backdrop for games, and shade for fans and players, at the adjacent St. Mary's Little League complex on the Heights.
This beetle starts with limbs and tops and will colonize the largest trees in one to two years. Entirely or partially brown trees can be seen everywhere there are concentrations of Ponderosa pine; many were infested in 2012 and contained beetles that emerged that spring.
Braun said the second line of defense is active management: remove the infested standing or downed trees before the new crop of bark beetles emerge and damage or kill additional trees. "The infested limbs and tops must be burned or chipped, and the logs either utilized for timber or firewood. Currently infested trees should be the main target; these generally contain greenish yellow or red-brown needles. However, it is a bit tricky to know for sure if a tree still contains beetles, so bark should be sampled at multiple points to check. Bark must be entirely removed and destroyed from infested logs that are retained through the spring and summer; if stuck, logs can be rolled in and out of a fire that has burned down to kill the beetles. In some cases, a high value tree may be a candidate for insecticide treatment if not infested, coupled with pruning if just a few limbs are brown."