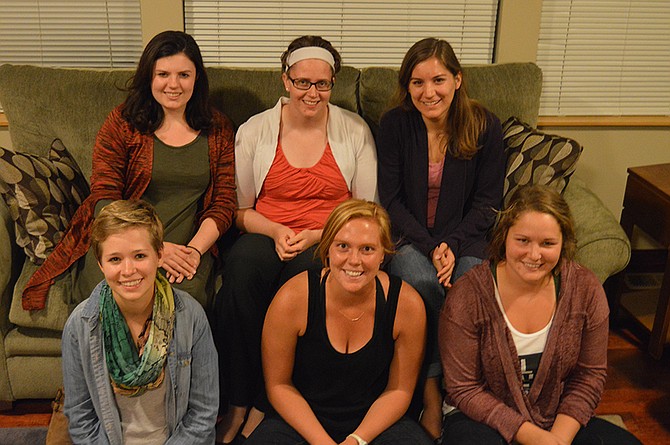 At the beginning of August, the Mid Valley became home to six young women with hearts for service and social justice.
The women — Marielle McKenna, Clare Black, Lynsey Spaeth, Hannah Ladwig, Kelly Sullivan and Kacie Black — are a part of Jesuit Volunteer Corps Northwest, a partner of AmeriCorps since 2010, and have come to Hood River County to serve in a variety of capacities.
While each has her own job focus, all live according to the JVCNW values of simplicity, community, spirituality, and social and ecological justice.
They've all recently graduated from college, excluding Lagwig, who is serving a second term with JVCNW in the Mid Valley, and Spaeth, who is also serving a second term, coming from a year in Bethel, Alaska.
The women have formed a community within the community, holding weekly meetings to assign chores, such as shopping and cleaning, and eating dinner together after coming home from their respective jobs. They also hold a weekly community night, where they might play a game or watch a movie together, and a spirituality night, where they explore where each is at on her journey and the different ways to pray. JVCNW encourages holding such meetings consistently each week, to allow the volunteers to grow closer together on the journey they've been set.
This is the third year of the program centered in Odell.
In their own words
Marielle McKenna, Kenilworth, Ill.
College of the Holy Cross; Spanish and American Sign Language
St. Francis House, Odell
"I went to a Jesuit high school and college, and have been heavily influenced by the Jesuit values of dedication to social justice, spirituality and the great more (Magis). After graduation, I wanted to really live these values out in order to explore different areas of social work.
"Every day, I balance the upkeep of St. Francis House, the scheduling of other volunteers and supervising the kids with having fun, and trying to empower the kids, challenging them to see beyond their lives in Odell to a great Magis of their own creation."
"I have been surprised by the interconnection of the JV positions. Many of Kacie's Mid Valley kids go to St. Francis House, often Hannah will bring over fruit donations from Gorge Grown, teens from Kelly's high school programs come to St. Francis House teen night, etc. If one of has a community event, it is in our positions' interests to join and contribute. We enrich each other so easily, and yet so colorfully. We live together and work together. I love it!"
Clare Black, Elkridge, Md.
University of Edinburgh, English Literature
Volunteers in Action, Hood River
"JVC Northwest's emphasis on community and simple living really appealed to me. Volunteers in Action at Providence Hood River works to help the elderly and those with life-limiting illnesses to maintain their independence. We provide our care receivers with transportation to medical appointments, help with grocery shopping, and friendly visits. As the Jesuit Volunteer with VIA, I access the needs of our care receivers and figure out the ways in which VIA can help them. I also match volunteers with care receivers' requests.
"I have been surprised by the kindness and generosity of the Hood River community. Everyone is so welcoming and open. All of the care receivers and volunteers I have met so far have been absolutely lovely and just genuinely good people. There is a real sense of community here."
Lynsey Spaeth, West Bend, Wis.
University of Madison, Geology and Geophysics; masters, University of Wyoming, Geology
Columbia Gorge Ecology Institute, Hood River
"I was placed in Bethel, Alaska, for my first year and served at the Kuskokwim Learning Academy, working with native Alaskan students. Last January … I realized I still felt called to serve, but wanted to do so in a different capacity. I was thrilled to learn about the Columbia Gorge Ecology Institute here in Hood River … I was delighted when I got the interview and learned about all the wonderful ways the Ecology Institute is working to educate and inform students throughout the Gorge on the ecology and environment around them.
"I currently serve at CGEI and work with the SECRETS program, teaching 5th graders in the Gorge about ecology in both indoor and outdoor classrooms. Additionally, I am working on improving our other programs for elementary and middle schoolers, learning about Gorge flora and fauna, and write blog posts to educate others on the natural world around us.
"Something I have been very thrilled to learn is how excited the 5th graders are to explore the amazing forest ecosystem; the students always seem to be engaged in the lessons we bring to their indoor classrooms and have been great stewards of the forest while exploring in the outdoor classroom — the Mt. Hood National Forest."
Hannah Ladwig, Milwaukee, Wis.
Marquette University, International Affairs: Peace Studies, Spanish
Gorge Grown Food Network, Hood River
"I ended up in Odell/Hood River for my 2013-2014 service year at St. Francis House because it was an excellent fit. I had tons of experience working with kids and teens in recreational settings, experience working with a predominately Latino population and a desire to speak Spanish at my placement. I stayed in Odell for a second year because during my first year I saw how food justice affected the community I was serving and falling in love with. Fresh fruit and vegetables were scarce while refined and processed foods were abundant. I loved the position at Gorge Grown because it was about organizing the Mercado del Valle, working with kids in a school garden setting, and helping resolve food access issues.
"I am still so amazed by the support, kindness and collaboration that takes place in the community. It is heartwarming to dedicate to a place where others are working towards similar goals, all with a final end of making their community better. I love the hospitality and warmth and relationships I have been part of and witnessed in my time here.
"I am also so in awe of the beauty around me. I feel so privileged to call the Columbia River Gorge my home for a while; it's the most beautiful place I've ever been."
Kelly Sullivan, Dekalb, Ill.
Creighton University, Justice and Society; minors in Spanish and Social Entrepreneurship
Columbia Gorge Community College, Hood River and The Dalles
"I chose JVC Northwest because of their values, especially the social and ecological justice, because not all programs had that and it was important to me … I loved the idea of making college more accessible to students and helping them navigate through that process, in a world where having a college degree is becoming more and more important.
"At CGCC, the goal of my placement is to make higher education more accessible. I'm helping with three different pilot programs in the area: AVID (Advancement via Individual Determination) at HRVHS — it's a program for 10th graders to increase college readiness by teaching organization, study skills, critical thinking, etc.; ASPIRE at The Dalles High School — helping students through individual mentorship with college searches, applications, scholarships, etc.; and Juntos at middle schools (The Dalles, Wy'east and Hood River), a program for 5th graders and their families to teach about the journey to college, so students stay on track through high school and parents know how to support them. It's being taught all in Spanish first. I'm also helping the CGCC Foundation with outreach for their scholarships.
"I'm excited to be getting to know the communities (of Hood River and The Dalles) better so that I can see how I can best be used. The pilot programs that I'm part of seems to have great potential and I'm very excited to be a part of the journey."
Kacie Black, Bellevue, Neb.
St. Louis University, Public Health
Mid Valley Elementary School, Odell
"I've always been drawn to service, but weeklong and month-long trips always left me wanting more — more relationships, more time in the local (community) and more time in reflection of the work I was doing. So I began looking into JVC Northwest and JVC National. Throughout the application process I learned so much about myself and knew I was on the right track. As for getting here to Hood River and Odell… I felt this was the place I could do the most good!
"I am on recess duty every day, so I'm living out kids' dreams of a school day just filled with recess! But I play games like kickball, tug of war, hula hoops and more with the students. Then I help at the afterschool programs Excel and Excel Plus. I get to know the kids a bit more and teach/share with them some things I am passionate about through the enrichment classes.
"Odell has surprised me so very much, especially with all its beauty! Seeing Mt. Hood and Mt. Adams every day is such a blessing; I am constantly awestruck."