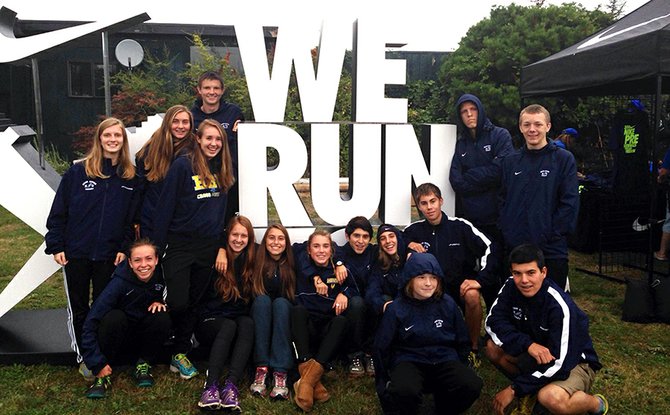 Hood River cross country was in fine form Saturday at the annual Nike Pre Nationals meet at Portland Meadows Race Track, where more than 100 teams from several states were there to compete in one of the Northwest's premier running events.
Representing Hood River's promising future as an Oregon cross country powerhouse, the girls middle school team (made up of students from Hood River and Wy'east middle schools) finished fifth out of a field of 17 teams in the 3,000 meter event.
Coach Steve Wrye noted that the Hood River girls were the top team from the state in their division and finished behind well-established programs from California and Washington.
"With all but one of our girls being in 6th or 7th grade, we plan on winning the Nike Pre National next year," he noted.
At the high school varsity level, HRV cross country ran in the Division-2 meet, which had fields of 21 boys teams and 26 girls teams. Both HRV lineups finished fourth overall – a result coach Brandon Bertram is very pleased with.
Highlights from all three teams are as follows:
Middle school:
Charolette Bromham: 25th, 12:04.72; Reed Bauer: 44th, 12:41.11; Katie Koenig, 57th, 13:05.81; Frances Melby: 65th, 13:15.60; Silva Sankari: 67th, 13:19.25; Terra Mikkelsen: 77th, 13:40.22; Chloe Bullock: 82nd, 13:44.22; Teddy Parkinson: 84th, 13:46.22
HRVHS girls top five:
Daisy Dolan: 19th, 20:32.67; Lauren Robinson: 20th, 20:33.97; Denali Emmons, 37th, 21:14.31; Sophia Marble: 53rd, 21:35.56; Terri Hewitt: 60th, 21:40.03
HRVHS boys top five:
*Justin Crosswhite: 2nd, 16:06.75; Quinn Fetkenhour: 22nd, 17:05.47; Nils Engberson: 17:16.84; Connor Traux: 60th, 17:50.06; Jesse Wiley, 61st, 17:51.13.
*Crosswhite's time is a career personal record.