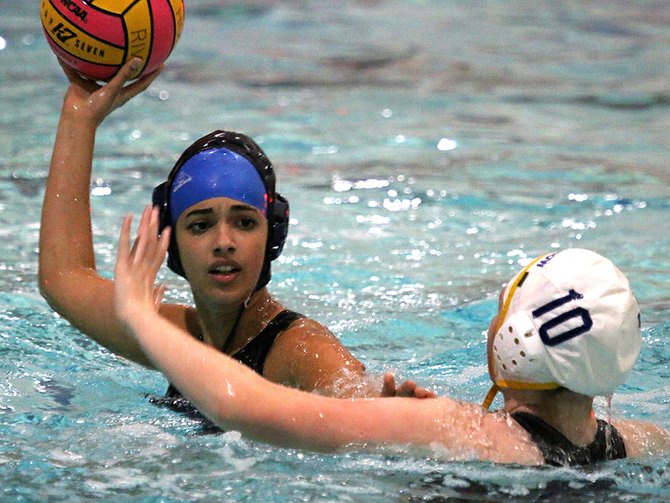 Hood River Valley High School varsity boys water polo picked up two big wins this week against Mount Hood Conference opponents Barlow and Gresham. Led in scoring by senior captain Stan Ocheskey and his condor wingspan, the Eagles defeated Barlow 18-9 Tuesday in Hood River, then went on the road Thursday to defeat Gresham 15-11. Ocheskey had a team-high five goals Tuesday and eight more Thursday.
Meanwhile, the JV boys team followed suit with a 7-5 win over Barlow and a 7-3 win over Gresham. The HRV girls lost to both opponents, but continues to make strides in their first season since being formed.
For the varsity boys, Tuesday's victory over Barlow as especially sweet since the Bruins defeated HRV handily twice last year and went on to finish in a tie for first place in the conference with Reynolds.

"It was really satisfying to come out so strong against this team," said team assistant Renee van de Griend. "Our team was up 8-1 after the first quarter … and having such a strong lead gave us the opportunity to have all players on the team get a lot of time in the water, especially given that goalie Adam Cameron was effectively blocking so many shots by Barlow. Our long-term objective is to have a full bench of players who are equally as strong as our first string, so game time for all players is really important to us as a team."
Ocheskey had five goals in the game, followed by Arthur Finstad and Miles Cameron with three each, Daniel Mears with two and one apiece by Charlie Sutherland, Russell Grim, Leif Bergstrom, Cole Rothman and Cameron, who scored off an impressive long-range shot from the goal.
Ocheskey was a beast in Thursday's game as he led with a team-high eight goals; Grim and Cameron each had two and Finstad, Lewie Taylor and Rothman each had one. Daniel Mears had a huge game in the goal – filling in for Cameron – as he tallied a total of 11 saves to help the Eagles keep their edge.
"It was fairly close most of the game with Hood River finally breaking Gresham's defense down late in the third quarter," Coach Kellie Dunn explained. "In the fourth quarter we were really able to seal things up by shutting them down offensively as well. Daniel Mears really stepped up with a great game in goal, making some key blocks and setting up the offense with great passes. Gresham came to play, and luckily we were able to outplay them at their home pool and come out with the win."
Although another loss to their record, Thursday's game was a positive one for the HRV girls, who managed four goals against Gresham's 12; Rose Finstad had two and Amber Kennedy and Annika Martinez each had one.
"We were excited to get some goals on the board tonight," said Dunn. "In the second half things really started clicking, with our defense getting tougher and our offense starting to come together. We were finally able to spread out and work the ball around. While we are still learning the game, it was good to see some pieces coming together. The team really seems to understand the importance of working together and is developing some great chemistry."