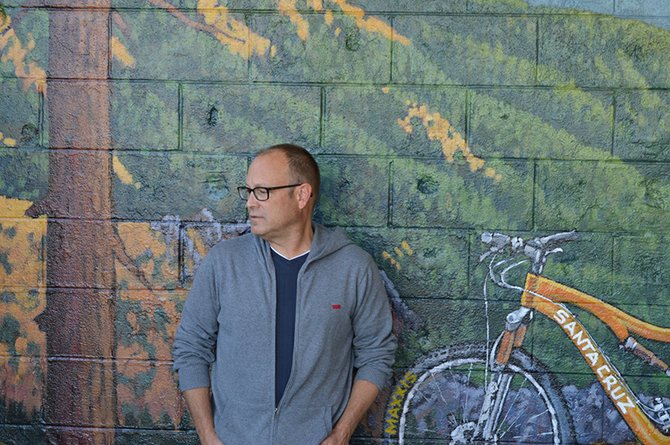 Taking a tour of Hood River is like taking a tour of Mark Nilsson's artwork. And after 20 years in town, he's created quite a bit of it.
The most visible are his murals — some of which can be found at A Kidz Dental Zone, Columbia Center for the Arts, Andrew's Pizza, Hood River Hospice and Egg River Café (inside and out) — and his mosaics at Three Rivers Grill (one he created with fellow artist Shelly Toon Lindberg), Full Sail Brewery, Ground Coffee and Providence Hood River Memorial Hospital. His newest mural, painted this summer, is located outside Hood River Bicycles, at 208 Fourth Street.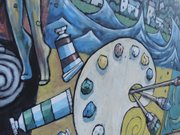 "That's one thing I'll hear people say, 'I see your work everywhere'," Nilsson said. "I try to mix it up, too, and people kind of know my style."
Then there are the signs he's created for Doppio and At Home on Oak Street. In all, he counts 16 or 17 places "that have some kind of permanent work" displayed.
That's the public art. He's also held regular shows at Brian's Pourhouse since its opening in 1998, and usually has one or two larger pieces on display at Doppio, on what owner Michael Barthmus calls Nilsson's wall. He's created wine labels for Mt. Hood Winery, jar labels for Oregon Growers Shippers, and even designed a Kleenex box sold nationwide.
For the most part, however, "I'm mostly working on commission pieces and have a nice big list of work to do," he said.
"The community has been amazing to me," he said. "Most of my work still continues to be here — 75- to 85-percent of my business is here in town."
His success stems from his versatility. "I can work large, I can work small. I look at the space and come up with something."
His favorite projects are the ones where he's given free reign, like his murals at A Kidz Dental Zone. "They just let me go, which is really fun," he said. "It's best when I'm allowed to do what I do."
He's currently working on a set of murals at the A Kidz location in The Dalles, and while the business is the same, the murals he's creating are quite different — he's keeping with an old The Dalles theme that is "a bit more historical" and includes a picture of Celilo Falls before it was dammed over, he said. He also has a project located at Mid-Columbia Medical Center.
His work "can be representational, more realistic, going into impressionistic, to whimsical," he explained. While he's primarily known as a painter, he sometimes works with other materials, such as recycled wood, metal, or map pieces.
"Most artists have a very distinctive style they stick to, and that's great, but I get kind of bored," Nilsson said. "I want to mix it up."
Nilsson is self-taught, "whatever that means," and started at a young age. "I always dabbled. My dad says I was drawing figures and trees and things when I was five or six," he said — and his father's friends would see his "refrigerator art" and have to have it.
"He gave them away," Nilsson said of those early projects. "He regrets that — he said should have kept some of those pieces."
His father is still very supportive of his work. "It's nice because Dad's really proud of what I do," Nilsson said. "He shows his friends pictures of my work."
Besides support for his art at home, Nilsson credits several teachers for recognizing and encouraging his talent.
In sixth grade, Mr. Beach in Bishop, Calif., pulled Nilsson aside after a class project of drawing trees. "He said, 'you have a gift here and I want to see you develop it'," Nilsson said. "He entered me in a kids' art contest, which I won."
In high school, he had teachers who "let me do my own thing," he said. He took a couple of art classes in college, but "I don't like to be taught," he laughed. "I like to do it my own way, so it's worked out well. I always figure you never stop learning (as an artist). I'm always open to learning more and I'm deeply impressed by the artists here locally… we're all different, and people are all supportive of each other here in the community."
Nilsson is originally from Oregon — he was born in Baker City — but moved often while growing up. His mother was Swedish, so he lived in Sweden for a while as a child (Swedish is his first language). He graduated from Sherman High School in 1978 and immediately moved to Teheran, Iran, where his father had gotten a job teaching English.
"It was very westernized back then. I loved it," he said. "I'm an 18-year-old kid and could go out to clubs and restaurants … it was really fun. Then the revolution started happening."
He'd been in Iran for six months when the family was forced to leave the country with what they could carry on their backs. "We lived under martial law for a while, heard bombs ... I found it exciting though because I was 18, but my parents lost everything."
From Teheran, the family moved back to San Jose, where his stepmother was from and "went back to American life," he said. He attended "a little bit of college and moved a bit," he said. "I never quite knew what I was going to do."
Nilsson didn't become a fulltime artist until the age of 30 — he tried on and off, but wasn't making enough money to support himself. He got a job refinishing furniture "and got quite good at it, restoring all kinds of antiques." He specialized in marble finishes, and restored and resold pieces on the side as well.
He tried again to make a go at art fulltime and quit his job, living for a short time in Gilroy, Calif. And again he took another job, this time in security as a Silicon Valley tech company. About a year into the position, he was talking with one of the company's engineers, mentioning his artwork in passing. The engineer, a collector, asked to see Nilsson's work.
Nilsson brought in a pile of photos — this was pre-Internet, he said — of the painted furniture and pieces he'd created, and after flipping through them, the engineer asked what he was doing working security.
"I'm just paying the bills," Nilsson replied, to which the engineer responded, "I'm not telling you want to do, but I think you were born to do this."
Unable to get the incident out of his head, Nilsson gave his notice two days later.
And he's been a fulltime artist ever since.
"It's very important to live your life while you still got it," he said, "especially after losing Ellen Dittenbrandt. You just never know ... you just got to live your life." Dittebrandt, of Mosier, an artist-firefighter-triathlete, was killed Aug. 24 while riding her bicycle on I-84.
Although he started making a name for himself in the San Jose, Carmel and Bay Areas, about 20 years ago he decided he wanted to move back to Oregon, "to go home." He'd heard great things about Portland and planned to relocate there.
And he might have, too, had he not visited his brother Danny in Hood River that Christmas.
He never left.
"It was supposed to be a visit," he laughed. "It's the longest visit I've ever had. I kept saying I was going to move to Portland, and it hit me — I'm home."