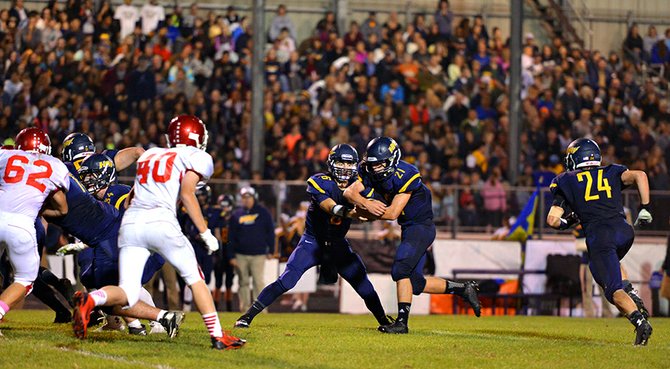 The one-two punch of runningbacks Patrick Crompton and Parker Irusta combined for 201 yards rushing to help the Hood River Valley Eagles celebrate a festive Homecoming with a 56-14 win over the North Eugene Highlanders in a Class 5A football game Friday in front of a capacity crowd at HRV's Henderson Community Stadium.
The high-flying Eagles (2-3), led by coach Caleb Sperry, had an impressive overall performance as they overwhelmed the winless Highlanders (0-5) with an aggressive offensive attack that netted 505 yards. The Eagles look to carry momentum into this week, when they meet the McKay Royal Scots (1-4) Oct. 9 at 7 p.m. in Salem. The game will be broadcast by Mark Bailey on KIHR beginning with a 6:30 p.m. pre-game show.
"I'm real excited because we needed this, so it's a good win for us," said Sperry. "It creates an opportunity to give the kids some more confidence and boost our spirits a little bit. Winning always makes everyone feel good and it reenergizes them and helps motivate them to come back and try harder and keep working hard to improve our team, which is what we have to do."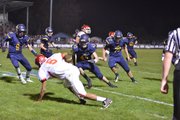 North Eugene took the opening kickoff from HRV sophomore placekicker Manny Valdovinos and threatened to score on its opening series. Hood River's defense shut them down though, stopping a fourth down conversion play on their own six-yard line to take their first possession of the game.
HRV then proceeded on its longest scoring series of the game — a nine-play, 94-yard drive, highlighted by Irusta (six carries and a career-high 131 yards rushing) runs of 25 and 17 yards. Eagle senior quarterback Riley Van Hoose (6-for-10 passing, 119 yards 1 TD) scampered up the middle on a 10-yard touchdown run and Valdovinos kicked the PAT to give Hood River a 7-0 lead with 26 seconds left in the first quarter.
"I wish we could've got our defense off the field quicker in the first quarter," said Sperry, whose Eagles totaled 385 yards of rushing. "They (North Eugene) used a lot of time in the quarter and they kept us on the field longer by converting some third down conversions. It was nice that we got that fourth down stop and then when we got our offense out there, they responded and executed good by running the ball well. Patrick is a great running back and we had him in position to use him very effectively. We tried some new formations to try and get Parker more involved in the offense too. He's a highly skilled running back just like Patrick and we just wanted to get the ball in our playmaker's hands tonight."
Leading 7-0 at the end of the first quarter, the Eagles picked up the pace in the second and gave the capacity-crowd a fireworks show that accompanied each touchdown.
On North Eugene's ensuing possession, HRV capitalized on a turnover to extend their lead. Eagle senior linebacker Steven Swafford intercepted a pass thrown by North Eugene quarterback Aidan Lannom and returned it 17 yards to the Highlanders' 41. Crompton (17 carries, 170 yards rushing, 5 TDs), ran swiftly past numerous Highlander defenders on several carries to highlight a six-play, 59-yard drive.
Crompton, a 5-foot-10, 165 pound senior, scored on a five-yard TD run, followed by the PAT by Valdovinos to make it 14-0 with 8:39 left in the quarter. Crompton spearheaded the Eagle ground game, which totaled 385 yards of rushing.
"I just knew that I needed to run the ball hard and our offensive line blocked great tonight," said Crompton, who gave credit to teammates Jonnie Knickerbocker, Wyatt Mansfield, Sam Fults and John Gray for their solid blocking at the line of scrimmage. "I was able to run through lots of holes that they created for me and we were able to run exceptionally well the entire game. We approach every game with the attitude that every team is an equally challenging opponent and we have to always play our hardest."
Just a little over two minutes later the Eagles hit paydirt again. HRV senior defensive back Enrique Perez intercepted a Lannom pass and he returned it 50 yards for a TD and the extra point by Valdovinos made it 21-0 with 6:28 left until halftime.
"It was exciting to score, since it was my first touchdown ever in my career," said Perez, who also notched his first ever interception. "After I picked off the pass, I was just hoping that I wouldn't drop the ball and I just tried to keep running as hard as I could. We were focused throughout the whole game and we were just trying to do our best by working hard on every play. This win will help give us some more momentum that we'll need to help us continue improving all season and hopefully win some more games."
After North Eugene came back to score to trim the deficit to 21-8, the Eagles answered with three scoring drives in the final three minutes of the first half. Crompton's one-yard scramble capped a four-play, 38-yard series, followed by the PAT by Valdovinos, making it 28-8 with 2:59 on the clock.
"It was a great win and it just feels super good and it provides us with lots of momentum heading into our next game," said Crompton. "I felt good the entire time and I didn't even get tired at all. I was kind of frustrated not being able to play much in the second half, but I understand the coach's decision about that. Everyone on the team needs to get more playing time and that's one of the things we like to do in one-sided games like this. I believe we have a chance to win our league this year, which is a big motivating factor for us, but our main goal is to make it to the playoffs."
On HRV's ensuing kickoff, the Highlanders fumbled the kickoff return and the ball was recovered by Irusta at North Eugene's 38. Four plays later, Crompton scored on a three-yard run and the PAT by Valdovinos made it 35-8 with 2:12 left. HRV then stopped North Eugene on its next possession, forcing three downs and a punt to give the Eagles possession. HRV then converted on a seven-play, 83-yard drive, capped by a 10-yard TD pass from Van Hoose to Crompton and Valdovinos' PAT made it 42-8 as the clock expired at halftime.
HRV took North Eugene's second half kickoff and quickly extended the margin. Crompton capped a five-play, 50-yard series with a 14-yard scoring run, followed by the PAT by Valdovinos for a 49-8 advantage with 10:50 left in the third quarter.
The Eagles momentum continued and they scored again on a six-play, 80-yard drive, culminated by a 19-yard TD run by senior John Gray along with a Valdovinos PAT for a 56-8 lead with 7:58 remaining in the game. The Highlanders scored late in the contest, making it 56-14. It marked the largest margin of victory for HRV this season and it was also the Eagles' highest scoring game this year. The Eagles extended the Highlanders' losing streak to 19 consecutive games over the last three seasons, which included an 0-9 record in 2013.
"It's a learning season all year for us and we just try to get better every week and we showed a huge improvement tonight with no turnovers, which is the first time we've done that this year," said Sperry. "There are some things defensively that we need to improve, but we're just playing better now and we're executing well offensively. The key to a good team is that you continue to improve week after week and we're doing that at this point. I always feel like we can win. McKay is going to be a good opponent and they have good team depth. It's going to be a big challenge, especially since it's a short week with less preparation time, but it will be a good test for us."
HRV's next game against 6A McKay is their final nonleague contest of the season; they'll begin a three-game Columbia River Conference schedule Oct. 17 versus the Pendleton Buckaroos (3-2) at Pendleton.