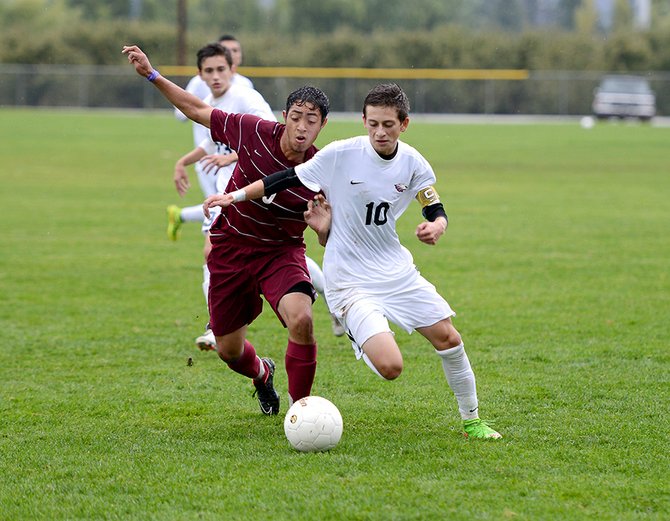 To say the Hood River Valley High School varsity boy soccer team is on a roll would be putting it lightly. From the looks of it, in fact, they're darn near unstoppable.
The Eagles, now 12-0, annihilated their opposition this week, starting Tuesday with a punishing 6-0 win at home over The Dalles and moving on Thursday with an 8-0 win at Pendleton.
Andres Baeza gets unofficial Player of the Week honors as the team's leading scorer; the junior forward had an impressive hat trick Tuesday (three goals) and followed with two goals Thursday. On Tuesday, Gio Magana also had two and Manuel Mozqueda had one, while Magana, Alex Gutierrez, Jonny Villafana, Noah Noteboom, Antonio Bustos and Noe Magana each had one goal Thursday.

Along with an excitingly skilled and athletic offensive presence, the Eagles have been equally solid in the backfield. Thursday was the team's fourth shutout straight (fifth of the season) and no team this season has managed more than two goals against. As impressive as these latest high-scoring results have been, down the road the team's defense will become increasingly more vital when they face teams with more potent and successful attacks of their own.
Current OSAA 5A ranking show the Eagles ranked 5A No. 2 – second to state rivals, Summit Storm out of Bend. Those who follow HRV soccer will remember well the fact that Summit defeated the Eagles 2-0 last season for the state championship. The two teams met for a rematch earlier this season in a hard-fought game at Westside School that ended 2-1 in favor of HRV. Since then, Summit has gone undefeated in its schedule, save for a 2-2 tie against Central Catholic, which currently sits in the 6A No. 1 position.
The Eagles host Hermiston for senior night and their final home game of the regular season next Wednesday, 6 p.m. at HRVHS football field.