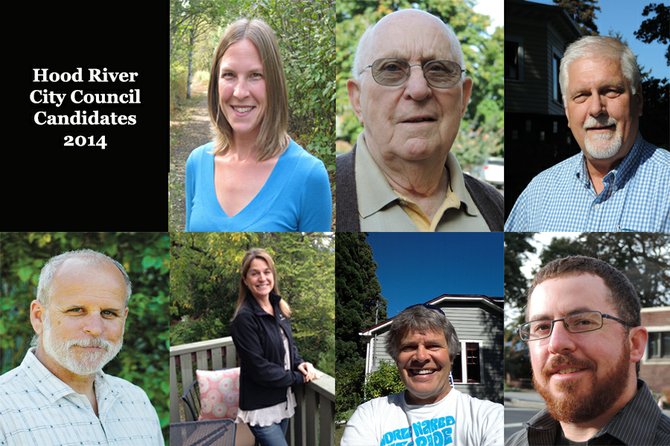 Seven candidates are running for three positions on the Hood River City Council: Dave Bick, Becky Brun, Peter Cornelison, Tim Counihan, Susan Johnson, Bob Palmer and Joseph Sheahan. Only Palmer has held elective office. (Councilors stepping down are Brian McNamara, Ed Weathers and Carrie Nelson.) Hood River News asked the current candidates to respond to eight questions about their goals and ideas.
Candidate appearances
Oct. 22 at Dog River Coffee, 5:30 p.m. – candidate reception and mayor debate
Oct. 23, at Riverside Community Church
"Office Hours" continue at Dog River and Celilo
Ballots go out Friday, vote by Nov. 4; if your ballot does not arrive by Monday, call Elections.
The questions
My top three goals.
The biggest challenge facing the city in the next three years and how I would approach it.
The role of the council is:
My vision for Hood River in the year 2025 is:
Describe your leadership qualities.
What are your views on how the city can best provide services to its citizens?
How do you see the city's relationships with other local agencies?
City leadership will have significantly changed in January 2015, with a new mayor and three new council members, along with a city manager on board for less than a year. How do you see this affecting the business ahead?
Tim Counihan
1) To maintain the city's progress over the past several years towards becoming fiscally sustainable. Taking care of the city's business and making sure that sustainable financial practices are in place has to come first for other things to follow.
To enact policies that will make Hood River a safe, family-friendly place to live. This goal encompasses a variety of topics, including helping to ensure that our air and water are clean, ensuring that our children can safely walk or bike to school, and enacting policies that will improve the safety of all of our citizens.
" To create an environment where our locally owned businesses can thrive. Our locally owned businesses help make Hood River a wonderful place to live; we owe it to our neighbors that own these businesses to support them and honor their contributions to our community."
2) In my opinion, the biggest challenge facing Hood River in the next three years is how to manage growth, including the development of the waterfront, in a way that honors our locally owned small businesses, is done in an environmentally sustainable way, and results in outcomes that keep Hood River the wonderful place to live that it is today. I would love to say there is an easy one- or two-sentence solution to this, but it is more complicated than that. What I do know is that there is a wide array of opinions on what should be done and also a lot of folks out there with really good ideas. It is important enough to slow down and engage our citizens, including our small business owners, to get their input.
3) The role of the City Council is defined in the Hood River City Charter. Since thecCouncil is bound by the charter, I would encourage folks to go to the Hood River City website and become familiar with how the city works. To paraphrase the Hood River City Council procedures manual, the Hood River City Council "is the policy making body of the City of Hood River."
4) My vision for Hood River in the year 2025 is that Hood River will be a vibrant community with a wonderful park system, walking and biking trails, and that will provide an example of how sustainable environmentally-friendly practices can promote a healthy locally driven economy.
5) It may sound counter-intuitive, but I think my best leadership qualities are related to my ability to work in a team environment. I really like working with others to achieve results and to make a positive difference. Understanding different points of view is critical to coming up with robust solutions to a problem. However, once discussions have taken place, decisions need to be made; I do not have problems with doing that.
6) I think the best way for the city to provide services is to better understand the public's expectations for services and to then develop specific objectives needed to meet those expectations. Once the objectives are determined, we should establish metrics that describe success. Since there is only so much money to work with, increases in the level of services provided will need to come from either becoming more efficient and/or making choices about what services to prioritize. Formalizing a process that develops objectives based on the public's expectations and measures progress towards meeting these objectives will help promote accountability for the city's expenditures and also encourage citizens to decide what services they think are most important.
7) Hood River's relationships to other local agencies are obviously very important since policies enacted by other local agencies can significantly affect City of Hood River residents. I think that the City of Hood River should seek ways to partner with other local agencies to address issues of common concern. I think good examples of this would be to work with other municipalities in the Gorge to establish common policies and visions regarding coal trains and storm water management. Issues such as these transcend political boundaries.
8) It's crucial that the incoming council members and mayor continue the positive trajectory towards fiscal sustainability that has been established over the past several years. I do think that there is an opportunity in this election to make a statement on how we want our city to look and feel in the future and whether 20-50 years from now Hood River will be a place that our children still want to, and can afford to, live. It's a testament to our community that enough people are running in these elections that we get to choose our volunteers.
Joe Sheahan
1) My goal for City Council is to serve my city to the best of my ability by offering open-minded and critical thinking to all decisions. I would like to address housing and the amount of 9 month rentals verses year round. I would like to continue the previous council's strength when it comes to the city budget.
2) Housing and port development. We need to continue to allow strong business growth in our community. To do this we need to address housing and what type of development will be allowed throughout the city.
3) City Council's role is to put in place the community's plan for the future. We are here to listen and decide. Then we set up the direction by working with the city staff.
4) In 2025 I would like to see Hood River much as it is today with some improvements. A place that continues to offer a high quality of life for all folks that live here.
5) As manager in restaurants and hotels for much of my career, I have had to put leadership skills to the test every day. It is important to set a good example for those you lead. You do not have to be the strongest or smartest, but you have to know who is.
6) The best way to provide services to the city is to make sure we are strong financially and to put to use the hard-earned taxes our citizens pay to responsible uses. This means that sometimes the city will have to make decisions that may upset others who do not hold those same values.
7) It is important for the city to work well with other local agencies. Our community is not just the city, it is the entire Gorge and valley. We all affect each other with our decisions.
8) It will be a challenge and the council will have to listen to each other, the city staff and to the people. It will be a learning process for everyone involved. I am looking forward to both of those.
Susan Johnson
1) My top three goals as a council member or a councilor would include:
a. community enhancement programs
b. affordable housing
c. maintaining fiscal responsibility
2) I feel the biggest challenge facing the city in the next three years is- workforce/affordable housing. How I would approach it? That's a good question. How does an average salary, average wage individual live in Hood River? I feel that people who work here should be able to live here.
3) The role of the council is to monitor the operations and performance of city agencies, make land use decisions and has the responsibility for approving the city's budget.
4) My vision for Hood River in the year 2025 is for it not to become another Aspen or Vail by pursuing thoughtful proactive planning. Keeping Hood River thriving economically while still maintaining its small town feel.
5) My main quality can be best described as a good communicator. As a leader, one must listen often, actively and a lot. You must be willing to work to understand the needs and desires of others. As a good leader, one must ask questions, consider all options and lead in the right direction for the right reasons.
6) The city can best provide services to its citizens by being more connected. Actively listen and engage in dialogue with the residents with what they want. Allow them a voice in determining what's right for Hood River.
7) How do I see the city's relationship's with local agencies? It appears there is a little bit of a disconnect between the city of Hood River and the local agencies. It would be nice to see all communicate and work together more closely.
8). The change in city leadership, as of January 2015, will have many effects in the business ahead (several of many), include the following: First, there are going to be four new people learning a new and challenging job. The learning curve is going to very steep and there will be much to learn. Second, it will bring new perspectives and ideas to the council and city. Third, continue to have a thriving, safe and healthy Hood River.
Becky Brun
1) Goal 1 - Do more to ensure the success of local businesses. We can work with Oregon legislators to change rules that would allow cities to pass local preference policies, requiring that goods and services be first offered to a local company rather than an out-of-town one. We can enact and enforce policies such as Hood River's big-box ordinance, which protects locally owned businesses and preserves the unique character of our town.

Goal 2 - Become a leader for responsible growth. All new developments should make Hood River more resilient to the impacts of climate change and reflect the values and needs of the people who live here. As a member of the Urban Renewal Advisory Committee, I've had some influence on our urban renewal districts, but I think the Urban Renewal Board can do better. This means designing streets that incorporate bioswales for storm water infiltration, creating more bike lanes and safe routes to school, building sidewalks that include street trees and public art, designating more space for parks, trails and community gardens, and supporting public transportation strategies.
Goal 3 - Implement innovative strategies that result in more moderate- and low-income housing. We cannot rely on the public sector alone to create affordable housing options. Federal and state funding for such projects is harder and harder to come by. We must look for creative strategies that encourage the private sector to fill this need. An example would be to create a revolving loan program for homeowners who want to build an auxiliary dwelling unit (ADU) on their property.
2) The biggest challenge facing the city in the next three years is growth and this is how I would approach it. Hood River is world renown for its natural beauty, rich agricultural resources, access to the outdoors, and amazing food and drink. We are limited by our urban growth boundary, which is in place to ensure that we develop a high-quality, livable city. We can look to other cities for exemplary strategies that would allow us to increase density and create new jobs while improving the quality of life for the people who live and work here.
3) The role of the council is to ensure the city fulfills its duties under the law and lawfully exercises its powers. While city administrators and employees can be involved in policy formation, only council members can pass an ordinance, approve a comprehensive plan, or adopt the city budget. These are all essential tools that dictate how the city moves forward.
4) My vision for Hood River in the year 2025 is that it's a city where people of all socioeconomic classes enjoy a high quality of life. I hope that Hood River is seen as one of the top cities in Oregon to both live and to visit — not just for its access to recreation and agriculture, but for its progressive and responsible growth strategies.
5) I think most people who have worked with me would say that I lead by example, and that through my actions I inspire others to strive for excellence. I am a team player and am known for working tirelessly on the things that I am passionate about. I'm dependable, reliable and follow through on the things I say I am going to do. I am at my best when I'm challenged to step into a leadership role.
6) A lot of research shows that local governments provide better services when they engage citizens in co-designing and improving public services. This is not a new idea. Citizens have been involved in the co-delivery of public services for a long time — through volunteer fire departments, neighborhood associations, and citizen policing groups. We are a community of do-it-yourselfers. If elected, I will work to engage more citizens in the design and delivery of services to help ensure better service to citizens.
7) The City has a lean staff and is led by a volunteer City Council and as such, absolutely relies on other local agencies and nonprofits to help ensure that the needs of citizens are met efficiently and effectively. The City is typically very open to working with other local agencies on issues of citizens' safety, health and welfare. I want to see that continue and maintain an open-door policy at City Council meetings.
8)The new mayor and council members will be inheriting a balanced budget and a relatively positive public sentiment about local government. Our new city manager will have had a solid 8 months on the job. And with a joint planning session between the current city council members and the newly elected city council members slated for mid-November, I think the hand-off in January will be a smooth one that will allow the new council to hit the ground running in 2015.
Peter Cornelison
1) A. Monitoring and reducing the city's greenhouse gas emissions through a Climate Action Plan. Creating energy saving and solar programs for Hood River citizens. Working with other communities in the Gorge, as a region, on climate action and transportation issues.
B. Creation of bike lanes, signage and awareness. I have been a bike advocate for years, creating bike lanes, rail trails and bike events.
C. Managing the city's growth so it is done responsibly and sustainably. Hood River is going to grow, but we can determine what that looks like if we plan for our future now.
2) The biggest challenge facing the city in the next three years is development of the Port lands near and at the waterfront. I would approach this by participating in the planning process and helping to guide the growth there.
3) The role of the council is to set policy and for the staff to enact it.
4) My vision for Hood River in the year 2025 is: a city that we would all still recognize (smart growth), but with community gardens and more bike and pedestrian access and paths. A city with adequate affordable housing, job and educational opportunities. A city where the community is vibrant and engaged in developing its own future as well as being resilient to the impacts of climate change.
5) I am a person who gets things done and work in collaboration with others. I have taken yearlong leadership training with both the Ford Family Foundation and Oregon Leadership Foundation and have been in many leadership roles as a company president, former city council member and environmental activist.
6) Make sure city employees adopt a customer service attitude when dealing with citizens and make sure city departments are adequately staffed and supported to handle tasks promptly.
7) We need to continue to work closely with our partner agencies and seek to strengthen our bonds and planning efforts.
8) Our former mayor and City Council have left the city in a very good and stable place. A new council and mayor can take what has been done and use this as a springboard to add to the strengths and future of our fair city.
Bob Palmer
1) My goals are to be a good council person and to represent the citizens of Hood River. To help solve problems and concerns that will best suit the city, city staff and the citizens. To have a voice in a transparent and cohesion council.
2) The influx of tourism that is taking place in this small town of Hood River and how as a city we adapt to the parking, bicycle and foot traffic in the downtown core area. There needs to be some thought of how we can incorporate the Heights area to alleviate some of the pressure in the few blocks of core area downtown. This may take some time to study to come up with a plan. This influx did not happen overnight and the problem cannot be solved overnight.
3) The role of the council is to serve and make all decisions that come before the council pertaining to city business. Also to abide to the city charter and council procedures.
4) To have a vibrant city along with family paying jobs for the people of this community.
5) Owned the Heights Mill and Cabinet and had five employees for 10 years. Worked in city government. Started in 1967 as a volunteer fireman, was hired as a paid fireman in 1969, and moved up the ladder to fire marshal in 1977, along with a credited mechanical official for the city and county. Was appointed chief administrative officer of the fire department, supervising six firemen, in 1985. Done the budgeting for the fire department and ambulance service from 1980 to 1990. Was also a certified EMT. Retired from the fire department of the city on Dec. 31, 1991. Was elected Mayor of the City of Hood River in 1994 and took office Jan. 1, 1995.
6) To have enough manpower to serve and protect all of the people and to enforce the ordinances of the city.
7) I do believe that relationships with other agencies have been and are working just fine.
8) I do not feel that the change in the council personnel will affect any of the business that comes before the council. My feeling is there will be a smooth transition.
DAVE BICK
1) My top three goals: When I retired from my career in civil engineering almost three years ago, I undertook a number of carpentry projects, which are now mostly done. With some time available now, I decided to run for City Council, not because I have a personal agenda, but through a desire to remain active in and serve my community. That being said, my goals are:
To continue to provide excellent service in all areas for which the City is responsible while working to maintain the fiscal responsibility and budget reserves that have been achieved by the City over the past eight years.
The City has design requirements in place for new developments to, among other things, provide clean and controlled storm water discharge, sidewalks and bike lanes, where appropriate. As a Councilor, I will work to ensure that the requirements are followed and will work to identify specific needs and develop methods to expand this work to existing areas of the City.
Finally, infrastructure. Following on the work that has already been done, such as the replacement of the City's primary water main, looping of the Port area water system and construction of the Indian Creek lift station and associate improvements, I will work to ensure that infrastructure is built or upgraded as needed to maintain the City's ability to deliver services like water, sewer, and streets. I also believe that the City has a safety issue at several intersections and will work to see that traffic signals are installed at these intersections as soon as budget allows.
2) The biggest challenge facing the city in the next three years will be dealing with growth, both at the Port and throughout the City and this is how I would approach it.
The City has a comprehensive plan and zoning in place to address the type of growth that can occur within the City. The zoning, outlined and defined in the Municipal Code, is based in part on state requirements and on citizen, staff and Council input at the time the codes were established or modified by Ordinance. I believe that the process works well, with the Planning and Engineering Departments and then Planning Commission reviewing new developments and the Council weighing in if issues ensue. Public input is solicited and needed at each step of the process and I will encourage all sides to participate. On issues that appear before Council, I will endeavor to fairly weigh the testimony received and make an informed and considered decision in each case.
3) The role of the Council is established by the City Charter of 1991, which provides broad powers to the Council, essentially all those powers provided by the constitution and statutes of the United States and the State except those reserved to the voters. I see the Council's primary role as being as the steward of the public trust. The specific activities included in Council's role would include: establish goals and set policy for the operation of the City, review and approve the budget presented by the City Manager and the budget committee, pass ordinances as required to address the needs of the City and citizens, and act as the legislative body for the City to address issues that arise during the course of the City's business.
4) A city somewhat larger than it is now that is livable, safe, clean and beautiful. I see a Hood River that will grow with responsibility toward the environment and that will provide the types of services, in addition to the basics of sewer, water, streets, police and fire protection that its citizens demand, including safe pedestrian ways and bicycle travel lanes. I see a vibrant downtown complimented by a Port area that provides good employment through new light industrial growth while building on the outdoor access model provided by the Port and City with the Waterfront Park, Event Site and defined access to the Boat Basin and the waterfront trail system.
5) In my working career, I was responsible for leading teams in the successful design and construction of a variety of large civil works projects. I believe the leadership qualities that helped me then and will help to make me a good Councilor include confidence in myself, a positive attitude, honesty, and a good sense of humor. Equally important is my ability to communicate with others in order to define a problem and then work to find a solution.
6) As mentioned in my goals in question one, I am a firm believer in building and maintaining the infrastructure needed to provide the basic services for which the city is responsible — sewer, water, streets and storm water control. The cost of these services is paid for by the users through their utility bill. New infrastructure is paid for by developers when new areas are developed. Rates to provide and maintain service can be adjusted by the Council to ensure the continuation of the service, but must be carefully monitored to avoid adverse effects on seniors and others with modest or fixed incomes.

In addition, the City provides parks as well as police and fire protection, and those services are funded in the general fund, the revenue for these coming primarily from property taxes. There has been some discussion in the past on combining services with the County (police and sheriff) or with other districts (fire). I have not yet been convinced that either of these will best serve the citizens of Hood River, but am open to any reasonable ideas that maintain or increase the level of service while holding the line on costs.

The general fund also includes administration, planning and engineering. All are important services that must be considered in the budgeting process. I believe the City currently does a good job in delivering the services for which it is responsible, but the Council should, from time to time, seek input from both the public and staff to ensure that the level of all services is maintained or improved as we move into the future.
7-8) Working as Hood River's city engineer and public works director from 2005 through 2009, I had opportunities to get to know and work with other local agencies and their leaders, including the Port and the County, as well as local water and fire districts. I believe that the trust and communication established through hard work by leaders in the City and the agencies has led to relationships that are much improved over what they were in the 1990s and early 2000s. A cooperative spirit and good working relationships now exist. I believe that the City can continue to nurture that trust and spirit under the new leadership that will result from this fall's election and, if elected, I will certainly do my part to see that happen.