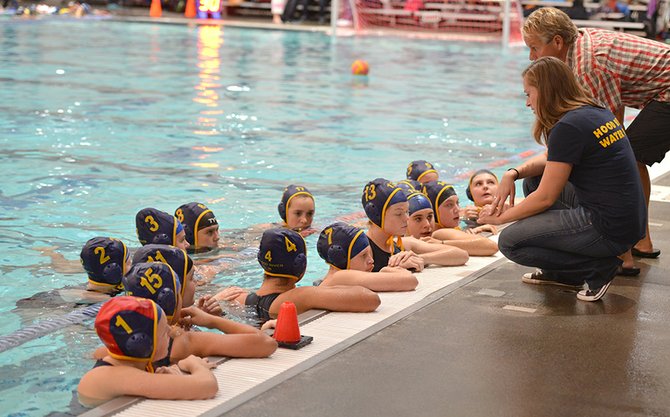 After six straight wins — all by fairly large margins — Hood River Valley High School varsity boys water polo hosted league rivals, the Reynolds Raiders, last Thursday for an action-packed matchup between the Mt. Hood League's top two team, and rematch of the Eagles' only loss of the season. Reynolds again proved too tough to overcome, as they finished with a 12-9 win to secure the No. 1 league position with about two weeks left in the regular season.
Myles Cameron scored three goals in the game, Stan Ocheskey had two and Daniel Mears, Russel Grim, Will Lamer and Trey Schilling all had one apiece.
"This is the next team we are looking to take down, and unfortunately tonight things just weren't coming together for us," said Kellie Dunn, who co-coaches the team with David Cameron. "We still played well as a team and got some great goals, but Reynolds is a very skilled team with some very talented players that we just couldn't quite keep in check."
Prior to Thursday's loss, the team was on a three-week winning streak that included well-rounded victories over David Douglas, Barlow, Gresham, Hillsboro, Parkrose and Centennial, thus generating quite a buzz among the state's high school water polo community as a team that started from scratch two years ago and is now competing at the state level.
As a testament to the momentum building for the sport rapidly growing in Hood River, the junior varsity boys team is currently undefeated, with 12 straight wins, including a commanding 9-3 win vs. Reynolds. Cole Rothman led the team in the win with four goals, followed by JJ Mears with two Leif Bergstrom, Will Sumerfield and Dakota Kurahara with one each.
The team went on the road Monday evening to Barlow, where they lost a tough 12-11 game in overtime against a Bruins squad determined to take revenge after losing to the Eagles earlier in the season.
"Barlow really came to play and they definitely played incredibly tough," Dunn said. "Adam Cameron had an incredible game in the goal, making some really crucial blocks to keep us in the game. Our team fought from behind to bring it into overtime, and we just couldn't quite keep the one-goal lead we had after our first overtime period. It was a good lesson on what it takes to keep fighting back from behind and we really discovered a few weaknesses in our game that we will work on for the upcoming state tournament."

Meanwhile, the HRV girls team remains winless, but optimistic, as it progresses through its first season since being formed. All but a couple of the girls are first-year players, so expectations for this first year have been to learn the game, gain strength in the pool and make steady progress — which, coaches say, has been a great success regardless of the win-loss record.
"Our varsity girls continue to show improvement in nearly every aspect of the game," Dunn said. "I'm so encouraged by their willingness to learn and it was awesome to see some more pieces of the water polo puzzle come together for them tonight. We are starting to create opportunities on offense and are getting some great shots off. Our team is very young, so it will be fun to see how we do the next couple of years as this group of girls keeps getting stronger, faster and adept."
Rose Finstad led the team in scoring last week against Reynolds with two goals; Sam Davies and Jocelyn Pedrotti each had one; and this week Lauren Orr and Amber Kennedy each scored one in their 12-2 loss at Barlow.
"The girls never cease to amaze me with their work ethic and positive attitude," Dunn commented after Monday's game. "This was a way more physical game than any we have played so far this season, so it was really impressive to see them play through that. They've gotten to be incredibly tough this season physically and mentally."
After three games this week and two more next week to conclude league play for the season, the varsity boys will move on to the state playoffs Nov. 6-8 in Corvallis, which they have already qualified for as a representative of the 5A Metro League (HRV, Sandy, Parkrose and Hillsboro). From there, the top teams in each division will advance to a second championship tournament the following week, Nov. 14-15 at Corvallis's Osborn Aquatic Center.