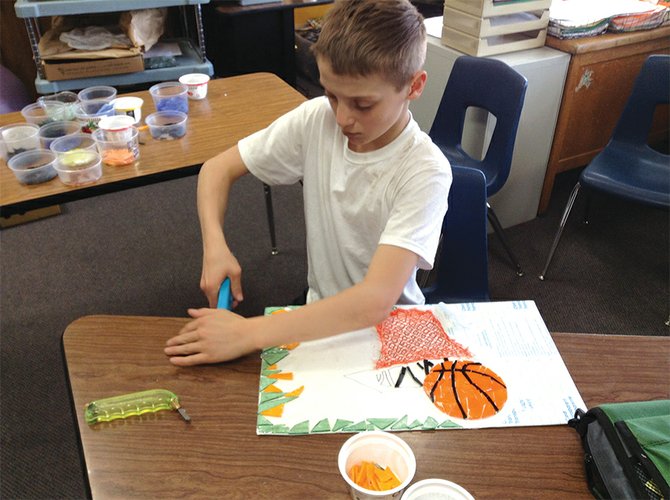 The entryway at Wy'east Middle School is much more colorful these days, thanks to a SPROUTS Club stained glass project held after school last year.
While SPROUTS primarily focuses on horticulture, students found themselves in a lull after planting of fall garlic in the school's garden last November. Club advisor Peg Wooten began to look for an indoor, winter project for students until spring planting could begin.
"I began to consider an art project using colored glass, since I had an abundance of leftover glass from many stained glass projects that I had completed," said Wooten. She settled on mosaic glass designs.
The project was open to all Wy'east students after school on Thursdays during the school's Excel Program, as well as a few weeks during school for brief periods, Wooten explained. She created the first piece as a model, to introduce the concept and show students the steps needed to create a finished piece. Students then discussed the different classes they wanted to represent in the pieces — math, science, literacy, history, language arts, music, PE and, of course, horticulture for the SPROUTS club. Even Tuffy, the school mascot, earned a place, as did scenes from around the valley, ranging from fruit production to the mountains.
Volunteer Pat Fisher brought previous stained glass experience to the project, while Peny Wallace shared her grouting expertise. Some students worked independently during the project, while others worked in groups of three or four. Wy'east staff members Teri Adams, Dodi Sims, Stacy Brown, Trudy Klantschnek, Jackie Heck, and Pauline Koll teamed up to create a few mosaics of their own.
"This project took an enormous amount of patience and determination for the students," said Wooten. "What was unveiled was thoughtfulness, skill, excitement, and enthusiasm.
"This project superseded all my expectations due to the determination and admiration of these students."
When completed, the mosaics — 18 in all — measured 11-inches by 19-inches and were installed at the front entrance of the school by Wooten and husband Tom over the summer.
"Peg has gone above and beyond to make meaningful learning experiences for kids, and has donated countless hours of her time and resources to make a beautiful project," said Wy'east principal Dalbey. "It brightens up the entrance to our school.
"It's great for kids to have their work on permanent display," Dalbey added. "It gives them a sense of ownership in the school. They've left their little legacy to our building."