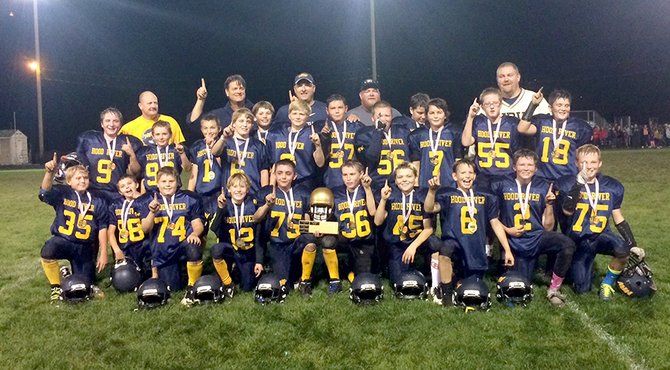 Hood River's 5th/6th grade football team held off a last-minute offensive charge by White Salmon to finish with a thrilling 20-16 win and take the championship title last Saturday in the Gorge Youth Football League season finale. The boys, coached by Justin Frazier and Pete Hughes, won all but one game in the regular season — losing only to White Salmon in their first meeting — and had to qualify for a place in the finals with a semi-final game against The Dalles the weekend prior, which they won 35-0.
For the coaching duo of Frazier and Hughes, both local law enforcement officers, the title marks their third straight in the GYFL, and like the previous two years, this group has left a lasting impression, both as athletes and maturing young gentlemen.
"I'm very proud of these kids," Frazier said this week, "not only for all of their hard work on the field, but for how they all came together as a team to support and play for each other. They were always so positive; it was really cool to see … and to end the season the way we did was pretty exciting."
Saturday's championship game was a back-and-forth duel between the two teams. Hood River marched the ball down the field and scored on its first possession to set the pace of the game, which White Salmon matched with a touchdown of its own on its first possession. After another Hood River TD in the second period, White Salmon threw a last-second long ball for a 30-yard touchdown play and converted its extra point to take a 16-14 lead as time expired for the half.
The Hood River boys managed one more touchdown in the second half, but missed its extra point, to take a 20-16 lead. White Salmon had one final drive with a couple minutes left in the game and a chance to win it all with a touchdown.
"The stands were full and everyone was pretty excited," Frazier said. "It literally came down to the last play. We held them off. Very good defense has been a signature of our team all season, and they really came through to win the game.
"One of our strengths was that we had a lot of kids who played a lot of different roles, and they adjusted really well to that. It's not like we had one star player who scored all of our touchdowns. We had a lot of kids playing multiple positions and filling roles that needed to be filled. I give them a lot of credit for that."
In addition to the positive attitude and work ethic of his players, Frazier gave credit to parents and their support as a factor in the team's success this season. As a new standard for the league this year, coaches were required to track things like number of starts and plays to make sure everyone on the team got at least some time on the field. The system, Frazier said, brought about positive results, but would have been extremely difficult without the help of parent volunteers.
GYFL is a tackle program for players from Hood River, The Dalles, Stevenson, White Salmon, Goldendale and Dallesport/Lyle. This season Hood River fielded two 5th/6th grade teams and one 3rd/4th grade team.