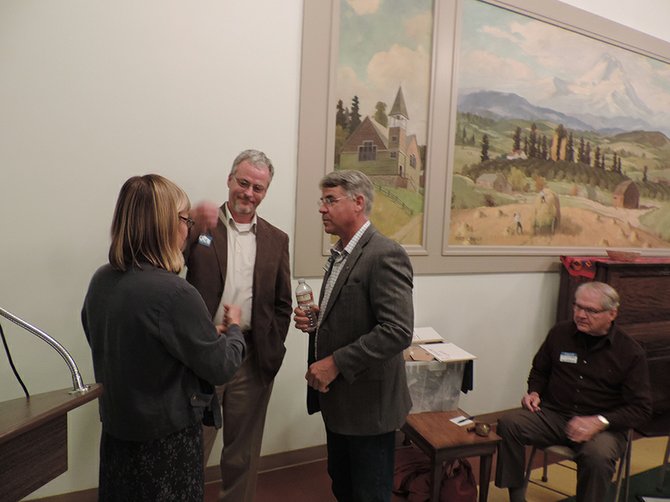 State Legislature candidates gave their view of Oregon's problems, and possible solutions, in a forum Thursday in Hood River.
Rep. Mark Johnson spoke along with his Dist. 52 challenger, Stephanie Nystrom of Corbett. Johnson, of Hood River, is seeking his third two-year term.
It is the first run for office by Nystrom as well as for her Democratic associate, Robert Bruce, a Sandy construction management consultant, who is challenging Dist. 26 incumbent Chuck Thomsen, a Pine Grove orchardist seeking his second four-year term.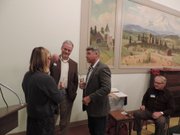 Also speaking were Hood River mayoral candidates Greg Colt and Paul Blackburn. The forum, at Riverside Community Church, was sponsored by Gorge Ecumenical Ministries, which works on social justice and environmental issues in the Gorge.
Asked about city government's response to lowering carbon impact, Colt said, "I'm not sure the city has much say about that," but added that rail and coal companies should be required to pay for increased spill-response equipment stations along the Gorge. "I was scared when I learned the closest station in case of a derailment was 100 miles away," he said. "The city doesn't have any control over that stuff. I know what I can do as mayor other than voice my opinion and be appalled, because I am appalled," Colt said.
Blackburn said, "I'm so happy that the (coal) train traffic is not coming through Hood River, but I am so disappointed there is quite a lot of it right across the river in Washington. It makes us an increment safer, but the planet's just as bad off."
He said he supports the work of the international group 350.org to advocate for public agencies to divest from companies that have a large carbon impact. "The city does have some assets, some might be comingled with the county investment pool, so it might not be easy, but let's at least ask the question. This is our grandkids; future," Blackburn said.
All four statewide candidates voiced support for Measure 88, the driver card authorization, which Johnson and Thomsen both co-sponsored when it was passed by the State Legislature.
There was a parting along party lines on the other ballot measure to come up Thursday: Measure 92, requiring Genetically Modified Organisms (GMOs) to be labeled on many types of food sold in Oregon. Nystrom and Bruce firmly support it, while Johnson and Thomsen oppose it.
Bruce pointed to Thomsen's Legislative report card by two groups which have endorsed Bruce: Oregon League of Conservation Voters (28 out of 100) and Oregon Education Association (30 of 100). Thomsen did not respond to Bruce's statements about the OLCV and OEA, nor to Bruce's comment that "I do question where he (Thomsen) does stand on oil and coal transports and protecting the environment."
Asked about coal oil industry use of rails, river transport and off-loading sites in the Northwest, and its role in the effects of fossil fuel on climate change, Thomsen, a 30-year firefighter, replied from that perspective, decrying the lack of volunteer training, and the need to provide weekend training for volunteers in rural departments such as those in the Columbia Gorge.
Bruce said he is "adamantly against oil and coal cargo in the Gorge, and everything they represent as contributing to climate change." He said it is possible to fight permits such as those for facilities, but government is limited in what it can tell railroads it can and cannot transport. "The fact that the rail industry is tightly regulated is one thing in our favor," he said.
On classroom sizes and educational funding, Thomsen said he regularly visits schools in his district, including his junior high (now middle school) Wy'east in Odell, and said he will serve next week as "Principal for A Day" at Orient Middle School near Boring. Thomsen noted that the Legislature allotted an additional $1 billion this biennium to K-12 education, which helped most schools restore programs and services, but "most schools have not dealt with the issue of classroom sizes." He said the portion of the state General Fund had dwindled in the 2000s from 50 percent down to 32, and is now at about 38 "and should be back up to 50 percent."
Bruce, the son of a teacher, said education is "near and dear to me," and he criticized the use of standardized testing, quoting his father's adage, "Why would you get mad at a fish because it can't climb a tree?"
"What we're here to do is inspire a kid to learn, to teach them to love to learn. Let the teachers teach. It's about our priorities again. Where are the priorities? Why do we need our priorities to be and how do we get there?"
Opening statements highlights:
n Thomsen described his first term in Salem as an ongoing learning process and, for him, a place to serve on a bipartisan basis: "I always get help from someone on the opposite side. That's how you're more successful in Salem," he said. As a lifelong Hood River County resident and orchardist, he said he grew up with and worked with diverse groups. "My background prepares me to respond to these things," he said.
n Bruce, a Sandy construction management consultant, said he oversees a variety of projects every year sometimes involving 30-40 subcontractors and complex drawings and contracts. "I'm not a professional politician," he said, "but I have been in Salem many times over the years as a consumer and citizen advocate.
"When you take a look at statewide issues, it always comes down to 'where is the money going to come from?' One advantage we have not encouraged enough is helping small businesses to grow." He said if businesses could grow 10-15 percent — "and that's not all that much," it would reduce unemployment, and expand the tax base and revenue, "and that means more money for schools and infrastructure, and more jobs. It's about our priorities, and where we want them to be."
n Johnson said, "I'm running again for the same reason I ran four years ago: I love my state, but my state can do better. We are underperforming compared to our neighbors economically and in education. In so many ways we don't compare with our neighbors, or on a reduced scale." He pointed to Oregon as second to last in high school graduation rate. "It doesn't have to be that way. This is a great state and we can do better."
n Nystrom pointed to her upbringing by a single mother who inspired her to go to college for a better life, and how she graduated debt-freed thanks her own work and financial aid, "but many of those opportunities I am afraid just aren't there for young people anymore. In public education, schools are looking at larger class sizes and shorter school years." Nystrom called for a higher business tax rate to fund education, public safety and other programs. "The rich are getting richer, the poor are getting poorer, and the middle class is disappearing. People need a ladder out of poverty. I want to take my passion and the people's interests to Salem."
When asked what they would do about improving families' ability to sustain themselves economically, including addressing the minimum wage, Thomsen responded by pointing to his support of 15 percent tax credit to businesses that donate fruit, meat, dairy and other food stuffs to nutrition support programs such as food banks. On minimum wage, he said, "we can work on that more at the state level."
Bruce said the issue comes back to "where are our priorities what do we want to get done?"
"The high number of people who are hungry in Oregon is a disgrace. It's wrong. We can change our priorities and we have to start in Salem. And I understand about this. I have been there on the tight end of the budget."
On gun safety legislation, Nystrom pointed to five bills presented to the last Legislature that failed to reach a vote, and said one in particular, closing the loophole allowing private gun sales without background checks, should have been approved.
"I support common sense gun measures," she said.
Johnson responded that while school shootings are tragic, they would not have been stopped by gun sale registration, citing the example of last year's Reynolds High School shooting, done with legal guns that had been locked up.
"We need to identify at-risk behaviors before they lead to violence," he said. Funding for school counselors has "fallen through the cracks," he said, and "at a state level we should not allow the schools to cut positions such as school resource officers and counselors.
"None of the bills (in the past session) would have prevented Reynolds. No law can prevent that. I would rather put money into mental health," Johnson said.
n
Paul Blackburn and Greg Colt, running for Hood River mayor, downplayed their differences in Thursday's forum.
"We know what the problems are. The question is, who's going to solve them?" Colt said.
"This is a great little town, and I want to keep it that way," Blackburn said.
Colt emphasized his plan to form response groups, including downtown, the Heights, West Cascade, youth, and Hispanics, to report quarterly to City Council on their concerns.
Blackburn reiterated his concerns about the waterfront, saying "what happens there will make a huge difference," and termed commercial overdevelopment of Port-owned land as "eating our own young." Blackburn repeated his opposition to any change in zoning, saying the section of town should be reserved for recreation and light industrial.
Colt said development by the Port of Lot 1 (the large open space just north of Second Street and just south of Event Site) would eliminate his dream of creating a "multi-purpose civic center" at the waterfront. He said he fears for the prospect of competition in the area for downtown.
Blackburn told the GEM audience, about one-third Hispanic, in Spanish that he hopes to be their mayor, adding, "It's time we had a Spanish speaker for Mayor."
Colt said, "The only language I speak is English, but I can hear your feelings when they're translated and I can act on them."
On affordable housing, Colt said the city can meet the need via higher density; he cited a Wilson Street lot with one home that developer Mike Kitts removed to make room for four. "We need to do more of that. This town is too expensive. In order to make it more affordable, we need to increase the density."
He liked an earlier plan for the city to fund a 111-unit apartment complex on city land next to Morrison Park (Jaymar and Wasco streets). "We should get involved with Mid-Columbia Housing Authority, the city could donate the land, and private investors build the apartments and MCHA will manage them
"They do a good job" with other rental units they manage, he said. "We don't need to send people cross the river or to The Dalles to live. They need to live here," Colt said.
"Some people will always choose to live elsewhere," Blackburn said, "This is an expensive place, we need to make sure some options; we need to add to the inventory. The city has some opportunities." He pointed to the Accessory Dwelling Unit rule that passed when he was on council that allowed people to build small cottages in backyards; we need to continue to find ways to address that; we now have appropriate operating reserves in place, and we can afford now to move forward creatively."