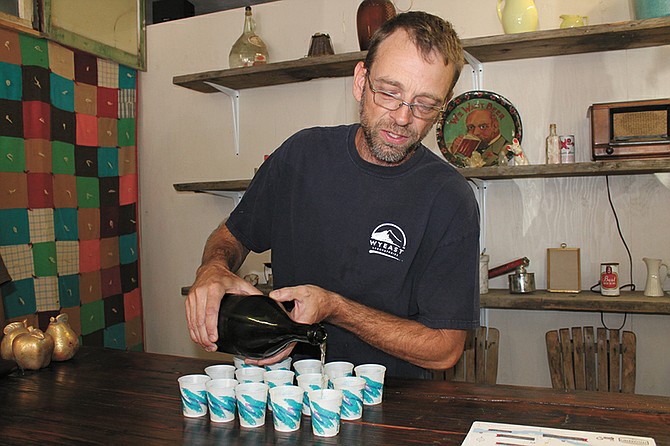 With an abundance of apples and pears in the Hood River Valley, it's easy to understand why the emerging business of craft hard cider is such a natural fit for the Gorge. But it took a weekend of attending the inaugural Cider Camp — touring, tasting, and yes, actually pressing a bin of apples — to realize that hard cider is already here, and well on its way to enjoying the same status as beer and wine.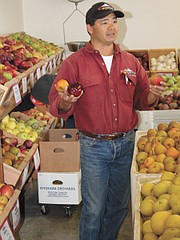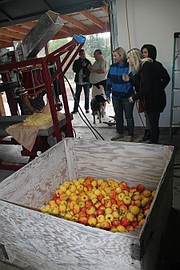 In fact, it was at Hood River's recent Hops Fest that I met up with Cider Camp organizer John Metta, a founder of Columbia Gorge Cidermasters, and co-owner of MAEVE Cider, who invited me to spend a long weekend, (which turned out to be relatively rain-free), visiting orchards, farms, retail locations and established cider makers who are creating unique tasting blends of apple and pear cider products.
Metta's idea to lead this tour stemmed from his desire to connect growers, cidermakers and retailers together for collaboration and networking. Metta worked with the Mid Columbia Economic Development District and members of Hood River Cider Masters, which includes Gorge Grown, to put on the tour that ran Oct. 10-12. He said the tour was based on a similar event held by Double Mountain Brewery that focused on making Cherry Kriek, a specialty beer.
Cider Camp was a fun exploration of local farms like the start up operations at Hood River's Riverside Farms and Mosier's Pomona's Branch farm, which processes small batches of fruit on a traditional rack and cloth type press, which the tour group got to try out during its visit. With the help of farm owner Silas Bleakley, we made about ten gallons of juice. The manual process gave me an appreciation for the amount of work and investment of equipment needed. When you start to think about how much juice you need to keep a business going week after week, the numbers start to get overwhelming.
Riverside Farms is a fifth-generation farm on the North side of I-84, just west of Hood River. Orchardist Jordan Struck went through the regulatory process with the Gorge Commission to start a 1,500 gallon/year hard cider operation. He developed a business plan after experimenting with homebrew cider making and plans to use the Newtown apples and other dessert varieties they grow on the property.
Our visit to Hood Valley Hard Cider Company in Parkdale was a lesson in the different kinds of yeasts that are experimented with in making cider. Owner Brian Perkey brought out samples of cider fermented with Saison yeast, champagne yeast and one with a standard beer-making yeast.
Visiting Mt Hood Winery gave an insight to how winemaking skills can transfer over to cider making. Well-known vintner Rich Cushman summed up the reason for making cider in the Gorge by saying "This is where the fruit is." Cushman has found a "huge customer" in Mt. Hood Meadows, and currently packages his HR Ciderworks brand in kegs for local retail markets.
Ovino Wine and Cider Company on the Heights makes about 1,000 gallons a year of specialty ciders, under the Gorge Cyder House label, including a cherry-infused product. They sell to bottle shops in Hood River and Portland and at their retail location on the Heights.
So how popular is hard cider getting to be? Well, let's just say this Cider Camp group included Seattle residents Erin James and Kristin Ackerman, who just published their inaugural issue of Cidercraft Magazine, which features all things cider from all over the country. I have a distinct feeling you'll be seeing the Gorge in their next issue. In the meantime, if you'd like to take your own cider tour, pick up a Hood River Cider Route map and explore what the Gorge has to offer.