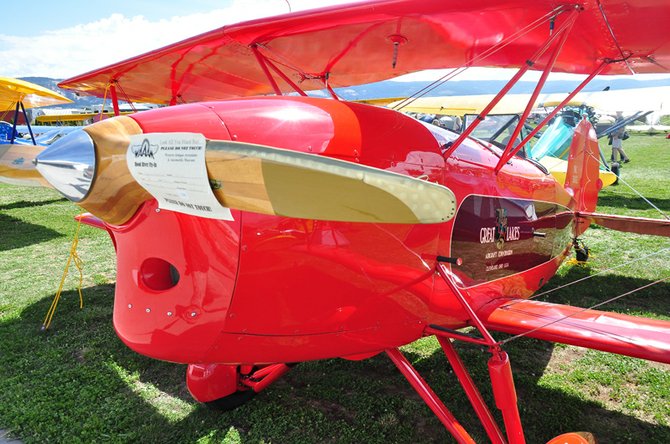 Summer's supposed to be over, right?
By the number and variety of events happening this weekend throughout Hood River County, you'd think it was just getting going.
From antique planes at the WAAAM Fly-In to the pleasures of backwoods hiking at Pacific Crest Trail Days in Cascade Locks, art work to some muddy cycling, the weekend presents something for everyone. Here is a sampler:
Plein Air
Northwest Plein Air artists' reception will be Friday at 6 p.m. at Columbia Center for the Arts. The community is invited to the preview party from 4-8 p.m. In Plein Air, writers create works "in plain outdoor gear fair, classes, photography slide show, raffles and a showing of the documentary "The Meaning of the Wild." For details visit www.pctdays.com.air," or at the scene itself, rather than in studio. Those works are presented in the month-long exhibit at the Center for the Arts.
On Sunday at 2 p.m., hear Plein Air writers (also created on-scene Sept. 2-4) present their works in a free reading at the center, Third and Cascade streets.
Trail Days
Cascade Locks hosts hikers and trail enthusiasts from all over for the Sept. 5-7 Pacific Crest Trail Days, based on Thunder Island in Marine Park. Camping and all events are free, and include an
Ice cream in Parkdale
Celebrate the revival of the Parkdale Bicentennial Memorial Garden, Baseline Drive and Dee Highway, with a free ice cream social Sept. 7 from 1-4 p.m., sponsored by the Parkdale Garden Club and Central Gorge Master Gardeners Association. Phone company reunion
Did you work for the phone company? The annual United Telephone/Sprint/Embarq reunion happens Sept. 6 at 2:30 p.m. at the Hood River County Fairgrounds. Bring a potluck dish, and your spouse, and join the fun.
Rock-Paper-Scissors
The annual Oak Street "Rock Paper Scissors" tournament returns Friday starting at 6:45 p.m. Winner takes home the top prize of $500.
Entry is free for all ages, in front of Andrew's Pizza, 107 Oak St. Andrew's and Mr. Elive Productions host the event. Try your hand(s) at the traditional game using gestures symbolizing rock (closed fist), paper (open hand) and scissors (two-finger V).
Rural Rampage
Bicycle riders of all ages are invited to the annual rural Rampage Bike Adventure, an event like no other. Teams of two will bike to locations in a 10-mile loop around Hood River, in a benefit for local schools. Entry is $50 per team, and it all starts at 10 a.m. at Westside Elementary (bring your helmets). For details email peg.bobard@gmail.com.
Fly-In
Western Antique Aeroplane and Automobile Museum holds its annual Hood River Fly-In, Saturday and Sunday, at the museum and neighboring Ken Jernstedt Airfield on Tucker Road south of Hood River. Admission includes the museum and the fly-in: $14 adults, $12 seniors and veterans, $6 kids 6-18, free for kids under 6.
Events start with the Lions breakfast both days from 7 to 10:30 a.m. Visiting pilots arrive Saturday morning, and planes are on display starting at 8:10 a.m. both days.
When you arrive, admire the new WAAAM sign, which is the restored sign to the old Trail Drive-In (closed in 2000). The sign was moved in 2013 and restored and put into place in time for Fly-In.
The museum's classic 1910 Pusher plane will be rolled out at 8:15 a.m. both days and the 1910 steam tractor will take a "spin" at noon on Sunday.
Pearson Airfield Education Center kids' activities happen all day Saturday; the museum also owns a large selection of kid-friendly realistic craft for playing, including an airplane, car, submarine, helicopter, and more, in the Learning Center.
Saturday is the prime day to see the visiting planes, as most visiting pilots have departed by late Sunday morning.
The beer garden, sponsored by Full Sail, is open both days from 11 a.m. to 10 p.m., and food is available for sale throughout the day.
The WAAAM birthday cake will be cut at 2 p.m., and authors John Trudel, Marc Paulsen and Ted Keikell will sign books at 2 p.m. Author Nancy Wilson will sign books at noon Sunday.
For full details see waaamuseum.org.
Music and texts
A concert Friday at The Ruins is the next opportunity to get on board a new fundraising program to support the Hood River County Education Foundation.
The Foundation is hosting a concert featuring local band Ten-Thirty with food and drink by Raven's Nest, Riverside Grill, Double Mountain, Full Sail, Pfriem, and the Gorge Cyder House. The concert starts at 6:30 p.m.
Their concert is free, but those attending will be asked to send a text to a message line to make a donation to the foundation. A large thermometer will display the fundraising progress through the evening.
All of the proceeds will go to the foundation, an independent 501c3 organization that supports teachers and students in Hood River County through grants for teachers, scholarships for students, and other supports for classrooms. The incentive for those who text their donation is a pair of tickets to the Oregon Ducks v. Arizona Wildcats football game.