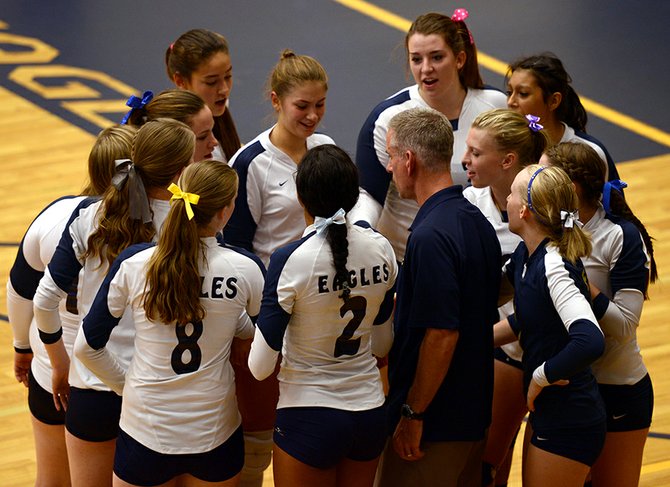 After a tenuous 2013 season that ended with just four wins in 19 games, this year's Hood River Valley High School varsity volleyball team is digging into its fall schedule with the optimism of a fresh start, and the ease of knowing that there's nowhere to go but up.
"We have a lot of experience returning from last year," said HRV's ninth-year head coach Scott Walker. This year's lineup boasts seven seniors — five of whom are returning from last season – one junior, two sophomores and two freshman. "We're still a little inexperienced at setter, but we're pretty strong in the other areas. I think our seniors have a lot of desire to win. Last year was the first time in four years that we didn't get a (state) play-in game, and I don't think they want that to happen again."
Walker said the team will employ the same 6-2 formation as in years past, with two setters coming in from the back row and three hitters in the front. He'll utilize the team's tallest players at the net, although this year's lineup isn't especially tall compared to the rest of the state.
"We have most of our height back from last year," Walker said. "We're probably 5-8/5-9 or better; for us that's pretty tall, but across the state we're probably about average. We took most of our players to a tournament in Idaho in July, we hosted a camp here this summer and we played summer ball through the first week of July, so we have players who have put in a lot of time. That should make quite a bit of a difference."
The Eagles opened their season with a decent showing over the weekend at the Madison Varsity Tournament in Portland. Walker said after playing mediocre ball in pool play, the girls "came out and played really well in bracket play." The girls swept Putnam 25-12, 25-12 in the first round before falling to Dallas, the eventual tournament champions, in a tight three-set match (25-20, 14-25, 10-15).
Things didn't go quite as well in the Eagles' home opener Monday night against 5A Intermountain Conference Ridgeview. Outsized and outhit, HRV lost three straight sets (17-25, 19-25, 6-25) to the now 3-0 Ravens of Redmond, who bumped up from 4A to 5A and added to the IMC this year in the latest round of OSAA redistricting.
The Eagles have a week off of competition before diving straight into their conference schedule with road games Sept. 18 at Pendleton and Sept. 23 at Hermiston before returning home Sept. 25 to take on CRC rivals The Dalles, whose mascot was changed from the Eagle Indians to the Riverhawks after last season due to recent a state mandate concerning Native American mascots.