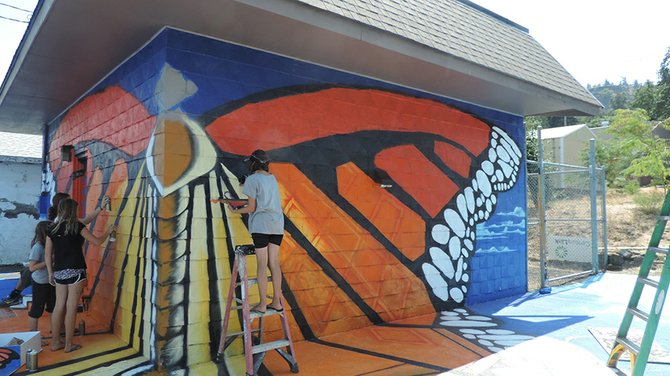 The community of Mosier hosts a large number of events this weekend to celebrate the city's 100th anniversary.
Take a stroll through history with a "multi-location museum," hear local families' oral histories, watch a parade, enjoy the community picnic, and tour new and colorful art work.
Things get started at 9 a.m. with a beautification ribbon cutting event at the revamped Totem Park, followed by the 9:30 a.m. parade. The multi-location museum happens both days, 10 a.m. to 4 p.m., as does the pancake feed, 7 to 9 a.m. both days.
Enjoy music at the community picnic Saturday from 11 a.m. to 4 p.m. and 6-10 p.m. or 11 a.m. to 2 p.m. Sunday. Musicians include Moe Dixon (Saturday night), Willy & Nelson, Hop Trip, Larry Russ, Lesley's Band, Jim McMillan Trio, Barley Draught, Harmony of the Gorge, and an Open Mosier Jam session.
On Saturday at 1 p.m. at the School gym, take a free historical journey to the "Dream Town" of Ortley that thrived seven miles from Mosier, and within 10 years became a ghost town. The presentation will be given by Mosierite Addie Schwartz whose family sold the land to the original Ortley organizers. And on both days, catch the Voices from the Past performance by nine direct Mosier descendants who tell the stories of their ancestors in character, 4 p.m. Saturday and 2 p.m. Sunday.
Other events include:
n Twin Tunnels Antique Car Drive in the Twin Tunnels Saturday morning, 9:30 a.m.
n 18 Mile Island Open House (9 a.m. to 5 p.m. Saturday) If you are able to get to the island on your own, the owners are happy to have visitors drop by to picnic or swim. You are welcome to spread out a blanket and enjoy this unique opportunity. Bing your own drinking water; no alcohol is allowed on the island.
n Guided hike of the Mosier Plateau (10 a.m. Saturday) Meet at the Totem Pole for a special tour the new trail sponsored by Friends of the Columbia Gorge. The Great Grandparents of hike leader Kate McBride settled in Mosier in the early 1900s and she will talk about the history/preservation of the land, public access, stewardship, and her personal connection. It is a moderately difficult hike because of the step sections without railings, with an amazing view on top.
n Self-guided Art Walk (anytime) Come have a look at our new art bike racks, murals and brand new beautification of downtown. Each new planter, bench or picnic table has a historic photo or interesting quote pulled from the Mosier Stories project. All of our efforts have been a 100 percent volunteer and community funded.