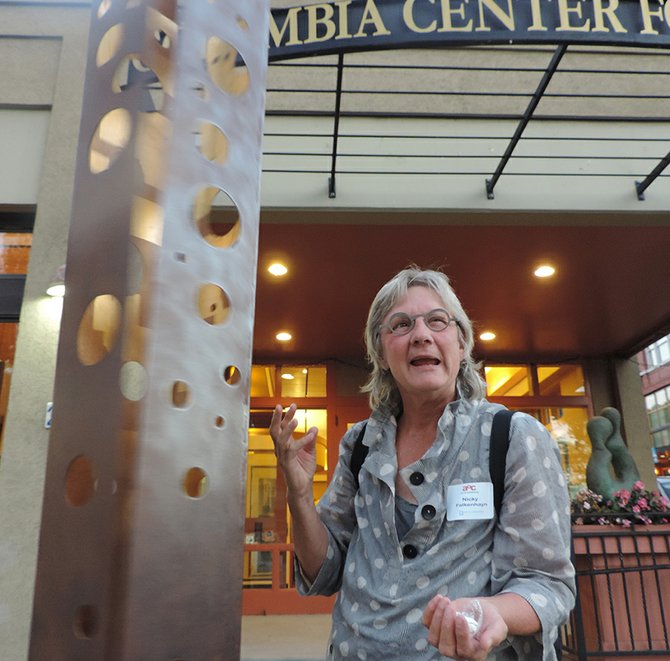 The most extensive outdoor art gallery Hood River has seen is fully in place (14 of the 15 pieces, at least), a fact that the community celebrated Sept. 12 at Columbia Center for the Arts.
The artists who created the large-scale sculptures that are spread around downtown and on the waterfront gathered among the "Plein Air" works at the gallery. Welcoming them were organizers CJ Rench and Kristen Godkin of Art of Community and Shelley Toon Lindberg of Arts in Education of the Gorge, which AoC is now affiliated with.
"It far exceeded our expectations. The community has supported it early and very strongly. The support was affirming," said Godkin, who worked with Rench since last year to develop sites and sponsorships (public and private), call for artists, jury the submissions, and see to the acquisition and installation of the pieces, which range from four to 12 feet tall.
"It's changed the landscape," Rench said. "That's what public art can do. It can do it from all aspects, from kids' to adults' perspectives, and from the lifestyle perspective. It's been a great project because of that. It helps that it is geared to travelers but also geared for locals."
Works include "Wind and Wave" at Doppio, "Swans" at Waterfront Park, "Medori" at the library, and Rench's "Conjunctions" at Hood River Marina. All are outside, visible from roadways or trails, and sponsored by businesses or the port or city. (A 15th piece will be installed this fall at Third and State after the city completes the new public restrooms.)
The works will remain in place through August 2015 – which is longer than originally announced. Rench said insurance details delayed the installations, so the time has been extended because artists were told they would be displayed a full year.
Steve Farris (La Grande Vase, Second and State,) said he likes the one-year plan because "Everybody gets to try a piece out. You never know how things are going to interact with the community or the community will interact with them. This is a great way to try things out. I love it because this kind of exposure is not something you can just … breeze upon, it's hard to get something in a permanent location, but a year is just about the right amount of time."
Niki Falkenhayn of Scappoose is a Dutch-born artist who was raised in Switzerland and was inspired by the Swiss artist Jean Tinguely and other creators of kinetic sculpture. Her piece, the columnar "House of Many Windows," stands in front of the Center for the Arts, and twirls on its base. This allows light to flicker through six-inch holes as the four sides expand slightly in the centripetal force.
"I intentionally placed holes only four feet up so that children could reach up and turn it. I want them to look at it and envision their future," Falkenhayn said.
Works such as Falkenhayn's are in prominent locations; others, while not hidden, are a bit more surprising to encounter.
"Some sit in locations that seemed to be missing something before," said Rench, who has coordinated similar outdoor galleries in Lake Oswego and other communities including several in Colorado.
Art of Community works can be enjoyed individually, even randomly. You might indeed just encounter one without knowing it is there.
Or, pick up a map and take the tour. The map was designed by Jan Mayer of Hood River, and is available any of the Art of Community locations: Port of Hood River office, Hood River City Hall, Tofurky, Ryan's Juice, Hood River Library, Doppio, New Yasui Building, Columbia Center for the Arts, HR Bicycles, Mike's Ice Cream, and other locations where visitor and cultural information is typically found. The map is also online at www.art-of-community.com.