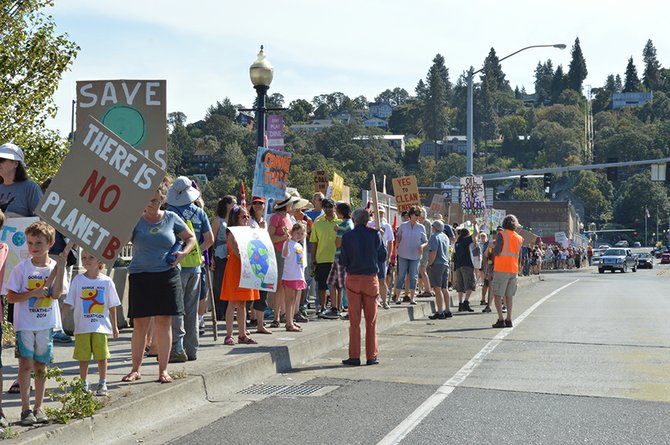 The temperatures are rising, no more compromising!
Hey, hey, ho, ho, fossil fuels have got to go!
Your exports will fail, the Gorge is not for sale!
Approximately 200 people marched through downtown Hood River Sunday afternoon, calling out these and other chants as part of a rally that was held to raise awareness about issues affecting climate change both globally and locally.
The march, which was organized by the Columbia Gorge Climate Action Network (CGCAN), was part of a larger, worldwide event held to draw attention to climate change issues such as global warming and the burning of fossil fuels.
While obviously not as large as events held in more populous cities around the country — a march in New York City reportedly drew an estimated 400,000 people — the turnout for the Hood River march was a deemed a resounding success.
"This is way more than I expected," said Peter Cornelison, an event organizer as well as a field representative for Friends of the Columbia Gorge.
The march followed a screening of the film "Disruption: Climate Change," that was held at Riverside Community Church in downtown Hood River. People young and old alike then took to the streets, some with their pets, chanting, playing musical instruments, and waving signs with messages such as, "No Coal or Oil Exports," "Cool Our Planet," "Tax Carbon," "Yes to Clean Energy," and "There Is No Planet B."
The climate contingent wound through downtown on State Street and then turned at Second Street to march down to the Interstate 84 overpass and then looped back toward town. The march occasionally caused minor traffic backups at downtown intersections, but the only honking came from passing motorists giving taps of the horn and a thumbs up or a wave in support of the protestors.
Eventually, the march made its way to Georgiana Smith Park near the Hood River County Library, to conclude with a handful of guest speakers who expressed thanks at the turnout of the event and spoke of the importance and the urgency in addressing climate change.
Bill Weiler, vice president of the Columbia Gorge Ecology Institute, spoke about the importance of studying Columbia Gorge pikas, who are believed to be an indicator species for climate change. He also shared a quote he said came from a woman walking from New Mexico to New York for the climate change rally that touched on the universality of the problem of a warming Earth.
"'You can no longer call climate change an environmental issue. It is much, much bigger than that. It is everybody's issue.' So thank you for being here and keep it going," he told the crowd, to much applause.
Cornelison was about to introduce the next speaker, Charley Boonstra, but was interrupted when a member of the audience informed Cornelison that she could see a westbound oil train traveling down the Washington side of the Gorge. The announcement drew a chorus of boos and more chanting that was directed at the oil train until it passed out of view.
Boonstra, a 16-year-old Hood River Valley High School student who is also the daughter of John Boonstra and Riverside Rev. Vicky Stifter, seized the moment to address the issue of oil trains shipping Bakken crude through the Gorge.
"We just saw an oil train pass, and I see them every day at my house," she said. "It's a symbol of greed and destruction and carelessness and that's why we're here today, fighting against it."
Boonstra added that she believed "love and compassion can overcome any kind of greed or hatred from those big oil and fossil fuel companies," and advocated that people continue to put in the work to help solve environmental issues.
"So let's do this, let's take action, let's fight for our Earth, our home," she said.
Cornelison mentioned at the end of the meeting that he and other like-minded candidates were running for Hood River City Council and had formed a political action committee (see Three To Go on page A1), called the Sustainable Hood River Political Action Committee, which will focus on environmental issues. Cornelison mentioned in particular that he wanted to "get solar power going" in Hood River.
"There's going to be some changes," he noted.
CGCAN is a network of local educators, organizers, faith communities, community environmental organizations and civic leaders. They meet the third Monday of every month at Riverside Church from 6 to 8 p.m., and the community is welcome. Next meeting is Oct. 20.