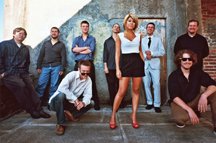 By JIM DRAKE Hood River News
Another Hops Fest is upon us on Saturday, Sept. 27, and this year's entertainment schedule brings familiar local and new NW acts to the stage. Read on and get acquainted with each band's style — you can expect blues, honky-tonk roots, a folk duo with urban rap influences, a one-man loop ninja and high energy funk to go with dozens of refreshing brews that will be on hand.
To add to the fun, we asked each band their Gorge brew preferences, and got some surprising answers. Enjoy the beer responsibly, but go ahead and take in as much music as you can!
Noon— Bearwater Band
Influenced by Americana, roots, country, and Bluegrass, Portland's Bearwater Band prides itself with honky-tonk guitar leads, gritty vocals, and a driving acoustic rhythm section. In just a year's time this four-piece band has already played some well attended festivals, so Hops Fest should be right up their alley. Visit the band's Facebook page to hear their 3 song original EP.
Band's favorite Hood River Beer: Although I did get an email saying the band would get back to me, as of press time, I could not get a consensus. Note: I saw online that one of the guys was wearing a Full Sail shirt.
Update: Band member Jason Goddard says "Jim - really sorry I didn't have time to respond. I'm in the military in Bend and have been slammed around the clock. I hope you were able to connect with the other bands."
1:30 p.m. — Tess Barr Blues Band
Hood River's own Tess Barr Blues Band returns to Hops Fest with songs from not one, but two new albums. Their current CD "Do What You Want" keeps climbing the Power Blues charts. It was just named #8 of the top 25 new CD's for 2014, is in syndication on 150 radio stations in BC, Quebec and 58 radio stations across US, and it's playing in the Philippines, Spain, Belgium and Germany. Tess says she's currently finishing the ninth song (out of 12) for her new CD which is scheduled for February 2015 release called "Troubles Comin," so expect songs from that one in the set.
The band's favorite beer? Double Mountain makes the cut with the Oh-Man Root Beer, named for dear friend Owen Stolte, as well as the Black Irish Stout.
3:30 p.m. — Sidestreet Reny
This original acoustic blues and urban roots duo has four CDS, and a larger- than-life backstory.
Critics say "From songs about love and hate to art and social commentary — to free-form rap lyrics ranging from boastful to political, Sidestreet Reny is truly a troubadour without confines."
The band's favorite beer? I thought this would be an easy question, but as of press time, no comment.
Update! Reny says "Whoa sorry man, the one day I sleep past 11:00. I don't really drink. When I do, its dark and not bitter or too hoppy. My bandmate Bell feels the same way. Love the Gorge cuz its real perty. And folks are nice. Holler."
5 p.m. — Tony Smiley
Tony Smiley grew up in Hood River and returns to the Gorge frequently with his one-man loop ninja show, Hops Fest being no exception. Expect a high-energy format in which Tony brings his multi-instrumental talent into a danceable mix of rock, pop, beat boxing, and Mongolian Throat Singing.
Favorite Hood River Beer: Tony says: "Hey there, well to be honest with you, I don't drink. So I wouldn't know whats good or not. Sorry to not be much help on this one." Rest assured, Tony says he's got a new album available and he's always trying to come to the shows with new songs.
7-9 p.m. — Manimalhouse
The fresh horn arrangements and sexy powerful vocals of Reyna Mallare are what makes the eight-piece Manimalhouse the Hops Fest show stopper.
Manimalhouse has been bringing gritty, high energy funk and soul music to dance floors around the Pacific Northwest. With non-stop energy Manimalhouse turns every place they play into a house party.
Favorite Hood River Beer: Drummer Mark Blanding reports Manimalhouse is a fan of the Double Mountain beers and Country Boy IPA from Everybody's Brewing.