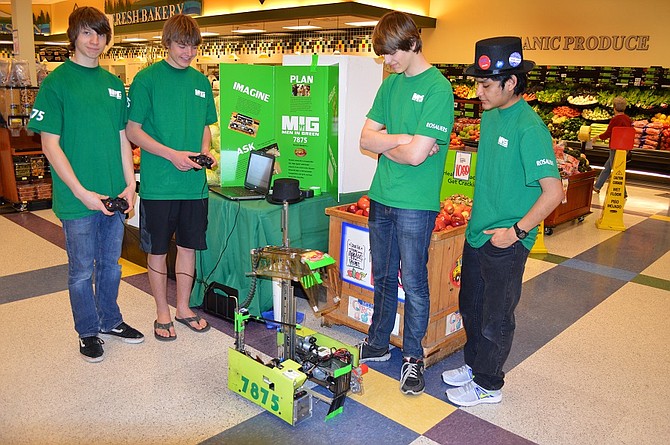 When shoppers at Rosauers pick up a tasty organic apple from the "School Aid" bin, many are unaware that they're fueling robots — and a new generation of engineers.
Thanks to the Rosauers School Aid program, every apple sold from the bin goes toward local music, art and STEM (science, technology, engineering and math) education. Mt. Hood Organic Farms donates the apples and Roseaurs sells them alongside their commercial produce, giving all profits to School Aid.
"We fill that bin constantly," said Rosauers manager Steve Morgan. "The community really rallies around this."
RACE IS ON
Want to see the fruits of School Aid? The annual Apple Cup e-car races start at 10:30 a.m. Saturday in downtown Hood River (Details on B3). Start and finish lines are on Columbia by Full Sail. Race arshals will be present, but watch out for race cars, which ride low – two feet or less — to the ground.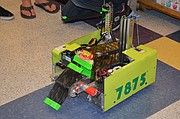 The School Aid program has built up $100,000 since its inception 15 years ago.
Hood River Valley High School robotics team Men in Green rolled their own creation onto the Rosauers produce floor to show those apple sales in action. Ruben Gonzaga, a member of Men in Green, said the robot is a "tangible" outcome shoppers can see as a result of the apples they bought.
"With that money we managed to get a lot farther this year, and progress as far as the robot goes," said Gonzaga.
The students pitched their original design to John Jacobson, Mt. Hood organic orchardist and founder of School Aid, in order to earn a $1,000 STEM sponsorship. From there, they designed and created a robot with cutting edge 3-D printed parts. It took hours of labor, just about every school night for three months.
Johnson said the students stacked the responsibilities on top of their usual curriculum at HRV. "These guys are taking the hardest classes in the school already and a full load," said Johnson.
"It's definitely worth it, though. It's so much fun," said McAllister.
The students expressed gratitude to their teacher, Jeff Blackman, for leading them in the project. Blackman, engineering and math teacher at HRV, founded the school's robotics program which now boasts 8 teams, the highest of any school in Oregon.
This year, he spent his own money creating an indoor practice arena for his students' robots. It was custom tailored to match the FTC's (FIRST Tech Challenge) 2015 game theme: ball collection.
Student-built robots were required to scoop up plastic balls off an arena surface and deposit them in a plastic tube. The Men in Green's robot, Roberta, is a tank-like structure controlled by dual joysticks on an Xbox-style controller. The students came up with a lift mechanism for the robot that picks up balls and drops them in the goal pipe.
Roberta cracked the top 10 out of 400 teams statewide at 8th place. She raked in hundreds of points at every regional competition and made it to the state semi-finals. Then, the Men in Green suffered a heart-breaking 4-point loss — one more little whiffle ball would have propelled Roberta to the final round.
Luckily, all the members of Men in Green are sophomores so they'll have two more years to chase the robotics title. In the meantime, they've worked with the community with public displays of Roberta, and fundraisers to kick start more robotics projects. So far, they've raised $450 with "summer camp" events teaching elementary school children the basics of robots and engineering.
"These guys are engineers of the future," said Jacobson, referring to local robotics students.
Johnson said School Aid plans to sponsor more educational opportunities in the future, including the Electric Car Races April 4 in Hood River.