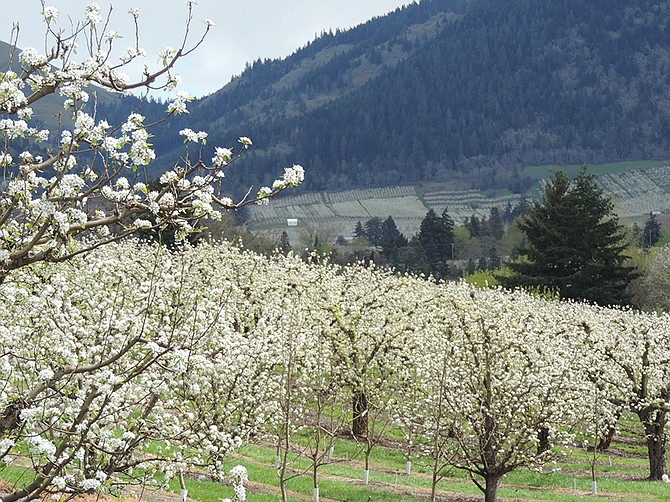 Around dawn Friday, the low but steady flutter reverberated in the Hood River Valley.
Orchardists turned on fans for the first time this spring to protect prematurely-developing pear, apple and cherry blossoms, as temperatures hovered close to freezing for the first time in weeks. The fans help distribute upper warm air to the cooler areas near the ground, elevating temperatures around the blossom-bearing branches.
Fruit trees have fully blossomed throughout most of the valley, nearly three weeks earlier than the norm.
"Here at the Experiment Station, the trees blossomed 20 days earlier than average, and that's considerable," said Oregon State University horticulturist Steve Castagnoli. He said that according to OSU records dating to 1944, this is the earliest bloom for Anjous and Bartletts, the two mainstay pear varieties in Hood River County, the nation's premier pear-growing region.
"That means that harvest and everything will be earlier than normal," said Castagnoli, affecting spraying schedules and other orchard maintenance tasks as well as the labor situation come harvest time.
"The two main outcomes (of early bloom) is harvest will be earlier and frost season is longer because the frost season probably won't end any earlier, and since the blossoms developing fruit are vulnerable starting earlier, the process becomes prolonged," Castagnoli said.
"We're also seeing that there is not very much separation between the upper valley and lower in terms of crop development, so usually things happen 10-14 days earlier in the lower than upper and that is problematic in terms of labor availability as the peak labor times come so much closer together," Castagnoli said. Growers in Pine Grove and Parkdale will have "less time than normal" between harvest sessions in order to spread workers out.
"Labor availability is an ongoing issue; it's already on their radar screen. This will just make it harder," he said.
Two things can happen, in terms of fruit development given early bloom and potentially longer frost season, according to Castagnoli: one is with a prolonged frost comes more potential for frost damage — "not necessarily killing flowers or fruitlets, but it's far more common to have marking on the fruit, so there is a higher potential for that, but that depends on whether we have frost conditions. We'll have to wait and see on that.
"The other is that if we have cool and wet conditions like the last week or so, that can result in russeting of the fruit," Castagnoli said. Russeting is the brown or yellowish spots or streaks that, while having limited impact on the flavor of the fruit, can reduce their marketability.
Castagnoli added that pears and apples appear to have experienced little damage from the single-digit early freeze in November 2014, though the abnormally-cold temperatures spelled disaster for cherry growers in Wasco and Hood River counties.
Despite the early bloom, Castagnoli predicted the overall fruit maturation and harvest periods as "pretty much business as usual.
"I think other than having to scramble a little bit more because things started earlier, this is always a busy time; they're (orchardists) doing their usual attention to weather forecasts," he said Thursday.
"At this stage, with more warm, dry weather, that would be fine," Castagnoli said, adding that the fruit growers are prepared.
"The weather conditions are not anything they don't deal with on a year to year basis," he said.
Temperatures dropped Thursday night/Friday morning, but Castagnoli said, "It's been pretty warm but the last week of cooler weather, because of cloud cover, wind, and some rain, that combo doesn't really contribute to frost."