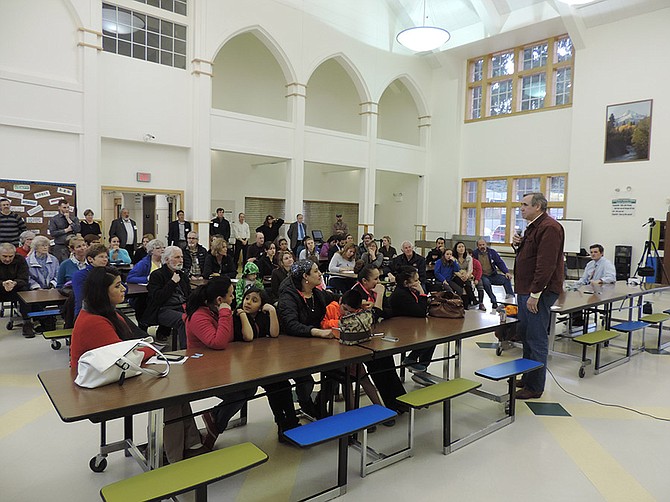 High school students had the first and last words at Sen. Jeff Merkley's town hall Monday night at Hood River Middle School, calling for action on immigration and climate change.
Merkley, a Eugene Democrat, told HRVHS senior Christina Garcia he would keep working to revive immigration reform, saying "our system is broken," and he returned to junior Charley Boonstra's concern by speaking to climate change in his summing up before the audience of 75 people.
"We all have to tackle this together," he said, pointing to a new carbon reduction agreement with China that he finds encouraging.
In the town hall, Merkley said he supports the Iran nuclear framework agreement and will work to prevent Congressional opponents from stopping it, and said revisions are on the horizon in federal education law, replacing No Child Left Behind (NCLB).
Hood River Education Association President Kelvin Calkins told Merkley, "There are many ways to assess (student progress). We don't have to test every student, every grade, every year."
Merkley told him, "No Child Left Behind went way off track with high stakes testing and the shaming of schools, rather than supporting schools that need help. The shaming of schools has not worked, anywhere," he said of NCLB practice of branding schools as failures if one or more testing sub-groups comes short of benchmarks.
"We'll see an elimination of high stakes testing," under forthcoming legislation being developed by Washington Sen. Patty Murray and Sen. Lamar Alexander of Tennessee, chair of the Health and Education Committee.
To applause, Merkley said, "We have heard from the northern, western, eastern and southern states, urban and rural, and the concerns have been similar: there needs to be a diminishment of high stakes testing."
Garcia, who was born in Oregon, asked what Merkley could do to help children of undocumented residents achieve accepted status to legally work and receive government college financial aid.
Merkley said that people such as Garcia "have known no other country that the U.S., and I want to see them thrive and to get rid of the shadow economy.
"It is important to reach out to your elected," Merkley said, especially those in the House, where immigration reform legislation he supported in 2010 went down without a vote.
"Keep pushing to say this should be a top priority," he said.
Boonstra told Merkley that she and other members of the HRVHS Climate Change Club "are trying to raise a sense of urgency on this issue.
"We want to hear what you are going to do and what we as a community can do," said Boonstra, who is also a member of the Gorge Climate Change Action Network.
Merkley said climate change is affecting the health of forests, oceans, agriculture, and humans, pointing to the rise of pine beetle populations and increased evidence that ocean acidity caused by carbon dioxide is inhibiting baby oysters from developing shells.
"Baby oysters are our canary in the coal mine. If this is happening in our oceans, we have to ask what else is affected that we have not seen yet," he said.
He thanked Boonstra for speaking, and said, "Our young people are more and more aware of this problem, but we can't wait to act until they're holding office at age 40 or 50. We have to act now." He said he supports the EPA Clean Power Plan, designed to phase out coal-based power plants and replace them with those using alternative energy.
Saying "the fossil fuel industry has sunk its teeth deep into Capitol Hill," Merkley called for an end to fossil fuel subsidies, saying "we need to take the oil subsidies and convert them to subsidies for renewable energy sources."
Merkley met for a half-hour prior to the town hall with officials from the cities and ports of Hood River and Cascade Locks, Hood River County, Hood River County School District, and Columbia Gorge Community College. Several citizens sat in, as the meeting was publicly-notified as a special meeting, given the likelihood of a quorum by several elected bodies.
In that session, Merkley praised local efforts to oppose rail transport of coal and oil, and said he feels it is likely Congress will pass a two-year extension of the Secure Schools legislation, aka "county payments," used for schools, public safety and roads in timber-based counties.
"It's critical," County Commission president Ron Rivers told Merkley.
Merkley, who credited U.S. Rep. Greg Walden (R-2nd District) of Hood River with reviving the Secure Schools legislation, said, "I'm optimistic but (the funding) is only part of the story; the other point is sustainable forest management," a point he later reiterated during the town hall.
In both the special meeting and town hall sessions he also repeated criticism of the currently proposed federal budget, in that it contains no funding for transportation, and includes cuts to Medicare, Head Start, STIP (food stamps) and college Pell grants.
"In terms of a foundation for supporting low-income families and the struggling middle class, I give (the budget) an 'F'," Merkley said.