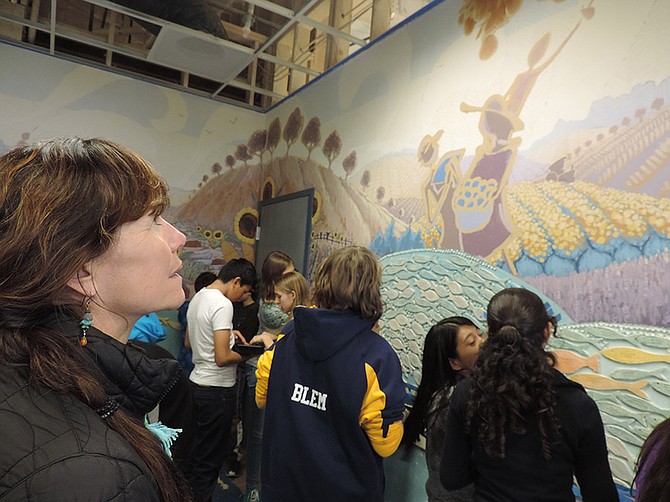 "We're learning a bunch of cool stuff about art and I'm also happy we helped our community."
That's what Carlos Najera said about the agricultural mural project he and 25 fellow sixth-graders are working on in the waiting room at the new FISH food bank.
Located across town, but connected, is another student art expression rooted in the county's orchards, on display at Hood River Library. High schoolers from Klahre House alternative school created linocut prints that allowed them to explore their own artistic possibilities while interpreting the value of agriculture. Klahre House is a program of The Next Door, Inc., and serves youths in foster care or who are at-risk.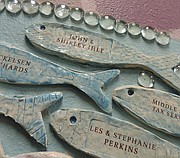 In the Klahre House and HRMS efforts, students looked at the role of food that is grown in this county and its role in sustaining community. They called it "Present Day WPA: Exploring Our Agricultural Heritage through Art." Artist in residence Kelsey Mosley oversaw the project along with staff member Maya Trook. It was funded through Arts in Education in the Gorge and Hood River Cultural Trust. A year ago, Mosley also worked with students on a series of portraits and descriptions of cultural and historic heroes of the Columbia River Gorge.
"The theme of our art project is to project the word of food and agriculture in Hood River," wrote one of four teams of students who worked collaboratively to make individual linoleum cut block prints that also work together to print as a larger block of four.
"The reason we create art is because it helps the team express themselves and give life enjoyment in the creation of their dreams and/or passions," wrote one of the Klahre House teams. "The theme of our art project is agriculture in Hood River and the love of fruit. We used the technique of linoleum block printing.
"Support – Your – Local – Pear" reads one set of prints from Klahre House.
where to see the art
Klahre House exhibit remains on view during regular library hours through April, in the ground-floor Jeanne Marie Gaulke meeting room.
The Hood River Middle School mural will be a permanent part of the new FISH food bank, now under construction on Tucker Road next to Our Redeemer Lutheran Church (see related story).
"The kind of art we've done in the past is all different because we all come from different environments," another group wrote. "This art is a lot different than what our group members are used to. Such as, some members do graffiti art, community art and sports art, although for some it's their first experience making art. "
Other students wrote, "Our team makes art to relieve stress and to evoke emotion. Our group members enjoy graffiti street art style and some group members enjoy drawing."
The Klahre House students followed a uniform process that each group adjusted to fit their personalities, talents and backgrounds.
"The first step in this art project was to plan our designs. One team member came up with the words for our project and we approved of her words because it is what happens in nature," wrote one team. "Then we sketched our thoughts and designs on paper, darkened all the lines we wanted to keep, and transferred the design onto the linoleum block by taping our paper facing down on to the linoleum block. Next, we shaded in the back with pencil to transfer the graphic design and carved out all the stuff that we wanted white. Finally, we used a printing press to put the inked image onto paper or cloth.
"Our team has little experience with making art; many of us have only sketched in our note books or made our mothers paper turkeys on Thanksgiving as a grade school project."
One set of four prints, by Zachary, Jacob and Quintessa, says consecutively: Plant- Grow-Harvest- Feed and the final panel employs a truck, "representing putting the food in there, traveling across the world and giving food to others," the students wrote.
The FISH mural will be the first thing seen by visitors to the food bank headquarters. (Related article, page A1.)
The mural depicts the acts of many people growing, harvesting and sharing food, and employs ceramic fishes to acknowledge the hundreds of donors who gave to the $1 million project.
Said sixth-grader Madaket Greenleaf: "It's really nice to help because FISH is helping the community and it's nice to be able to help FISH help other people."
The HRMS students worked with artist-in-residence Allison Bell Fox, Shelley Toon Lindberg of Arts in Education of the Gorge and potter Pam Springer.
Fox has also guided mural projects inside HRMS and Wy'east middle schools, a substance abuse prevention mural on the west wall of the Wy'east stadium, and at May Street Elementary, a combination mural-blackboard that employs the school mascot, the Dragon, to communicate safety, respect, and other themes.
The food bank mural fills two walls and brings a fairly specific message, according to Fox: "That it's a community effort to get everything on the walls and it ties with the community effort with the FISH organization," she said. A core group of students did 85 percent of the painting, based on Fox's design (see the kids' names "planted" in the orchard rows) and then worked with Springer to kiln the ceramic fish and use a special process to glaze the donors names on each piece. Funds came from the Gary M. Anderson Children's Foundation and US Bank Foundation Pratt and Larson donated the tiles.
Fox said the mural reflects "the community theme of all the elements that donate to the FISH food bank organization: orchards, vineyards, gardeners, lavender, blueberries, and fishermen.
"All the elements funnel into a corner theme, where we've got a stock of food and flowers and vegetables, and community members are gathering food together to share with other members of the community," Fox said.
She added, "We were lucky enough to have tiles with different design elements in them, and we took those design elements and had the kids interweave those into the background so the mural would match the mosaic section. There are thematic designs in the hills and sky to tie those two together."
Fox said she chose to keep the color palette "warm and harvest — lots of golds and lavenders to tie into the neutral setting of the waiting room of the facility."
HRMS teacher Jennifer Wilson said she immediately agreed to involve her students after hearing from Lindberg and Fox.
"They said we have an opportunity for a community service and I said 'Absolutely, what is it?' I said yes before I knew, because I think it's really important to the kids.
"It's been great helping with every piece of the project. I'm also a believer that we need new volunteers," Wilson said. "A community can only continue a project like this (food bank) with new volunteers. It is my hope that these kids will see this project as part of them they have contributed so far and they will carry on and continue the good work. They're just as excited about it as we all are.
"This is the first step, to see it really come full circle to what it is. Allison is so great about including the kids," Wilson said.
"It's been really awesome," Greenleaf said. "It's been really nice learning how the whole project can come together. No particular part was hard, you just had to be focused. Mrs. Fox is always nice, super upbeat, and she knows what she's doing."
Najera said, "By helping this project we are helping a lot of people who can't afford to pay for food even though they work hard – they don't have a enough money because of the rent or issues they've had and FISH food bank is a great place to go and get food. What we're doing is to show that we appreciate FISH and helping all these families."
Artistic Statement
We make art because it is a way of expressing ideas and ways of life, and everyone can talk to each other with art; there is no language. The theme for our art project is different activities people can do to benefit the environment. Techniques we used to create our art project are to brainstorm ideas and collaborate as well as finding different ways we can all contribute to putting our different kind of art together on linocut blocks. Steps we made as a group to make this possible in our project was talking, expressing ideas and coming up with brainstorms. We sketched fruit pears doing environmentally friendly activities. We transferred our sketches onto linocut blocks, and then carved the sketches out using gouges. After we have finished that, we inked the blocks that have been carved using brayers. When we finished with that, we printed it using the print press. Different kinds of art we've done in the past are graffiti, musical experience, oil painting, water color painting, architectural sketching, paint with oil pastels, graphic animating, wood carving, and finger painting. We feel this project is different from previous art we've made in the past because most of us have never worked with this kind of carving tool, and it is a new experience for us.
— Tj, James, Preston, Seth of Klahre House
Artists' Statement
This linocut is dedicated to the community of Hood River. This drawing represents life and death decisions made upon people and what they eat. The statement 'you only live once, eat local,' shows how our choices can affect the way our body functions work properly. Food that is shipped to a faraway location has chemicals to prevent the fruit from going bad. Food grown by local farmers doesn't have to have chemicals to prevent the food from going bad because they don't have to ship the food long distances. This picture represents Mt. Hood, a local apple tree and one half is dead and the other half alive.
"We all have different reasons to why we do art. Two people in our group do art to express their feeling and have freedom of choice. Another says he likes to be known around the community and is proud of the work he has done. One member of our group did the words, others the tree and details, and we transferred them to a linocut block. We have done many forms of art, for example poetry, graffiti, doodles, school projects, and our parents' refrigerator."
— Juan, Kaylee, Ronny and Xavier