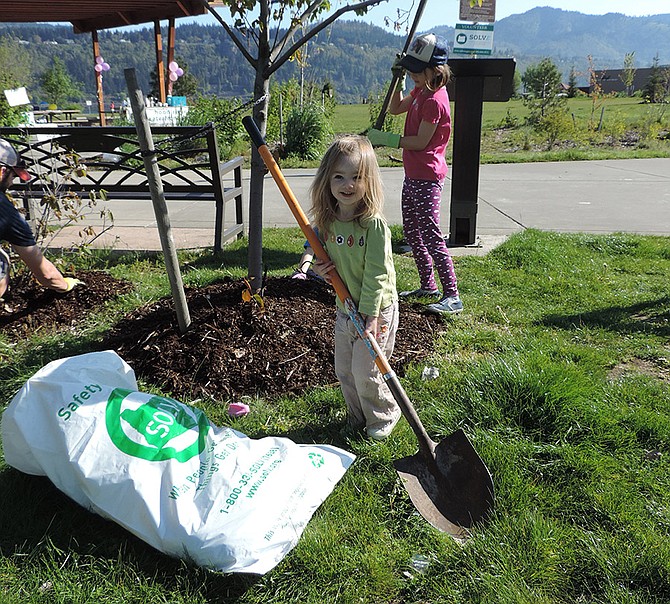 Columbia Gorge Climate Action Network (CGCAN) and other local groups are hosting a number of Earth Day events on Saturday and Sunday in Hood River supporters said are intended "to celebrate and connect Columbia Gorge residents around Earth awareness."
Today, April 22, is officially Earth Day, but in Hood River as with many communities, events have happened on the surrounding weekends (see page A10 for related photos.)
Here are three events happening in Hood River to mark the occasion and inform the community about themes and practices of sustainability:
Tod J. LeFevre Awards
The Tod J. LeFevre Sustainability Awards party is April 22 at the Center for the Arts beginning at 6:30 p.m.
This award is named after the late Tod J. LeFevre (pronounced "la-fay"): skier, mountaineer, father and husband, engineer, straw bale home builder, proponent of sustainable energy, and founder of the Hood River firm Common Energy.
Business Nominees
Dirt Hugger, Turtle Island Foods (Tofurky), Solstice Wood Fire Cafe and Bar, Mt. Hood Meadows
Individual Nominees
Heather Staten, Hood River Valley Residents Committee; Kate McBride, Friends of the Columbia River Gorge and a Hood River City Council Member; Jurgen and Susan Hess, Hess Photography and Envirogorge; John Jacobson,Mt. Hood Organic Farm/School Aid program; Jeanette Burkhardt,Yakama Nations Fisheries
Student Nominees
Roland Platt, Columbia Gorge Community College; Anson Pulk, Ansons Bike Buddies (Gorge Soup for Kids Winner); Charley Boonstra, HRVHS Climate Action Club.
As part of the program, the film "The Great Wolf Divide" will be shown. This 55-minute documentary film that looks the forces that brought wolves back from the edge of extinction.
Following the film,Wolf Education and Research Center president Chris Anderson and biologist Jeremy Heft will discuss the film and answer questions.
Doors open at 6:30 p.m., the awards ceremony will be at 7 p.m., and the film starts at 7:30.
There is a $5 suggestion donation for the film.
Climate Network activities:
CGCAN events on Saturday start at the Hood River Waterfront Park near the playground area at 9:30 a.m. with a welcome and gathering circle. Following this will be a riverside clean up along the banks of the Hood River under the direction of Columbia Riverkeeper from 10 a.m. to noon. All are invited to meet at the Hood River Spit parking area with gloves in hand.
At 11 a.m. at the Hood River Waterfront Park playground, the Mama Bears (MamaBearProject.com) will focus a Procession of the Species in costume or in the spirit of a being you are drawn to represent. This is an activity where even younger children can join everyone in the awareness of our responsibility to steward the planet for all beings. This will transition to a parade lead by the Hood River Valley High School Climate Club at noon that will journey from the playground area through Hood River to the Riverside United Church of Christ at 4th and State Streets. All are welcome to join in.
Lunch will be served for participants at 12:30 p.m. at the church, and materials from Earth centered businesses and organizations will be available to connect people with ongoing ways to be involved in our local community.
At 2 p.m., photographer and naturalist Darryl Lloyd will share a remarkable collection of photos and stories about climate effects on Mt. Adams and Mt. Hood. Following this, wildlife biologist Bill Weiler will present "Global Warming in the Gorge: Potential Impacts to Fish and Wildlife, and Hopeful Solutions." Earth inspired activities for children will be provided by Generation Earth during these afternoon programs.
Time to connect with round table discussions on the head, heart and hands of our responses to climate changes will complete the afternoon.
Engaging conversations sharing thoughts and feelings around the emerging issues let us know we are in an aware community. Come for all or part of the day. For more information, contact Kalama Reuter at 509-493-2514.
The Columbia Gorge Climate Action Network is made up of Gorge residents who are concerned about the causes of climate change and committed to actions that will make a difference. Regular meetings of the group take place on the third Monday of each month at the Riverside UCC at 6 p.m. for a potluck and 6:20 till 8 p.m. for the meeting. The next meetings are April 20 and May 18.
Local Business Competition
Gorge Owned holds its first Local Business Competition on Thursday.
Starting at 6 p.m. at the Pint Shack, each business will have 3-5 minutes to pitch their business. Then the audience will be able to ask questions and will vote for the winners.

The event isid friendly until 8 p.m. Local band The Ananas & The Papas will perform; admission is a sliding scale donation of $5-10 requested at the door, kids 12 and under free. Raffle tickets will be sold for lots of great gifts, all proceeds supports the work of Gorge Owned.
Gorge Owned asked entrepreneurs and businesses with a triple-bottom-line mission (measure their success based on the impact of their business on the planet, people and economy) to submit business plans. The top five businesses were asked to pitch their business on April 23. The top three businesses (selected by the audience) will be able to apply for a zero-interest business loan valued at up to $5,000 through our partners at the Kiva Zip, a not-for-profit micro enterprise lending program.
These are the finalists:
Emily Reed, Carpe Via (Mosier)
Nicole Bassett, ReMake (Hood River)
Ari Bacharach, Opah's Goat Grove (Mosier)
Liz Palenick, Herbette Food Cart (Hood River
Michael Peterson, Peterson Pro Media (Hood River)
Learn more - https://zip.kiva.org