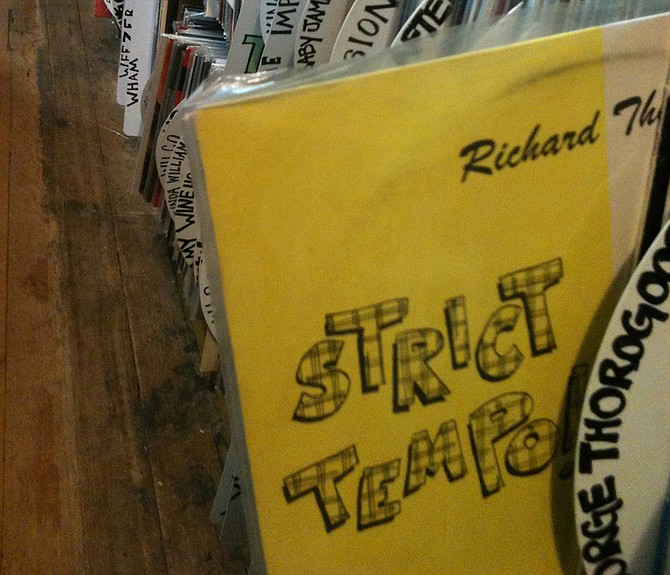 LP: I think it's my favorite acronym.
For you digital-agers, it stands for Long Playing, as in album, vinyl, record. More on that later.
Last Saturday was "record store day" around the country. As much as I wanted to, I didn't make it to one. The last ones I visited were a few months back in Eugene: House of Records, and Skip's, where I found a Long John Baldry ("Play That Boogie Woogie Man") album I had long sought.
Four bucks and it goes a lot farther than a pint of craft ale.
The closest we come in Hood River is Good Karma and Adult Center Thrift Store. I have found some gems at both places, though I am in not so much a record-buying as record-playing mode these days.
In a town I lived in in the early 1980s, you could actually buy vinyl in Safeway. I got hooked on record stores in college by going into Music Millennium and Crystalship in Portland.
In the 1990s at Quimper Sound in Port Townsend, Wash. I spent a lot of time perusing the used stacks, thumbing through the jackets finding that rarity or title to complete my collection of a favorite band. Circa 1990, CDs took over. Remember the oblong packaging designed to hold up the six-inch CD in the 12-inch-deep LP racks? I remember when Quimper, like all record stores, retooled with bins just a few inches deep to accommodate the CD jewelcases.
But who even buys CDs anymore, and here I am talking about vinyl?
In 2015 I am on a daily regimen I call "LP365": listening to one LP a day from my collection, starting with the dozens of records I haven't listened to in years. Nearly four months into it, I have barely tapped that part of the list. My wife, Lorre, and I own on the order of 500 disks, including some multiple-disk sets of Dixieland, Big Band, and Classical we picked up from our parents. Between the two of us, upon marrying 28 years ago, we melded hundreds of records.
By "record" I do mean LP. Call them discs or albums, fine, but the best term for vinyl is LP. (An LP is an album and a CD is an album, as in a gathering of songs, photos, drawings, whatever.) LP365 does not include CDs. Funny, CDs are encroaching obsolescence, but of course not to the extent that LPs already have. Except that for now, at least, "vinyl is cool" and many indie, alt-whatever, and heavy metal acts have gone back to vinyl, but I regard that as either marketing or making a statement, or a little of both, and musicians should just let their music do the talking.
No, my LP365 is an exercise in re-exploring my musical roots. It gives light to records long-unlistened by me, yet the disks are cargo I have schlepped from Dallas to Port Townsend to Vancouver to Hood River over the course of my adult life.
The house we moved into 14 years ago has a built-in LP cabinet and, kismet, our collection exactly filled the spaces.
So it is one LP a day. I also won't bore you with the list, other than to say I started with the quintessential LP, "Sgt. Pepper," and do look for coinciding events or other ways a specific album resonates on a certain day.
However, when I went to play "Revolver" on April 15 – "Cos he's the Taxman …" I realized that's one we have on CD.
Full disclosure: CDs, albums and even some cassettes are the full extent of my musical formats. I have never downloaded a digital file. MP3s and even CDs lack a vital dynamic you can only find in LPs and cassettes, which are organized by two distinct sides.
I've long believed that most albums' B side is the more interesting and challenging of the two, a dynamic that in our digital age is depriving music of something special. It was not just your "concept album" (confession: I love those things) that could have a kind of theme or a cohesion. I love the fact that some LPs were designed, as music and as physical objects, with two distinct sides: REM's Dead Letter Office has a Post side and Script side, and the cover lists the songs in alphabetical order.
Joe Jackson's "Night and Day" is labeled Day Side and Night Side; his "Big World" is a double album but with only three sides of recorded music, a quirk I have always loved.
(On that album is the song "Hometown," with the line "We never leave the past behind/we just accumulate," words that define my adherence to vinyl.)
The other joy of LPs was the album covers – a lost art in the new age. Gerry Rafferty's albums contained a different painting by the artist John Patrick Byrne and you can peruse the images for the 42 minutes it takes the album to play and see more new things. Bruce Springsteen goes with and without coat on the front and back of "Tunnel of Love" and Jethro Tull's "Songs of the Wood" shows Ian Anderson seated in a clearing, next to a stump that is a turntable playing a record, a fact that might not be as obvious on a CD cover, though I have only seen the LP covers.
And it is the covers of certain albums that stand as artistic icons and symbols of our age: Rolling Stones' Sticky Fingers, with the jeans' zipper built in, (a nice answer to) Springsteen's backside on "Born in the USA", Peter Gabriel's minimalist "So", the man-on-fire "Wish You Were Here" by Pink Floyd, Dave Brubeck's "Take Five" cool-jazz abstract, "Who's Next" and the band having peed on a monolith, and, of course, the richly detailed "Sgt. Pepper," the like of which shall never be bettered or repeated as "album art".
Not sure where the rest of LP365 will take me, but it is a comment on Sgt. Pepper, my Jan. 1 LP, that defines my purpose: David Michaelis wrote in "American Spectator" in 1997, on the album's 20th anniversary: "This album as different, more complicated. It was no longer just a release of youthful energy: there was an elegiac tone in both the words and music, and that was what made me feel I was entitled to their hidden truths."