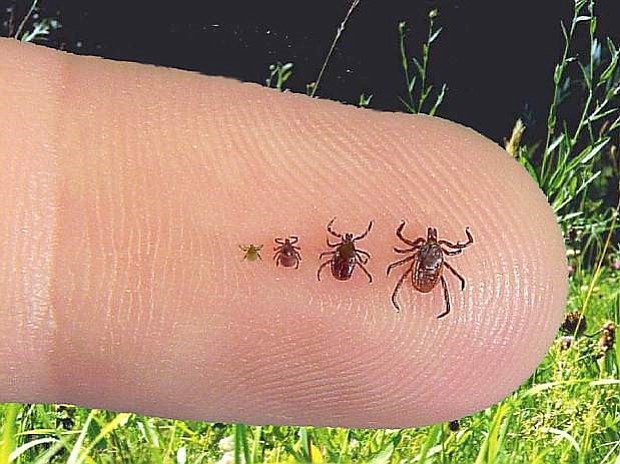 "Check, check, check …" I'm recalling my halcyon microphone days, examining the sound system to determine its accuracy. Only this time it's not sound checking … it's tick checking.

Warmer weather is beginning to beckon us to stay outside, and this land abounds with ticks. There are numerous species of ticks, and some could be infected with a bacterium called Borrelia burgdorferi, a long name that means Lyme disease.
These teeny critters — the size of a poppy seed — love blood meals mostly from mammals and birds, and the moment they smell carbon dioxide, they pounce on you. The tick wanders and then it cuts with a mouth that looks like twin saws. Between the twin saws is what's called a "hypostome," a long, jagged sword just like a Freddie Krueger chain saw, that bores into your skin making it nearly impossible to extract the tick — a real-life horror movie.
The greater horror is the possibility of contracting Lyme disease, a debilitating illness. Lyme disease is serious business because symptoms are wide-ranging and can mimic multiple sclerosis (MS), fibromyalgia, chronic fatigue syndrome (CFS), rheumatoid arthritis, Parkinson's disease, bipolar disorder, autism, and others.

The impact on our children is particularly severe, affecting entire childhood, educational process, and future adulthood. Children miss their formative years; some die. For example, in 2013, a 17-year-old honor student in New York died from cardiac arrest, which the autopsy demonstrated was due to Lyme carditis. He had just returned home from a two-week stay at a camp in Rhode Island, a state that is endemic for Lyme. His parents said he had a mild cough, fevers, fatigue, headaches and body aches, but his blood test for Lyme disease was negative.
The Centers for Disease Control (CDC) point out that patients tested during the first few weeks of illness often test negative because there are not enough antibodies in the bloodstream to be detected. The two tests used in the U.S., the ELISA and Western blot, can miss up to 60 percent of well-defined Lyme disease cases (Molins CR, et al. Development of a Metabolic Biosignature for Detection of Early Lyme Disease. Clin Infect Dis. 2015 Mar 11).
Bottom line: When an individual manifests symptoms consistent with Lyme disease and has been exposed to ticks, clinicians should consider a Lyme disease diagnosis, even with a negative test result (danielcameronmd.com/daniel-cameron-md-lyme-blog).
Most patients who get bitten by a tick never saw the tick and never see a rash. By the time they get to a doctor, it may be too late to prevent chronic Lyme disease.

Even if a patient visits a doctor in Oregon, the likely response will be, "You don't have Lyme; there is no Lyme in Oregon." Doctors are dictated by Oregon Lyme guidelines that require them to see a bull's-eye rash (less than 50 percent get a rash).
Two primary antibody tests are used to diagnose Lyme disease, the ELISA and Western blot. Doctors commonly order an ELISA first to screen for the disease and then confirm it with a Western blot. However, current ELISA tests are not sensitive enough for screening and may miss over half the true cases. Because of this, the best antibody test to use for diagnosis is the Western blot (www.lymedisease.org/lyme101/lyme_disease/lyme_diagnosis).
The CDC acknowledges more than 300,000 cases per year nationwide (roughly 100 per 100,000). Oregon reported 43 cases of Lyme disease in 2013 (roughly 1 per 100,000; or 1 percent of national rate per CDC). Multiple flaws in reporting criteria include no testing in "non-endemic" areas and over emphasis on physician-observed rash and two-tiered blood testing.

Let's look at dogs! Veterinarian data tells a different story (www.capcvet.org/parasite-prevalence-maps). Nationwide, over last five years, roughly 1 in 16 dogs tested were positive for Lyme. In Oregon, over last 5 years, roughly 1 in 80 dogs tested were positive for Lyme. Difference is 5:1, not 100:1 as implied by Oregon's officially reported cases.
The actual rate of human infection in Oregon is likely on the order of 20 per 100,000. Given Oregon's population of approximately 4 million, this means roughly 800 cases per year, far greater than the "official" 43 reported cases in Oregon.
We are also aware of 800 current patients in various support groups around Oregon (Portland, Bend, Hood River, Corvallis, Medford, Eugene to name a few). This is inconsistent with a rate of infection of only 43 per year.

For 2014, one CDC proficient CLIA lab reported to Oregon Lyme Disease Network (OLDN). They had 161 positive CDC tests for Lyme disease, but Oregon health departments only reported 31 cases to the CDC that same year. Only 12 were confirmed cases. That means only 7 percent of the CDC positive patients were given a diagnosis using the Oregon guidelines for Lyme disease.

Patients and their caregivers are searching for answers, but they can't always receive proper care from medical doctors in Oregon. Some go out of state. Many patients rely on naturopathic physicians who are not bound by the restrictive guidelines of the medical mainstream. Medical boards in Oregon enforce a single de facto standard; patients cannot get care. The impact on families, adults, and children is severe.
We patient advocates remain passionate about changing things in Oregon.
For more information on ticks and tick prevention, please go to:
lymedisease.org/lyme-101/ticks/about_ticks
www.ilads.org
www.igenex.com (click "tick test request forms")
For Oregon information on Lyme, got to:
oregonlyme.com/about.html
Mary Jane Heppe is a Certified Cancer Coach and Lyme Coach, National Patient Advocate, and Co-leader of the Mid-Columbia Lyme Group in Hood River.