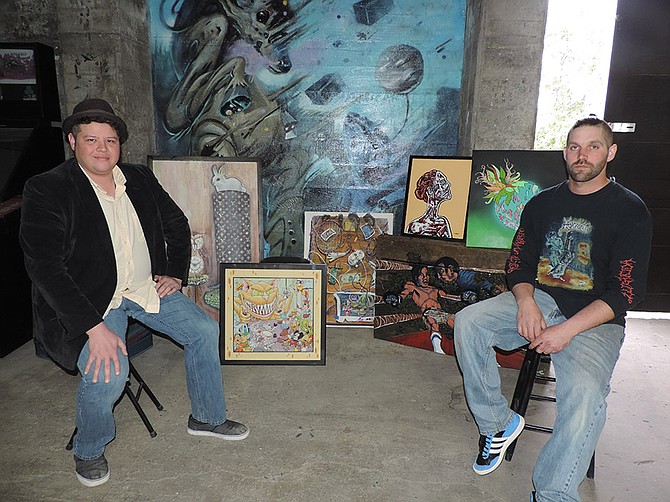 The Remains gallery packs its subterranean walls with oils, acrylics, murals, cartoons, and paintings on wood, doors, windows and other surfaces for its first show of 2015.
Owners Nik Vik and Nate Chavez will present their own art, along with guests from the Gorge and beyond, in the group show "Art That's Beneath You" opening the new season May 1.
The event starts at 6 p.m. at the 10-month-old gallery, 500 Industrial Way, below Full Sail. To find it, take the steps next to the railroad tracks on the north side of the west end of Union Building. This is an all-ages show.
Parkdale band Black Juniper will perform acoustic soul, followed by the local band The Adoration Society (Mike Andrews, Ian Meyer, Ryan McAlexander, Tim Snider, and friends).
Chef Garrett Arceneaux serves his authentic Louisiana gumbo, and Manja Warner will provide body art to go along with what's on the walls.
New with the exhibit is a permanent mural by Brendan Hall, who is from New York and now living in Parkdale. Look for another Hall work just outside the Remains' main door, and several other of his works in the show.
"He's a good friend of Remains and an awesome artist who's been with us from the start," Chavez said.
Adding color and provocative detailed images are Stump One, recently seen at Hood River Library, and the cartoons of Cooper Morton.
Portland artist Vance Feldman presents panels from his perennial project, "Foreverscape," accompanied by an audiovisual display synchronized with music.
Chavez met artist Leah Hugon in Portland, and "we hit it off after seeing her work, and are excited to have her," he said. "She does some bizarre stuff," including a boxer painted on a wooden pallet.
Melissa Chavez, Nate's sister, does body adornments — "really cool jewelry she's been working on really hard,' he said.
"We're super proud of the stuff we have in this show, it's totally representative of The Remains feel we have, which is outsider stuff," Chavez said. "Every time something came in, it's like 'we're so lucky to have this,'" he said.
"For this show it just clicked," Vik said. "Everybody who brought stuff in it went above and beyond expectations. Everything that comes in the door is just making it better and better.
"We got kind of settled in and this has been a little smoother than the last two — kind of got our feet on the ground," he said.
"Our other shows had themes but this time it's the first collaborative show that you get to see everybody's individual personality, their styles, and it's got so much flavor," Chavez said. "We don't have to group things together, we can mix them up and they fit. Somehow they're all really complementary, which is cool."
Since the Day of the Dead show in November, Vik and Chavez have had open gallery hours and used the space for work.
"People could come down and wander through, and we would be down here every day,' Chavez said.
Vik and Chavez will keep "Art That's Beneath You" on display through May or longer, and are working on The Remains first-anniversary show.
"It's going to be putting together more work, fresh work. I think it's going to be a great way to kick off the summer season," Chavez said.