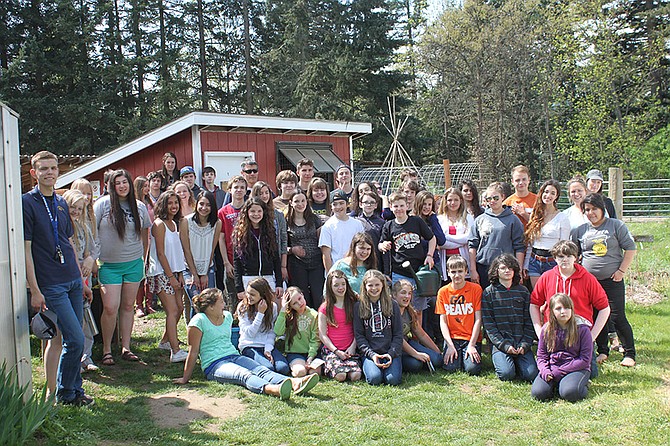 Hood River Valley High School and Gorge Grown Food Network hosted the third annual School Garden Symposium on April 21 at HRVHS. Students from Lyle middle and high school, Klahre House and Corbett CAPS joined HRVHS students for the day, with about 100 total participants.
The symposium was coordinated by Hannah Ladwig, food access and outreach assistant, Gorge Grown Food Network, and Nita Bozarth, HRVHS teacher and FFA advisor. It was sponsored in part by Cascade Mountain School.
"The School Garden Symposium is a great annual event to bring together school garden programs in the Gorge," said Ladwig. "It's a day of networking, learning and fun. Students are able to attend workshops that they can translate into their garden or ag programs."
Austyn Polzel, Hood River Valley High School class of 2014, gave the keynote address. Polzel has been a regular vendor at Gorge Grown Farmers' Market for many years, starting as a sixth grader. He is now a first year horticulture student at Oregon State University, with a focus on ecological and sustainable horticulture.
HRVHS students led workshops in the morning, including constructing cedar planters, learning how to start a small business selling eggs and poultry, a tour of the HRVHS outdoor infrastructure and how the FFA program hopes to someday raise pigs at the school, and learning the benefits of locally grown, home-ground grains. Moria Reynolds of Casa Verde helped students construct special aquaponics barrels that the visiting schools could take back with them to keep.
The afternoon consisted of a presentation fair, where schools showed off the gardening projects they have been working on during the year. Projects included vermiculture, constructing a beehive, exploring the benefits of nettles, and a history lesson of the school garden.
"The presentation fair is a chance for everyone to show off what they have been up to all year, get new ideas, and collaborate on projects together," Ladwig said. "Above all, it's a great day to get kids outside and excited about getting their hands dirty in an outdoor classroom!"