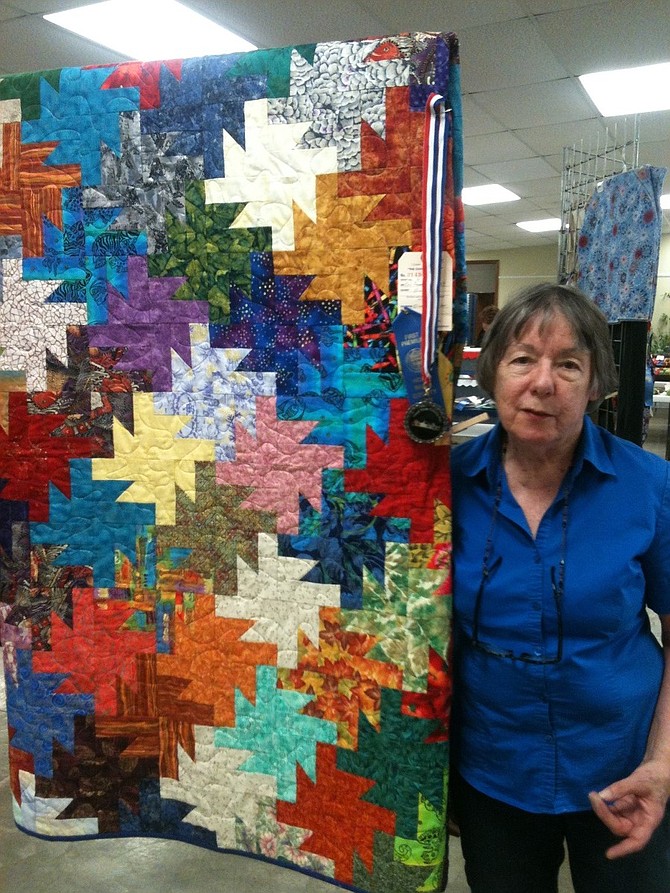 Quilts and textiles are an aspect of the fair I always turn to after spending time in the hot sun, or at the carnival, Park stage, animal barn, or other higher-volume attraction at county fair.
The quilts, quietly representing skill, patience and tradition, join the 4-H and FFA animals as true mainstays of this annual celebration of our agricultural heritage.
Someone involved in quilting will usually come up and talk to you because quilters love to quilt, and they love to talk about quilting.
And so I encountered Elizabeth Garber and her tessellated star.
"I was tickled because I got a first," said Garber, of Hood River, pointing to her 70-and-over blue ribbon. "I've volunteered for years but this is the first time I've won. There's a lot of beautiful quilts."
"Tessellated star," she explained, was a basic piecework quilt with a twist.
"Tessellation" is a mathematical term applied to many things, quilting and tiling included, for when a shape is repeated over and over again, covering a plane without any gaps or overlaps.
In Garber's case, "it's' just a case of keeping track of your colors," making sure the adjoining block contains a section that matches the one next to it. "When you do this one, you have to remember to put this color right here, or it won't be the right design," Garber explained.
I appreciated Garber's justifiable pride in her work, and in others' too. She pointed out features of several other quilts, and made sure I took a close look at the foot-long raccoon and fox created by Elise Cain using felted fiber, a technique involving repeated stabbing to form shapes on wire armatures. Cain uses local fiber including pygora, angora, and alpaca along with horsehair, polymer clay, and glass eyes for whiskers, talons, and eyes.
Garber was also selling tickets for the first "opportunity quilt" to be drawn for in November following the Columbia Gorge Quilters Guild annual show in October. Proceeds support the guild, which creates quilts given to organizations such as the Veterans home.
With the show coming in October, "some of us who got together and said, 'we need an opportunity quilt right now,'" Garber said.
Garber explained, "We picked out the pattern, and the guild has a 'sit and sew day' once a month, where people get together and bring whatever they're working on, and members of the club used those times to sewed it together, and one of members, Tommy Fint of Gresham, machine-quilted it."
The Guild quilt can be seen at public events throughout the Gorge from now until October. It's a beauty, though Garber admits that with its subdued lavender and gray pattern, it might not have the oomph of other opportunity quilts, including the better-known Harvest Quilt to be drawn for in October at Harvest Fest.
"This is our first one and we'll have a fancier one next year," she said.