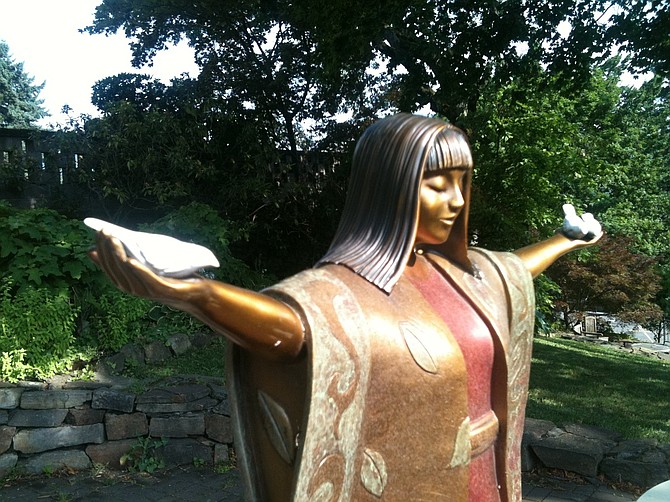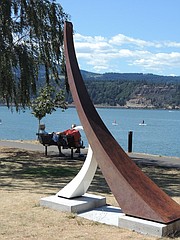 WHAT AND WHERE: the 2014-15 'Big Art' list
The current Art of Community route, starting from the marina and looping west to the Event Site/Waterfront Park complex and into downtown Hood River:
Constellations II by CJ Rench — Sponsored by the Port of Hood River
The Old Rooster by Mark Stevenson — Sponsored by Jane Duncombe and Jay Sherrerd
Ka Mee Ka Thee by Jennifer Corio and Dave Frei — Sponsored by Key Development
Swan's Song Whit Poor — Sponsored by the City of Hood River
Shapely Two by Jennifer Corio and Dave Frei — Sponsored by Tofurky
Origami #5 by Ken Hall — Sponsored by Ryan's Juice
Origami Totem by Ken Hall — Sponsored by BMP LLC
Poise by Whit Poor — Sponsored by Dr. Scott W. Edgar (Northern Oregon Endodontics) and Dr. Robert Henshaw (Oregon Periodontics)
Le Grand Vase by Steve Farris — Sponsored by the City of Hood River
View by MacRae Wylde — Sponsored by the City of Hood River
House with Round Windows by Nicky Falkenhayn — Sponsored by Columbia Center for the Arts
Wind-Wave by Jennifer Corio and Dave Frei Sponsored by Henry and Nan Fischer, Doppio, and Blue Collar Interactive
Northwest Sun by Kyle Ocean — Sponsored by Sally Reichmuth
Midori Spring by Ann Fleming — Maureen Higgins, Judie Hanel, Bonnie and Sam Taylor
Caught Up by CJ Rench — sponsored by Ruddy Duck and Mike's Ice Cream
This program was made possible by donations from Crestline Construction for pedestals, CJR Design for installation, and by Hood River Chamber of Commerce for map printing and distribution.
First Friday on Aug. 5 provides a prime opportunity to see "Art of Community".
Or find some other afternoon or evening to take in the outdoor gallery of large-scale art work you see around downtown Hood River and the waterfront.
The project approaches the end of its first year, and plans are well along for an expanded "AOC" in 2016.
Once you see the sculptures, do the artists a favor and go on line and log your favorite work.
The current tour of sculptures will remain in place through late August, but the deadline to vote in the People' s Choice happens sooner: Aug. 15.
To cast your ballot, go to www.art-of-community.com, look for "voting" tab at top right.
People's Choice Awards will be $1,000 best in show, $700 for second and $350 for third.
Whit Poor of Hood River will be leading the de-installation/installation over the last two weeks of August, along with artist CJ Rench of Hood River.
"The Hood River BIG ART Walking Tour. inspires public engagement through art and creates a sense of place, optimism, and discussion throughout the Gorge. Most importantly, it is accessible to everyone," said project coordinator Kristen Godkin. She is also coordinating an ongoing outdoor art plan for Hood River, carried out by Art of Community. Arts in Education of the Gorge, and other groups.
While the "Art of Community" works are generally not intended for touching or climbing, at least one piece is kinetic, and designed to move and interact with the viewer or even the elements of wind and sunlight. It's called "House with Round Windows," by Troutdale artist Nicky Falkenhayn, and is located in front of its sponsor's building, Columbia Center for the Arts, Third and Cascade.
A few of the pieces are somewhat hidden: Whit Poor's "Poise" at Oak and Front streets, in the small park owned by Big Wind; the tall "Origami Totem" by Ken Hall, a half-block away in front of New Yasui Building (next to Ground café); "Shapely Two," by Jennifer Corio and Dave Frei in front of Tofurkey (a block south of Waterfront Park); and Kyle Ocean's "Northwest Ocean" on Fourth Street, near Oak, adjacent to HR Bikes.
New to the tour is Macrae Wylde's "View," at the new public restrooms at State and Third streets, which were completed in May, "View" will remain through next year.
Each sculpture in "Big Art," as it is affectionately known, is sponsored by a business, agency or individual. Concrete companies poured permanent pedestals a year ago; the artwork stays in each place for one year (and are for sale). Meanwhile, the jurying and sponsorship process for 2015-16 is nearly complete.
Photos of the sculptures and a map are on the website; printed copies of the map can be obtained at the Columbia Center for the Arts at Third and Cascade and at the Chamber of Commerce Visitors' Center next to the marina, adjacent to the first sculpture on the tour — Rench's "Constallations 2".
Art of Community adds new locations in 2016, including three on the Heights on 12th and 13th streets, including one at 12th and June streets, a future pocket park developed by Providence.
Other new locations are Industrial Way outside Dunn and Davies law offices and one block over at Cannery Square Park (Fourth and Columbia), three located at and near Hood River Inn along the Shoreline Trail, and two at the new Nichols trail adjacent to the Event Site.
The three east-end locations and the Nichols trail site help fill in the east end of the Art of Community Trail. Currently, the first sculpture is at the marina and the next one on the route is at the Luhr-Jensen building next to Event Site, the first of five sculptures grouped on the Waterfront.
Closer to the date, Hood River News will publish the full list of new locations, artists, and sponsors.