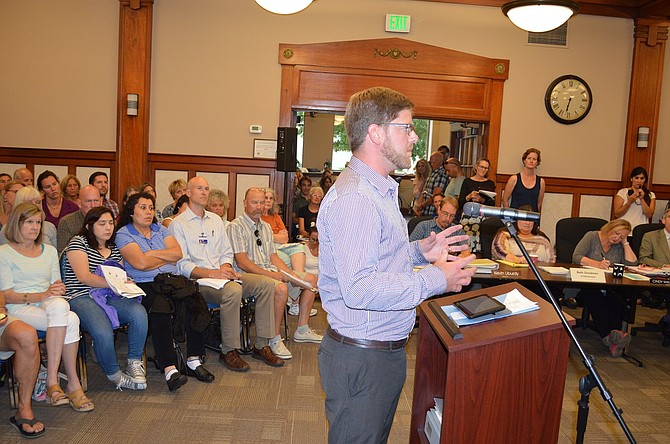 Citizens concerned with housing issues filled every chair, including 30 or so in the hallway, Monday in one of the most heavily-attended Hood River City Council meetings in memory.
"Think of the most vulnerable among us," said Mark Thomas of Providence Health Systems, one of three large employers in addition to Insitu and the school district, to point to the economic challenges of attracting and keeping qualified employees who require a place to live that is within their means — yet often cannot find it in Hood River.
"We have a number of employees who take on more housing costs than they can afford, because they prefer not to live in The Dalles of the upper valley. They want to live in the community where they work," Thomas said.
"It's a cute little town and we want it to stay vibrant," realtor Jane Parker said.
Council heard 39 people speak to the need to take action soon to help increase the number of living spaces available to people of all economic stations.
Monday's testimony followed remarks by planning director Cindy Walbridge, city manager Steve Wheeler, and Joel Madsen, director of the Mid-Columbia Housing Council, whose agency Walbridge said will be taking on a heightened role in working with the city on finding solutions. "We have not done a lot of work (in Hood River) as a housing agency for a while but we're looking forward to working you now," Madsen said, adding that he supports the city's report as a "comprehensive strategy."
Practically, what the council must do in its continued meeting on Monday is to talk over what they heard — more than two hours of testimony Monday — and what they will be reading — many pages of written testimony also submitted by citizens.
"We have to change our physical environment," County Commissioner Maui Meyer told the council, pointing to options including up-zoning, increased density, or co-housing options. He spoke as property owner and Hood River city representative on the commissioner. "Be very bold. Hood River County is ready to provide land, resources, and time," he said, pointing to Madsen's role as a positive step. "These are good recommendations. Be bold, give us clear direction, and work for the whole plan. You can easily do more and cut back in the future. But don't cut back now. It is hard to regain the moment you have now. Don't make the biggest mistake of all — of not doing enough."
"This is one of the most serious moments in the history of Hood River," said Victor Pavlenko, a member of the Planning Commission, which approved the housing strategies under consideration. "This will require world class strategic management and risk management," Pavlenko said, pointing to three "potential policy changes" identified in the set of strategies: increasing Hood River's lodging tax rate, limit the type of unit that can be used for short-term rentals, and limit the number or amount of short-term rentals for the city, by neighborhood, street or other limitation.
A total of 23 speakers addressed one of the city's proposed strategies for dealing with affordable housing — some system of licensing or regulating short-term rentals. Several speakers, including property management and real estate professionals, argued that the city lacks sufficient data to plan for short-term rental regulations, and argued either that there is no need to do so or stated that such action would harm an important quotient in the local economy.
The current process, and resulting implementation of new zones, regulation changes, fees, and other strategies, will probably take about one year to carry out.
Consultant Beth Goodman left the council with the following message: act soon to implement zoning, land use, or code changes to ensure the city does not run out of buildable lands. Goodman, who works for EcoNorthwest, told the council it has available land, on paper, for the next 20 years, but encouraged council to monitor the issue one year, three years and five years out and be ready to revise what they are now setting out to accomplish.
Among the first speakers was Patricia Muro of Parkdale, one of two to use translation by Yesenia Castro and Lorena Sprager (a first in City Council meetings). Muro said she is seeking to move to Hood River to be closer to shopping, work, and medical services.
"I hope in the future there would be something for my family," she said.
The longest testimony, from Insitu, came near the start and the most impassioned, from Yesenia Castro of Hood River, came near the end.
Insitu CEO Ryan Hartman addressed to the economic importance of a diverse range of housing, while Castro, from an orchard employee family, spoke to the human impact of the sparse availability of affordable housing.
Castro tearfully said her family is close to being phased out of farm-provided housing, because of retirement and other circumstances.
"In the next three months, I don't know where I'm going to live, and in Hood River, there is nothing available for a person like me, a student."
"We must grow to survive," Hartman said, stating that Insitu has 800 employees and a $60 million payroll in the Gorge, and contributes an estimated $300 million to the Gorge economy.
"We face the never-ending challenge of retention while trying to grow. It's something that has to be addressed," Hartman said, as Insitu regularly sees qualified employees either leave prematurely or choose to live and work in the Portland area because of lack of affordable housing.
Builder Mike Kitts said he rejects that very term, preferring the term "entry level housing."
He told council that "many of our concerns have been addressed and we hope we'll able to devise solutions," based on the city's work so far. Kitts said the city's best course of action is to work with builders such as himself and partner Doug Beveridge to prioritize any projects meeting affordability goals, and expedite them, from pre-application to final engineering, including utilities, through the building permit stage. That way, builders will reduce costs they have to pass on to buyers.
"Think about how your decisions will affect the people who are actually buying the houses," Beveridge said.
"The city should incentivize builders," said developer and realtor A.J. Kitt, citing reduced property taxes.
On the subject of short-term rentals, Kitt expressed a middle ground position stated by several speakers: "I support most of your ideas for regulating short-term rentals," he said. "There is a healthy balance to be struck. I think we can do it."
Jacque Bishop of Hood River Vacation Rentals said that she is a "strong supporter of developing and protecting low-income housing," but added, "I am not convinced we need to limit the way people use their property to make room for new middle class employees."
"We're invested," said Leslie Lund, who has owned Hood River Vacation Rentals for 15 years. "We've been bringing visitors to town year after year and we feel we're part of the success. I'd like to see more statistics on the effect of tourists in town. We have a wide range of people staying in the houses." Other property management spokespeople said short-term rentals often are used by students and professionals who are in town to do work that benefits the community. Bishop said that Goodman's report "does not create evidence that short-term rentals impact livability," a frequent refrain.
Vacation rental owner Steve Leslie charged that regulations would be "a violation of free enterprise," while vacation rental neighbor Jon Kelter Gehrig urged the council to enact regulation. He's frequently seen parking violations stemming from short-term rental tenants.
Goodman responded, "You have a buildable land shortage, and development of short-term rentals will consume a lot of that land." That loss of land would be "the main direct effect. You could investigate more and probably find other indirect effects," Goodman said.
Council Member Peter Cornelison asked her, "Have other cities done studies to support that?"
She answered, "I haven't done a lot research on that."
Meyer said the effect of one house going from long-term to short-term market is "as if a house had burn to the ground. The house is gone. And your top number (supply) goes down while the demand goes up."